5 authors who have influenced my writing...
You are what you read!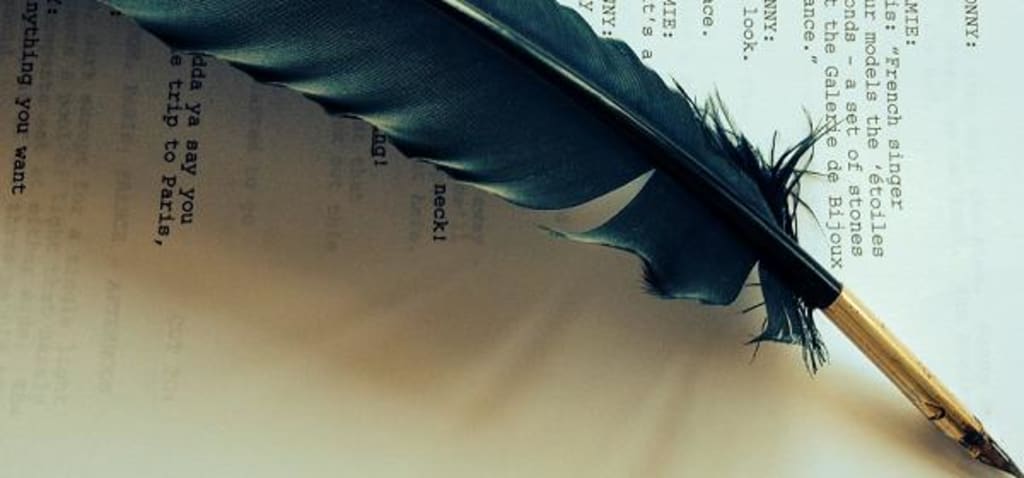 It is a truth universally acknowledged that, if you want to be a better writer, you have to read. Read far and wide, across a range of genres, discovering new words, and new worlds. If you're a script writer, then read scripts and screenplays; if you're more of an author then read books. I have something like four full bookcases (thanks Ikea!) and a few extra piles of books taking up floorspace in my home - each book has been read at least once, with many being read twice, and some three or four times.
I became a writer as a direct result of reading, and being inspired by, other writers' work. As a child I was brought up on Grimm's Fairytales, Aesop's Fables and the stories of Hans Christian Andersen. Fantasy was always my preferred genre, and as I grew up, my taste in books remained the same (although I tend to skew towards the gothic these days). The following is a list of writers who have influenced, and continue to influence me, and my writing.
1. J.R.R. Tolkien
Where to begin? "In a hole in the ground, there lived a hobbit" - the opening line of Tolkien's The Hobbit kicks off the world-renowned children's tale that was my introduction to Middle Earth. I read straight through it and on to The Lord of the Rings in my adolescence, devouring Tolkien's legendarium. His work is high fantasy at its best - and reading The History of Middle Earth (which I am still collecting...) taught me everything I needed to know about world creation and the fantasy genre. I still dip into Christopher Tolkien's collection of his father's works, using them as a learning tool to become a better writer. They aren't the easiest of reads, but once you get into Middle Earth, it is completely absorbing.
2. Terry Pratchett
I discovered the late, great, Terry Pratchett's Discworld series of books in my teens. There are so many of them that I don't remember which one I started with. I know that Wyrd Sisters was one of the early ones I picked up, before going back to the beginning and reading The Colour of Magic. There are too many favourites to mention, but if you're looking to get into Pratchett's work, I would suggest using The Wee Free Men as a starting point, and reading through the Tiffany Aching books before going into the novels. The Tiffany Aching series is meant for younger readers, but has plenty to offer adults, and is a way of easing yourself into Discworld, as some of the main novels can be a bit of a handful to get into at first.
3. John Connolly
I have to admit, I'm not usually into horror, but there was something about the cover of Connolly's The White Road (the fourth in his Charlie Parker series of novels) that jumped out on me from the bookshelf. After reading that I went back and started the series properly with Every Dead Thing. The fusion of supernatural horror in a gripping thriller had me hooked, and has ended up with me following the author into other worlds outside of the Parker novels. If you want to dip into his writing without committing to a full series, I'd recommend the short story collection Nocturnes as a good entry point.
4. C S Lewis
Who doesn't love a bit of Narnia? I absorbed The Chronicles of Narnia as a child aged ten or thereabouts. I started with The Voyage of the Dawn Treader (which remains my favourite of the series) before going back to the beginning and reading them in sequential order. I think that the central three books (The Lion, the Witch and the Wardrobe; Prince Caspian; The Voyage of the Dawn Treader) are the best-written of the series. If memory serves me correctly, I saw the TV series in the late eighties/early nineties before discovering the books. Naturally I snapped them up when they were released on DVD decades later! Like Tolkien's work, The Chronicles of Narnia books are a series that I go back to on occasion to read again as an adult.
5. Susan Cooper
Susan Cooper was another writer I discovered in childhood, when I picked up a copy of The Dark is Rising. Part of The Dark is Rising Sequence (Over Sea, Under Stone; The Dark is Rising; Greenwitch; The Grey King; Silver on the Tree) which saw Cooper blending contemporary children's adventure stories with British myths and folklore. The series tells a tale of "The Old Ones", a group of people with certain magical powers, fighting the forces of the gathering Dark. The books are littered with references to Arthurian legends, and The Grey King is set almost entirely in my home country of Wales, which was a rarity.
Honourable Mentions...
Dylan Thomas - I guess that, being a Welshman, I was bound to stumble across Dylan Thomas' work at some point in life. Under Milk Wood and A Child's Christmas in Wales are perennial favourites. Later this year I hope to be adapting one of his short stories for the screen as part of my day job at Seraphim Pictures.
Robin Jarvis - I discovered Robin Jarvis' Tales from the Wyrd Museum in my teens, and absolutely loved it. Adapting Scandinavian myths and relocating them to 20th Century England is no mean feat, but Jarvis pulls it off with this trilogy set in a fictional museum in London run by three sisters, the Fates of ancient legend. I've read and re-read them over the years, and think that they deserve the big screen treatment!
Colin Dann - I used to correspond with Colin Dann when I was a child, being a fan of his The Animals of Farthing Wood series. I also enjoyed his standalone book A Legacy of Ghosts, which was partially set in West Wales and features some Welsh mythology. I highly recommend any books by Colin Dann to young readers.
I guess it was inevitable that, being a big reader, I had ambitions to become a writer. I wrote my first novella at sixteen, started my first novel at nineteen and went on to write my first short screenplay at twenty-two. With the arrival of the internet, social media, and platforms like Vocal, I am able to continue my writer's journey. If you're still reading, I'd just like to thank you - having readers (especially those who tip!) and an audience for my work keeps me going! :)