'Rules of Survival'
Another 'PUBG'?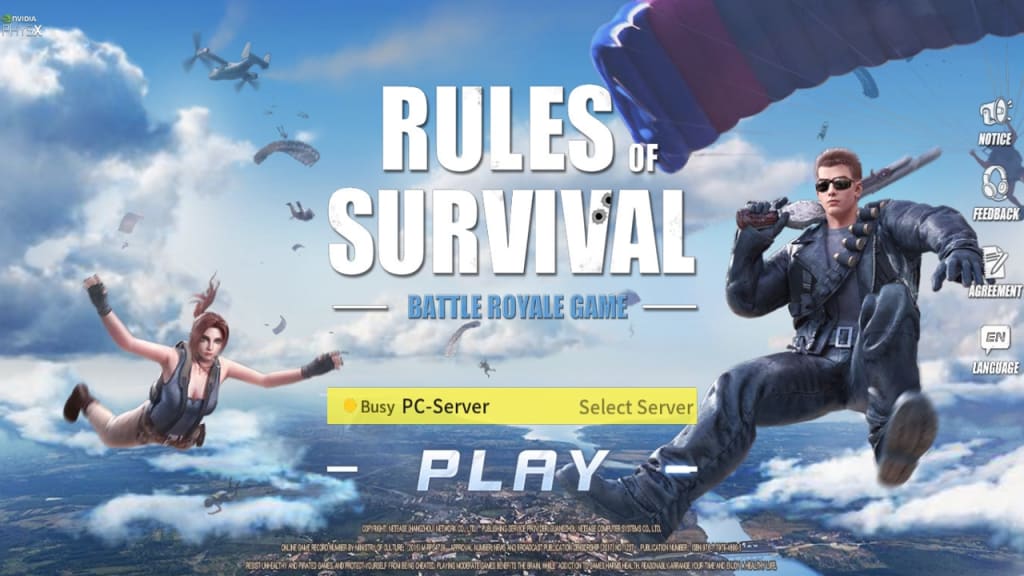 ...Yes, yes it is.
BUT! It is completely free to download on PC, IOS and Android, with each having its own dedicated server. Now bear in mind that at the time of writing, I have only played this a couple of times, but I can completely understand where the excitement and enjoyment has come from with this format of game.
I was dubious at first. I mean, with 100 players all vying for survival at the same time, I figured that as a newbie coming to the game a little late, I'd have no chance and for the first few rounds I was right! I barely survived two minutes for about three or four games, but on the fifth, I made it into the top six! (Mostly by hiding.)
The tablet/phone versions of the game (haven't played PC yet) with their more restrictive control scheme actually allows for Noobs to have just as much of a chance at winning as Pros.
Whether you end up playing for 20 minutes because you are one of the last survivors, or are gunned down within the first few, this game doesn't forget what gaming is all about, FUN. Hell, I spent my first game killing two rivals bare-handed because I hadn't found a weapon, then I got all geared up after looting my second victim, killed a third with my shiny new gun and got sniped from, as best as I could tell, nowhere.
And that little detail makes all the difference for me. There's no "revenge killing." it's a one life and this round is over for you, and because of the server size, you are unlikely to be put into the same game as your killer, straight away at least.
Graphically, it is well designed for phones/tablets. Some people may consider it a little behind for the times, but as far as I am concerned, games that are happy to sacrifice the most up-to-date graphics in order to improve playability are easily the better. Look no further than the #Borderlands series and you'll understand where I'm coming from.
And don't think that I'm necessarily bashing on graphically demanding games, like the Arkham series. I'm not, but I personally don't think that the visuals of a game should be regarded as strongly as a defining feature, as some seem to. Now if it was buggy and glitch and looking terrible... that's another post.
Weapon modification is actually a simple matter: do you have an SMG? Is that an SMG mod? Auto-equipped and you're off.
Having now played Fortnite Battle Royale so that I have a comparison, I can say that ROS is a much more well-rounded game. However, I will go into my more official review in the future — keep your eyes peeled!
Though the one aspect that I will say that sells ROS over Fortnite is the time between games.
ROS kicks you back to the lobby nearly instantly and you can hit start and BOOM your back in the pre-game for less than 60 seconds and straight to the action. Fortnite seemed to be sluggish, which I would expect from a game on Xbox, being bigger and more detailed with more things to calculate. Maybe it would be more fair of me to compare ROS against its dad, PUBG.
My only, tiny gripe, and it is tiny, is that the weaponry doesn't come pre-loaded. Half the time I forget to load my rifle and I've set up a head shot, hammering the fire button — for far longer than I care to admit— before I notice the "reload" notice.
That's my two cents. I do hope you give Rules of Survival a go. It's free, after all. :)
I look forward to killing/being killed, by you all out there! - Guiltyspark