PUBG to Apex Legends: All You Need To Know Before Shifting
Planning to shift from Pubg/BGMI to Apex Legends, or already installed Apex Legends but are still unsure of going with the decision? This blog will assist you to clear all your doubts.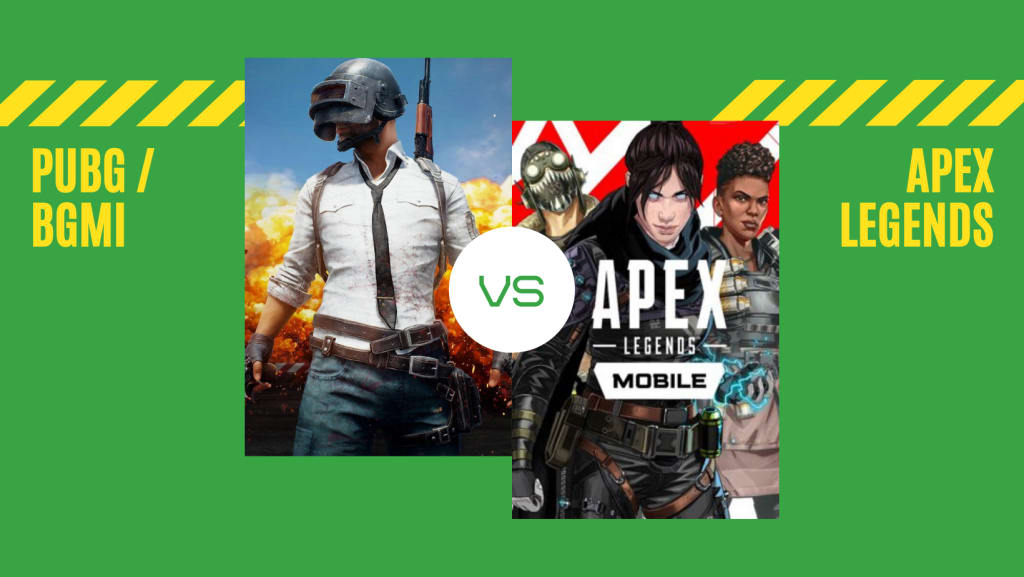 PUBG Vs Apex Legends
Finally, after a long wait, Apex Legends is released for Android. It can be downloaded from the Google Play store free of cost. For those planning to shift from PUBG to Apex Legends, here are a few notes that may help you be the champion in the game.
Before starting, let's look at a little backstory, Apex Legends, the multiplayer battle royal game developed by Respawn Entertainment and published by gamers' trusted Electronic Arts. It came as a competitor of Fortnite but has expanded its fan base, becoming a competitor of PUBG. The heroic characters of Apex Legends have special powers that can't compete with any other battle-royal game. If you are comparing PUBG vs. Apex Legends, you are at the right place.
Enough with the backstory; let's quickly get to the business. Let's look at the things you need to know before planning to shift from PUBG to Apex Legends. We will discuss the following aspects that need to be considered for Apex Legends.
Device compatibility
Weapons
Characters
Let's dive into each point and know about it in detail:
Device Compatibility
Apex Legends is available on both Android and IOS devices. Android users can download it from the Google Play store, whereas iOS users can find the app in the Apple Play Store. However, a few minimum requirements must be checked before expecting the game to run smoothly on both Android and iOS devices.
Android
Processor: Snapdragon 435/ Hisilicon Kirin 650/ Mediatek Helio P20/ Exynos 7420
Android 6.0
Open GL 3.1 or higher
4 GB free space
At least 2 GB RAM
File size: 2.7GB
iOS
iPhone 6S or any other released later
OS version: 11.0 or the latest
CPU: A9
4 GB free space
At least 2GB RAM
File size: 3.5GB
Weapons
Now, let's take a look at the most confusing part: I found myself confused about which gun to use, and when I found myself fighting with a Sniper at a very close range, fortunately, my teammate came to the rescue.
In Apex Legends, various guns are available, but let me tell you how to identify them.
Each weapon type has a different label of color Ammo given to it.
Ammo of Orange color is for the Light round weapons. This hybrid ammunition may be used for Assault rifles, SMGs, and Pistols class.
Ammo of Spring-green color is used for Heavy round weapons. This is also a hybrid ammo, you may find Assault rifles, SMG, LMG, and Pistol using this ammo.
Chartreuse green color is used for a completely new set of ammo. It is used for energy guns. This is a completely new type of gun introduced in Apex Legends.
Red is used for shotguns of different types.
lavender blue ammo is used for all types of snipers. They cause very high damage.
Yellow arrows are for Bows. They are relatively silent and high damaging weapons.
Mythic ammo is colored pink. They are often found in supply drops. They are unique with the weapon and they don't occupy space in your bag.
There are other weapons like Grenades, smoke, and accessories like extended mag that I would suggest you DIY in a training session as they are awesome in use and can't be explained much.
Characters
The list of Apex Legends characters is as follows:
Ash
Bangalore
Bloodhound
Caustic
Crypto
Fuse
Gibraltar
Horizon
Lifeline
Loba
Mirage
Octane
Pathfinder
Rampart
Revenant
Seer
Valkyrie
Wattson
Wraith
However, you may find only Wraith Pathfinder Mirage Lifeline Bloodhound Bangalore Octane Gibraltar Caustic and Fade in the Android device initially. You may visit the EA page of meet the legends to know more about your favorite characters.
Conclusion
There is a thumbs down for the gamers who admire the realistic characters and scenery as in Apex legends; the characters are given a cartoon look. You may find the scenery and plots animated like cartoons.
The multiplayer gets unlocked, and so do the characters after some achievements. So I would recommend not to give up on it so easily as the fun begins after the 8th level. You may also visit the youtubers' game play to understand the tactics and use of weapons much easily.
I hope you found the information very useful. Feel free to share your game ID in the comment box, I will send you a request and we can play together, or I will introduce you to some of my friends who helped me to understand the game easily.