What Do You Need To Do Before Hiring A Data Scientist?
Tips for hiring a data scientist to augment your team!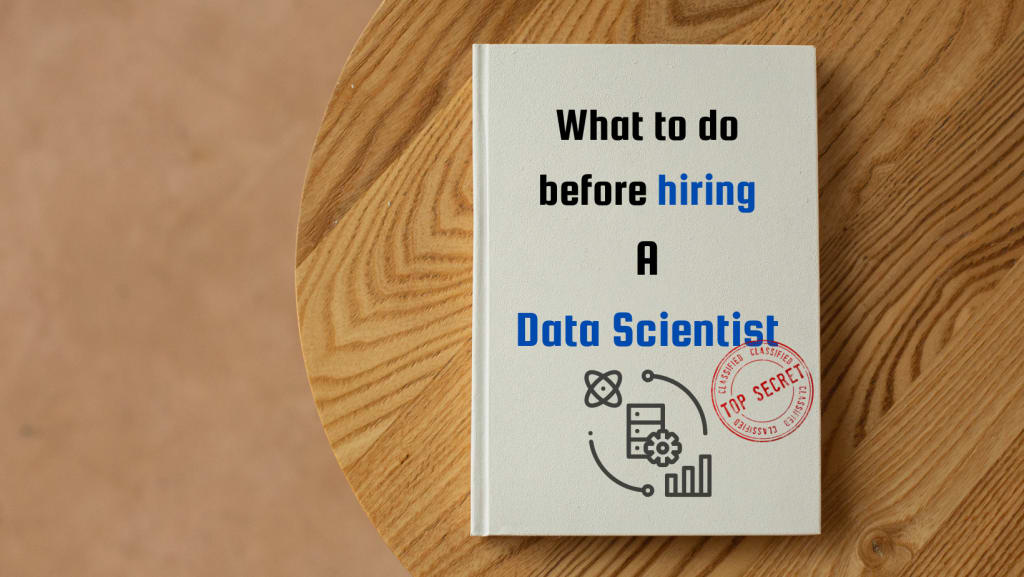 Tips for hiring a data scientist
With the increasing hype of new technologies like Artificial Intelligence, Machine Learning, and Data Science, companies are rushing to hire specialists without following any guidelines or prior knowledge about these technologies. Here, I have elaborated on what you need to know before you hire data scientists.
Data science is an area of study comprising various fields like Mathematics, Computer science, and Domain Expertise. The main purpose of Data Science is to extract meaningful data from the existing source of information and to analyze patterns. Identifying a pattern is the first step toward progress leading to innovative breakthroughs, and that is the utmost reason why organizations hire data scientists. Personnel who analyzes and interprets the outcome to execute the plan for organizations is called a Data scientist.
Here are some recommendations for you to consider before hiring a Data Scientist:
1. Have a clear idea of the purpose you are hiring a Data scientist for
Identify the business problem and opportunities that you want to be resolved by them. Keep some data related to the problem ready to be analyzed to make the project precise.
2. Be sure of your Data scientist profile and what kind of person you are willing to hire
Data scientists might be coming from various backgrounds, and they may have different strengths. For instance, a data scientist with prior experience in Project Management or Marketing may help you evaluate related to those specific areas more efficiently than anyone else.
A candidate with a Ph.D. in Data science might be a good candidate, but in this case, not the certificate but the experience and industry knowledge is more vital. Thus, the degree is not mandatory, but knowledge about the Data Science field in general and some business knowledge may come in handy.
3. Make a list of Skills that your candidate must possess
Data scientists' skill set comprises multiple primary skills including statistical analysis and computing, Machine Learning, Deep Learning, Processing large data sets, Data Visualization, Data Wrangling, Mathematics, Programming, etc. Based on your requirements, make sure of the skills that a candidate must have in order to work on your project more efficiently.
4. Be straight about what you expect from them
Your hiring process must be aligned with the project you are hiring the candidate for. Candidates will be working as a part of your team, and the must-have skills that can fill the skill gap that your team has. State the project straight, whether it is about Sentimental analysis or Speech Recognition through the Emotions.
5. Keep the dedicated product manager aligned
A supportive product manager should be assigned to help a data scientist considering the problem that the Data scientist is addressing. Without the support of the team members, Data scientists will not be able to add much value.
6. Don't waste a single moment
Considering the market trend, Data scientists have been in high demand recently, and their demand may hike in the near future. Spending exceeding time on the onboarding process may lead the candidate to accept the offer from another organization.
Make sure your assessment is short and to the point stating your concerns straight because a lengthy process might drive a good candidate away.
7. Candidate's will to work and nature of getting along with team members
Apart from technical skills and project requirements, one more factor has a great impact on hiring a right candidate, will to work and nature. Candidate will be working in a group and not alone all the time, he must be interacting and sharing ideas within team members so that the team can be on the same page throughout the project.
Here, I have tried to mention the tips that you must know in order to hire a perfect data scientist with my knowledge and experience. I hope this article helps to lend an ideal data scientist to upscale your project and augment your team.
Good Luck!
Feel free to share your thoughts and experience in the comment.
list
About the author
Veteran journalist and an art enthusiast covering topics on technology, business and Art.
Reader insights
Be the first to share your insights about this piece.
Add your insights