Nintendo Switch Accessories Every Gamer Needs
Your play session really isn't complete without the best Nintendo Switch accessories.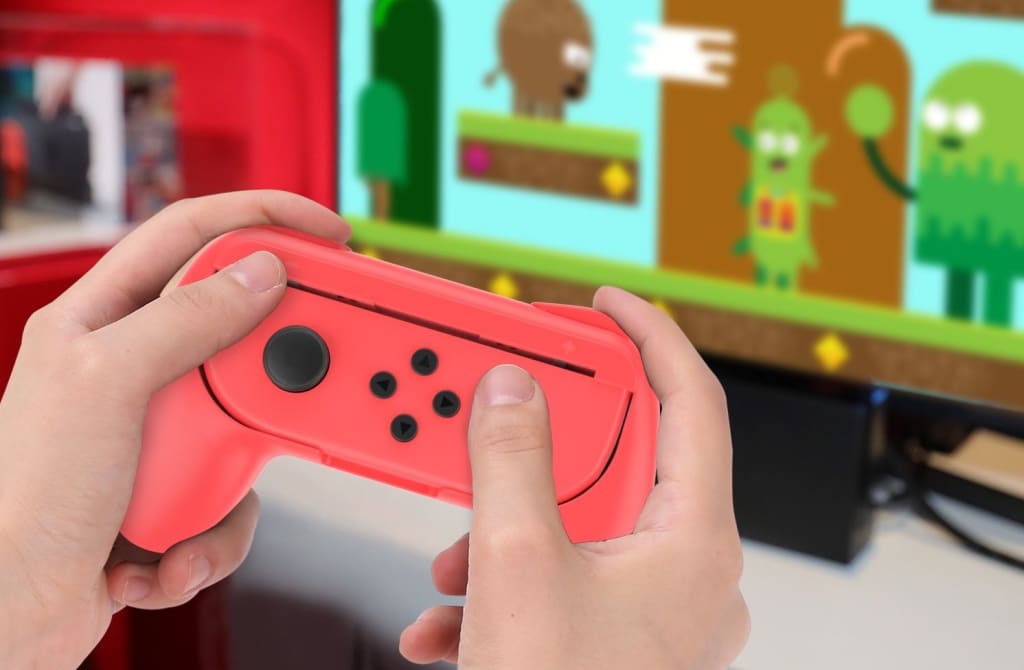 The Nintendo Switch is an amazing little system. It can be taken with you in handheld mode for fun play on the go, or nestled in its dock for awesome visuals and gameplay on your big screen. I've had the system since launch day and I can't get enough of it. The unfortunate thing is, not everything that you really need to have the best experience comes in the box. It's great on its own, sure, but there are a few accessories out there that really help to amp up the fun. We've compiled all the best Nintendo Switch accessories that your geeky little heart could ever want.
If you get even a single accessory, make it the Pro Controller. The joy cons that come with the Switch are amazing pieces of tech, but the buttons are kind of small, which can be a problem if you have big hands. The Pro Controller is by far one of the most comfortable controllers I've ever felt. It sits so nicely in your hands, and the buttons make satisfying clicks.
It's perfect for sitting down and enjoying a few hours of Super Mario Odyssey, one of the best Nintendo Switch games of 2017. If you play your Switch mainly in docked mode, the Pro Controller should be on your must-have list.
The one thing the Pro Controller can't do is split into two different controllers. That's what the Joy Cons can do. They are kind of small and hard to hold, though. That's where these Joy Con Grips by MoKo come in. Just put your Joy Con into one of these grips while playing, and they become much easier to hold.
Now, when you pass your friend one of the Joy Cons to play a round of Kirby Star Allies or Snipperclips, he won't be complaining that the controllers are giving him a hand cramp. With a perfect 5 star rating, you know that all the buyers so far think this is one of the best Nintendo Switch accessories.
When the Switch first came out, a lot of people noticed that the screen was kind of easy to scratch. Plus, being a system with a touch screen, your fingerprints dirty it up a lot if you use that functionality. AmFilm came out with this smooth screen protector to solve the gamers' cries, and it was glorious.
I have one myself and it's super easy to apply, unlike some screen protectors. I swear, every time I put on a screen protector, I get bubbles and they're impossible to get out. The amFilm one gave me zero bubbles, and has been protecting my Switch screen for over a year now. I definitely recommend, plus the price is right!
One of the modes you can play the Switch in is tabletop mode—like handheld mode, only on the table. The major flaw in this is that the Switch's kickstand is super flimsy, and it only holds at one angle. This Hori playstand fixes both of those problems.
It's much sturdier than the kickstand built into the Switch, and you can put it at different angles so that you're not slouching or straining your neck if the default angle isn't good for your line of sight. It's one of the most convenient Nintendo Switch accessories, although if we're being honest, we kind of wish this wasn't a problem in the first place.
The Joy Cons already have an impressive battery life at approximately 20 hours each, but if that still isn't enough for you, you should pick up a set of these battery packs. Games like ARMS can drain the battery life of the Joy Cons faster than other games if you're using the motion controls, so these are perfect if you're into that series.
Some of the best Nintendo Switch games coming out in 2018 will also make heavy use of the Joy Cons, like Mario Tennis Aces, so pick these up before you're in the middle of a match and you lose a point because your controllers died.
This kit comes with a bunch of Nintendo Switch accessories, but most importantly, it comes with a Switch case that I can get behind. I have the Legend of Zelda version of this case, and it's just perfect. It's sturdy while not being rock hard and heavy, and has protected my Switch well across all of my travels. Plus, both the Zelda design and the Mario design look super cool.
The kit also comes with a pair of headphones, a screen cleaner, Joy Con armor guards, thumb caps, and a little folder to keep all your physical games in. You get all of this for $20, and I think it's a steal. Some cases cost that much and don't come with any bonuses! Rude!
The Switch only comes with 32GB of internal storage. If you like to buy all your games digitally, that's going to be a bummer. Plus, many of the must-play Nintendo Switch games under $20 are e-shop only titles, so they have to be downloaded onto the system. That's a problem. However, the Switch does support microSD cards, and the ones by SanDisk are the cheapest on the market (that actually work).
Prices of these are constantly going down; the 64GB cards used to be $70 each! Nintendo's own brand still cost that much, but don't fall for it. The SanDisk ones work just as well for a fraction of the price. 64GB is a good size if you don't want to worry about ever buying another one and you buy the bigger titles physically. If you buy everything digitally, you might want to get a 128GB one.
On long road trips, it's hard to find something to pass the time. The Switch is perfect in handheld mode of course, but with a 2-5 hour battery life, it can run out pretty quickly. That's why, if you're traveling with your Switch, you need to get a car charger. This one by PowerA features an adorable Mario-themed Power Block design. It's licensed by Nintendo too, so you don't have to worry about it frying your system (like some of those Kickstarter-backed portable docks we all heard so much about). Honestly, this is one of the most aesthetically pleasing Nintendo Switch accessories out there.
If you're one of those people that likes playing Mario Kart 8 Deluxe with motion controls, you might want to consider getting these wheel grips to amp up your racing game. Reviewers say that they are relatively small for adult hands, but they're perfect for kids. And kids love playing with the motion controls on. I mean, who doesn't instinctively turn their controller when they're going around a tight corner? It just feels natural.
The Switch is a pretty cool console, but when it comes to aesthetics, it can be kind of boring. That's why this Breath of the Wild-themed skin by Controller Gear is one of the most perfect Nintendo Switch accessories for those who want their console to look a little more interesting. Make your Switch look like your very own Sheikah Slate!
This pack comes with skins for the console, dock, joy cons, and joy con grip, along with a bonus screen protector if you didn't get the glass one I mentioned earlier. Controller Gear also has skins based on Splatoon 2, Super Mario Odyssey, and some of the main characters in Breath of the Wild, so you can pick one of those too if the brown color doesn't quite suit you.
nintendo