Heading Down Under To Fan-Cast 'Crash Bandicoot: The Movie'!
A Play Station remastering of the original three 'Crash Bandicoot' games is coming, but is it too far to imagine a big-screen outing for the orange marsupial?

Image: Naughty Dog
It's time to dust off your old PS1 and head back to the '90s for a throwback to everyone's favourite Bandicoot! Celebrating over two decades of the Crash Bandicoot franchise, let's look to the future: what could be coming up for Crash, Coco and Dr. Cortex. A Play Station remastering of the original three games is coming, but is it too far to imagine a big-screen outing for the orange marsupial?
Sure, the history of games-to-film may be a little sketchy - Super Mario Bros. 'plumbed' the depths of cinema where no one should go, whilst the Tomb Raider films were a mixed bag, but have we learned anything since? Crash has somewhat died a death recently, with the last game coming out in 2010, so could we really revive the Naughty Dog legend?
This year's Angry Birds Movie cashed in on the gaming franchise of the same name with an impressive $347 million. With the likes of Jason Sudeikis, Danny McBride and Peter Dinklage providing the voices, there was little shortage of talent in the production. So maybe, just maybe, we could take Crash out of the Australian jungle and onto the silver screen in a feature-length animation. If so, let's check out the fan-casting for Crash Bandicoot: The Movie.
James Franco as Crash Bandicoot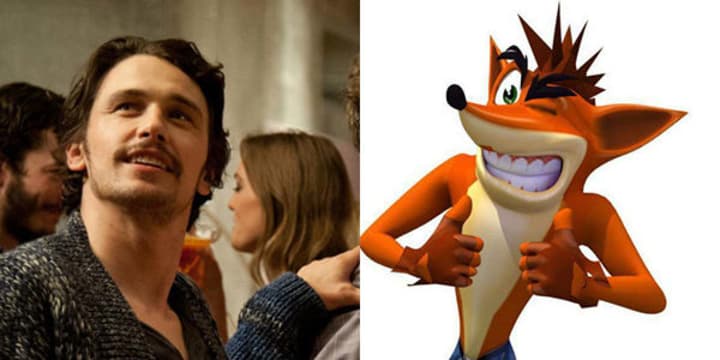 First things first, every game needs its leading character, and every film needs its leading man. James Franco and his constantly perplexed face make the perfect choice for our Aussie hero. Crash has always seemed a little...well...simple, and James's role in Pineapple Express as stoner Saul Silver prompted this casting call. The cheeky American has become part of the 'Frat Pack', and Judd Apatow's group of comedy actors known as the 'Apatow Chapter'. Alongside the likes of Seth Rogen and Paul Rudd, Franco has been involved of some of the '00's highest-grossing comedy films. Not just your average jester though, Franco is a versatile actor, starring in everything from Spider-Man to 127 Hours. A Crash casting wouldn't be his first foray into animation; he popped up in this year's R-rated food-fest Sausage Party.
John Lithgow as Dr. Neo Cortex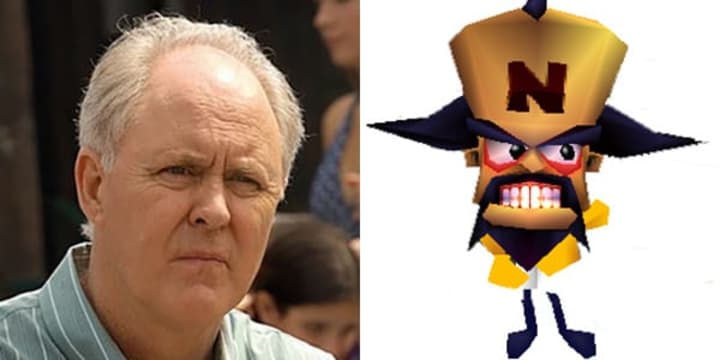 It isn't just his rather large forehead that makes John Lithgow a strong candidate for the evil Dr. Neo Cortex - he has a history of playing characters with a pretty mean streak. Many will remember Lithgow as the blundering Dick Solomon from sitcom 3rd Rock From the Sun, but for me I remember Lithgow as the sadistic Eric Qualen from Sly Stallone's mountain-romp Cliffhanger. Lithgow was later immortalised as the Trinity Killer from Showtime's Dexter - on a show where the protagonist is a blood-thirsty killer, you'd think it would be hard to find a worse character earned the accolade of 'Dexter's most evil villain' after he killed off a MAJOR character!
For anyone who still can't see Lithgow as the bumbling antagonist of the Crash series, check him out voicing the pint-sized Lord Farquaad in 2001's Shrek.
Michael Dorn as Aku Aku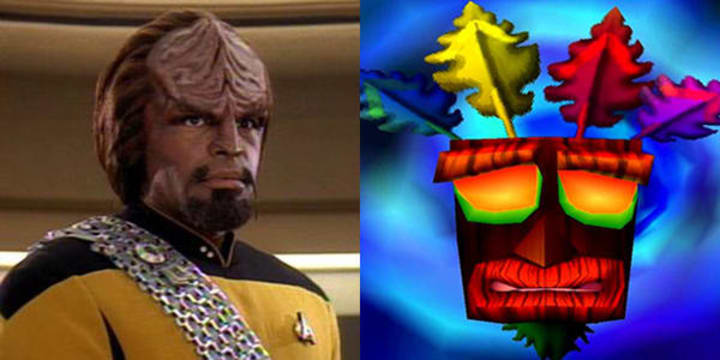 "Prepare to warp Mr. Worf". The man with the voice so deep it could make Pavarotti quake is my choice for Aku Aku - Crash's Witch Doctor guide, trapped in a wooden mask. Michael Dorn may not be as recognisable without his Klingon prosthetics, but he is no less talented for it. First appearing in Gene Roddenberry's Star Trek: The Next Generation, Dorn was never actually intended to be a regular character. Becoming a fan-favourite, he later appeared in the television series Star Trek: Deep Space Nine as well as four feature films of the franchise. Dorn's iconic vocals meant that he reprised the role as Worf for the Family Guy episode "Not All Dogs Go to Heaven", which reunited the cast of TNG in one of Family Guy's strongest episodes.
Emma Stone as Coco Bandicoot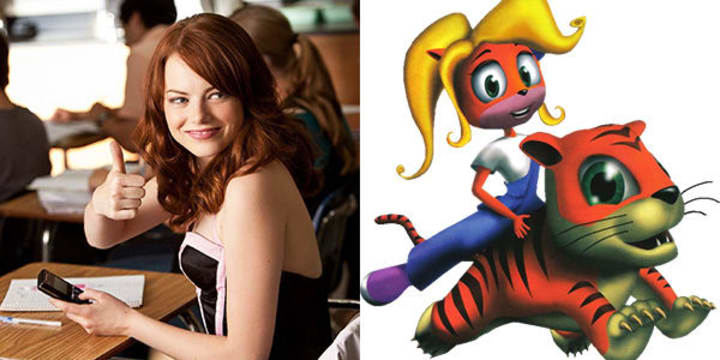 This fiery red-head has just the right amount of sass to play Crash's no-nonsense sister Coco. Riding tigers on the Great Wall of China is not an easy task, but we think Stone is up to it. The 27-year-old rose to fame after popping up in gross-out comedy Superbad, before taking a more prominent role alongside Woody Harrelson in Zombieland. More recently she portrayed the iconic Gwen Stacy in the maligned Spider-Man reboots - Gwen met a 'sticky' end on one of Peter Parker's webs. Stone often plays highly intelligent and spirited characters, like her role as Olive Penderghast in 2010's Easy A, meaning that she is more than qualified to play the "highly intelligent and spirited" Coco Bandicoot.
Elizabeth Banks as Tawna Bandicoot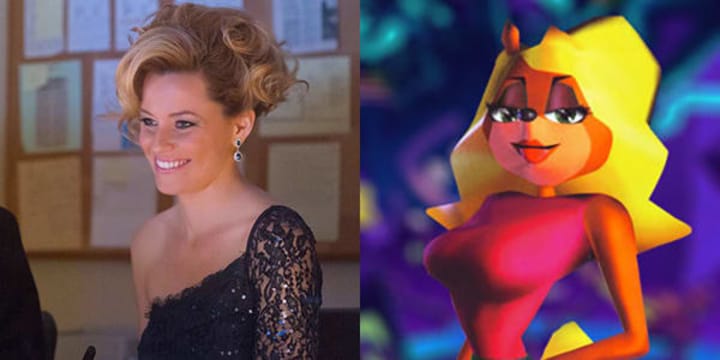 Whereas Coco Bandicoot was the no-nonsense brains of the outfit, Tawna is Crash Bandicoot's stereotypical damsel in distress. Where would Mario be with out Peach? Link without Zelda? Whilst Tawna was unceremoniously phased out of the Crash games for being 'too sexy', you couldn't really have a film outing without her. Elizabeth Banks oozes beauty across her films like Wet Hot American Summer, Zack and Miri Make a Porno, and Role Models. Despite not returning for the rumored third outing, Banks made her directorial debut with Pitch Perfect 2, where she also starred as judge Gail Abernathy-McKadden. Recently, Banks has become more of a household name thanks to her role as Effie Trinket in the Hunger Games series, as well as voicing leading lady Wyldstyle in 2014's brick-smashingly good The Lego Movie.
Hugh Jackman as Crunch Bandicoot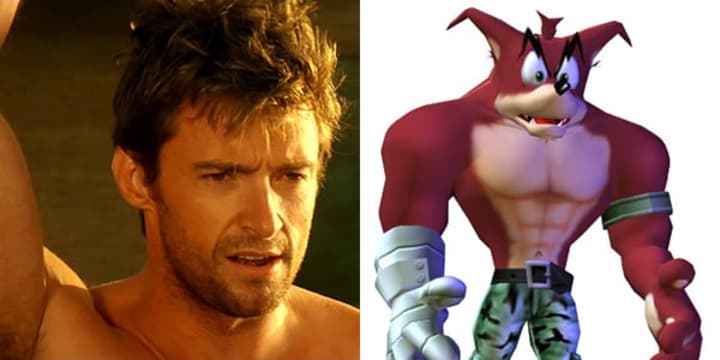 Does anyone remember a time when Hugh Jackman wasn't Wolverine? Well we do - as a dishy hacker alongside Halle Berry in Swordfish, Jackman proved he wasn't just the man with the claws. However, for the purposes of Crash, we could see him as Crunch Bandicoot, the genetically altered weapon/enemy turned good...can anybody say Weapon X? Jackman's Australian lilt means that no accent would be required to take on the role of Crunch, plus his rippling pecks bear an uncanny resemblance to those of the playable character. With Jackman reportedly bowing out of his iconic role of Logan after next year's Wolverine 3, he has more than enough time to lend his voice to some animation.
Steve Buscemi as Dr. N. Gin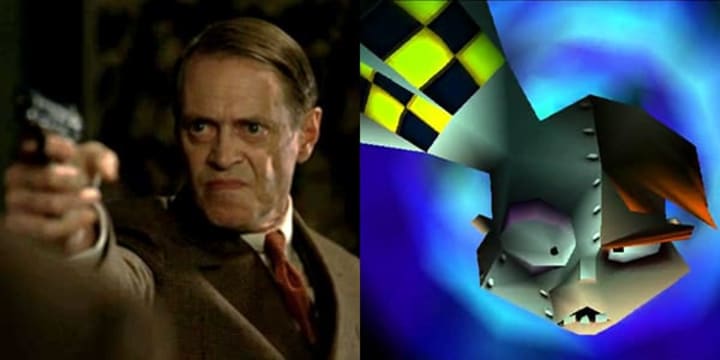 Mr. Googly Eyes himself - Buscemi has always had an Igor quality about him, and his nasal voice could work well as Crash's Dr. N. Gin. Dr. Neo Cortex's classmate, N. Gin was involved in a terrible accident that lodged a live missile in his head - which activates whenever he is stressed or angry. Known for his hot temper, Buscemi could pull off the role of the insane cyborg with ease. A bit of a bad egg in his roles, Buscemi stole the show as Mr. Pink in Tarantino's Reservoir Dogs, as well as playing anti-hero Nucky Thompson in HBO's acclaimed Boardwalk Empire. Buscemi certainly has a sinister edge to his acting, and it is a shame he never got to flex his talents in the cancelled Batman Unchained. At one point, Buscemi was tipped to play Dr. Jonathan Crane in Joel Schumacher's proposed Batman & Robin sequel. Well, couldn't he play the mad doctor in Crash?
Jai Courntney as Dingodile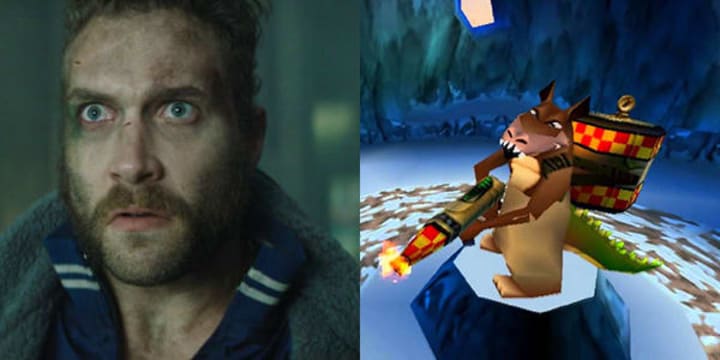 If you think a man with an arsenal of unicorns and boomerangs is weird, wait for this one! Dingodile was the genetically spliced hybrid of a dingo and a crocodile who lead a boss battle in Crash Bandicoot 3: Warped, before making regular appearances in the rest of the series. Courtney's performance as Captain Boomerang in this year's Suicide Squad has the exact Aussie twang needed for a Crash outing. The actor and former model had a key role in Spartacus: Blood and Sand, then went to star alongside Tom Cruise in Jack Reacher, and Bruce Willis in A Good Day to Die Hard. It is unknown whether Boomerang will appear in the inevitable Suicide Squad 2, but as an influential part of the squad's comic history, we are betting he will come spinning back soon. If not, Dingodile is waiting.
Kat Dennings as Nina Cortex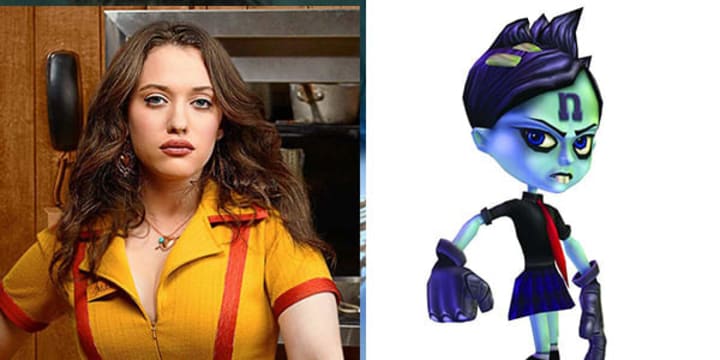 Finally, to round off the cast, Dr. Cortex's whiny brat of a daughter. A gothic girl with bionic hands, Kat Dennings is the only person who springs to mind to take on the melancholy role of Nina Cortex. Developing a fierce rivalry with Coco Bandicoot, we would love to see Dennings and Emma Stone square off against each other in a Bridemaids-style put-down competition. Starting with a single role in Sex and the City, Dennings has become a comedy actress. Her sharp wit and dry humour have seen her through The 40-Year-Old Virgin, the two Thor films and now a starring role in CBS sitcom 2 Broke Girls.
Whilst even the idea of another Crash game (let alone a film) seem a million miles away, there is no denying that animated films mean big bucks. Finding Dory swam away with a cool $483 million, and the rest of Pixar studios are rolling out nostalgia films like Toy Story 4 and Incredibles 2 until the cows come home. So, how about we go back and visit Crash? The Lego Movie smashed the competition at the box office, and the upcoming Lego Batman film proves that the game-to-film formula can work. Let's just hope that if the bandicoot were ever to grace our screens that he wouldn't 'Crash' and burn like those infamous Italian plumbers and their live-action disaster!
playstation
About the author
Tom is a Manchester-based writer with square eyes and the love of a good pun. Raised on a diet of Jurassic Park, this '90s boy has VHS flowing in his blood. No topic is too big for this freelancer by day, crime-fighting vigilante by night.