Google Stadia Vs. Apple Arcade
Opinion: What We Know, What We Want to Know, and What We Wish For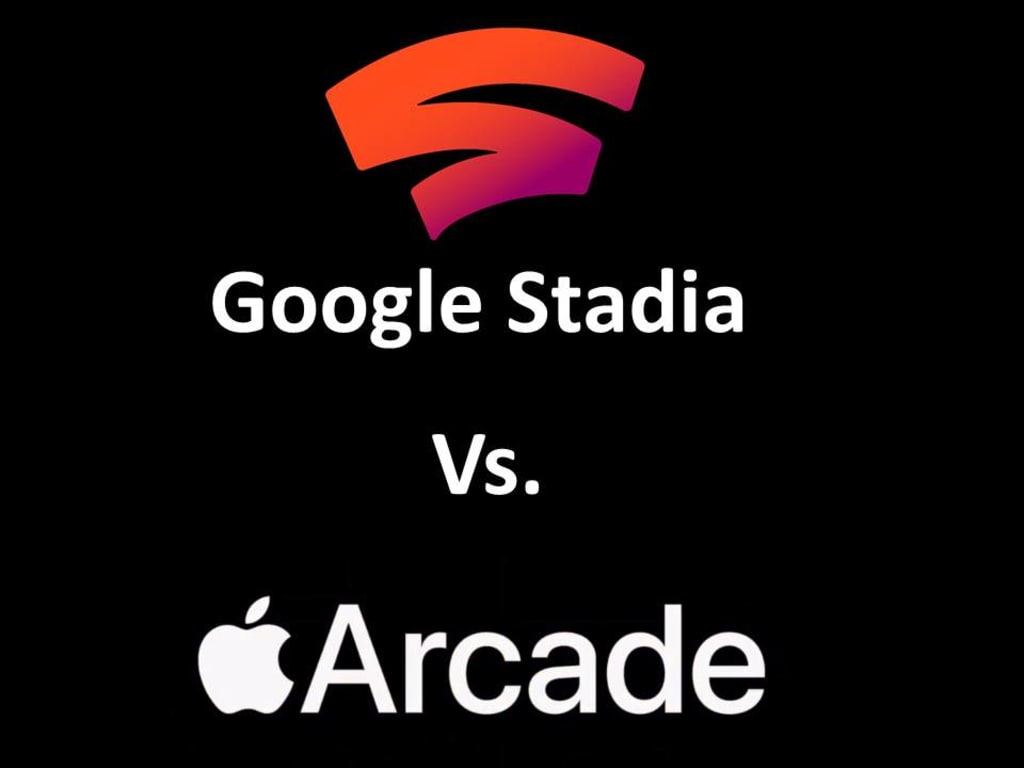 Two Tech powerhouses battle it out in the gaming world for digital platform. Both platforms will launch Fall 2019.
If you are a gamer, techy, nerd, or gamer techy nerd, you have heard about Google Stadia and Apple Arcade. Tons of critics and news outlets are stating that one, if not both, of these new gaming systems will revolutionize the gaming industry. That is a tall prediction, although not very far from the truth. So what do we know?
First, what are Google Stadia and Apple Arcade?
Google Stadia
Google Stadia is a cloud based gaming platform, in which the user can pick up a game from anywhere as long as they have the compatible hardware and software. Information related to compatible hardware and software is not confirmed by Google or other sources at this time. Google is stating that Stadia users can use laptops, desktops, and select phones and tablets to game. It has been noted by Google that a high speed internet connection is required to use Stadia. Stadia will introduce a new feature for gamers. This new feature will allow users watching YouTube to be transported to the particular part of the video game that they are watching. Google Stadia will come standard with the capabilities of 4K HDR graphics at 60 fps. Google has noted that actual fps and picture quality is dependent upon your internet connection. The main point of Google Stadia is to be able to play a game instantly from wherever you are, whenever you are. "No updates, no downloads; jump right into the game. Google is stating that they plan to consistently improve their systems. "Stadia's cloud based infrastructure evolves to meet the demands of players, developers, and YouTube creators. I am personally excited to see how they deliver the improvements to their systems over time.
Apple Arcade
What is it? Apple Arcade is a gaming subscription service that allows users to play games on their iPhone, iPad, Mac, and Apple TV. The service will allow you to jump from one iOS device to another instantaneously. Apple has mentioned that this will be a subscription based service and up to six family members can have access. The price point has not been confirmed by Apple or other sources. Apple promises no ads and no in-app purchases. Apple is committed to your privacy. The Apple Arcade team is working with AAA developers and building titles that hold high value. Apple has locked in one of the developers of the Final Fantasy franchise. So far, Apple has released footage for about 5 games that will appear at launch or shortly after launch. This is extremely promising in a skeptical market. Apple promises to continually release titles.
What do we want to know?
Google has a little less information when it comes to their platform, specifications, device access, technology, and launch titles. Personally, I would like to know of other titles besides Assassin's Creed Odyssey. Google has mentioned a bunch of things that Stadia can do, but Google has not confirmed how these things are accomplished. Stadia is dependent upon an internet connection, and is worrisome to a few. Is the YouTube feature functional, or something that is viable? Hopefully players can look forward to beta testing, server stress testing, and some hands on experience at E3 this year.
Apple's preview of Arcade came out after Stadia. Apple has more information about how Arcade will work. The fact that one of the creators of Final Fantasy is attached to this project is a huge pull to Apple Arcade. That means good quality product is coming with Apple Arcade. Actual gameplay footage has been released for each launch title. There is some curiosity surrounding the offline play, or what kind of format the platform will use. Does the platform work like Netflix, where you can use content online, but download it for offline play? Will Apple utilize Airplay for Arcade or another system to switch between devices? Let's see more to come at E3.
What I Wish For
As a tech guy, I hope that Google Stadia will include some more Indie titles over AAA. Apple Arcade has a mix of both. I think an interesting model for Google Stadia would be to prioritize 8-bit and 16-bit games when your device is running on a data connection. This way some of those Indie games will get some love when the players' internet/data connection isn't so great. That is a personal request. I doubt Google will prioritize some games over others. I definitely want some Windows PC compatibility. This way players can go straight from an Android phone or tablet to a PC for some quick gaming. For Apple Arcade, I hope that the subscription fee is reasonable. Apple tends to go towards the expensive side of things. I am excited that Apple is creating a model like Netflix for games. I hope the offline experience doesn't require you to download a huge program that takes up all your space on your device.
Final Thoughts
Most outlets are stating that these platforms will revolutionize gaming. Most people know that Microsoft and Sony attempted to switch all console gaming to digital-only platforms when both the Xbox One and PS4 were previewed at E3. That did not go over well among gamers. Gamers, in my experience, don't like change. Hopefully, Apple and Google will get it right. Apple is currently ahead of the curve. There is more information related to Apple Arcade than Google Stadia. Recently, Google has uncertainty related to the company name. While Apple seems to be the more trustworthy brand at the moment in my opinion. Only time will tell what these two companies have in store.
Thank you for taking the time to check out this article! My name is E.K. Sandoval. I hope you enjoyed. As always, stay hopeful reader. And may your wildest dream come true!
About the Creator
Hi! I'm just a guy writing about this thing we call life. I journal about my exp and struggles with mental health and life in general. I occasionally dabble in Sci-Fi and Fantasy. Stay hopeful reader and may your wildest dream come true!
Reader insights
Be the first to share your insights about this piece.
Add your insights