Best PlayStation 4 Shooter Games to Play
They may be prone to immense action scenes and incredibly bloody violence, but who doesn't love PlayStation 4 shooter games? As far as this list is concerned: no one.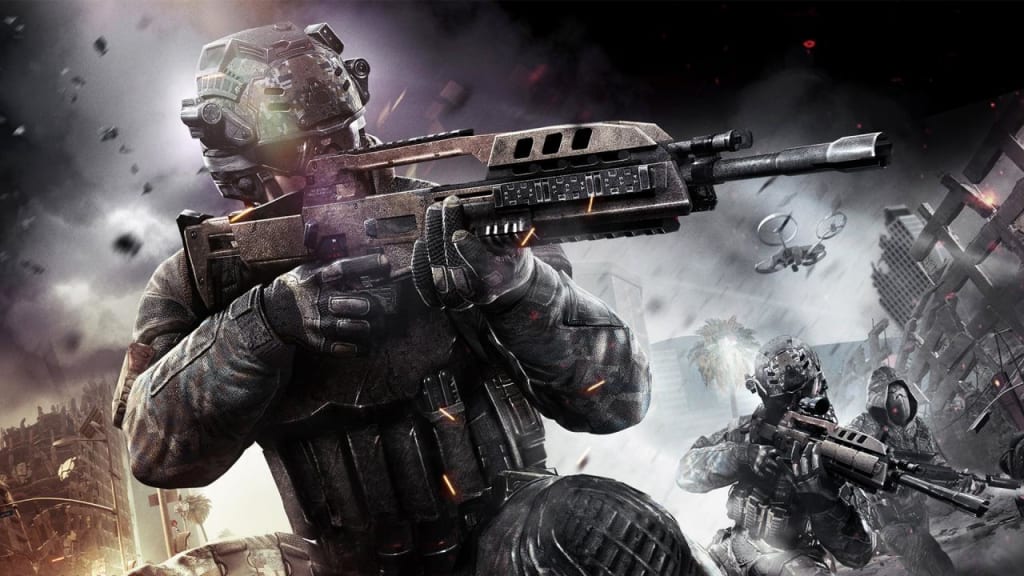 Blasting their way to the top wasn't an easy task, but these gaming titles make it look easy, and almost enjoyable. Sporting all-new amazing weaponry, and often allowing for some of the craziest in-game activities, these titles among the best PlayStation shooter games give a whole new meaning to action and adventure. They're also full of some interesting, and more or less controversial, topics that are even still debated to this day.
That's their point, as is so often the case. Shooter games intend for some gruesome play, most of which are rated Mature or Teen (so be weary before going out to buy some of these for your child). With that being said, it's also important to note how extremely violent and gory these single player campaigns can often get, plus when playing online things tend to get exponentially more crude. Besides these warnings, let's take a shot at some of the best PlayStation shooters on the market.
While it may not be the most beloved of all video games in the shooter department, it makes for some chilling gameplay, and an even crazier storyline. Called Killing Floor 2, this sequel is a zombie lover's paradise and among the best PlayStation 4 shooter games.
The story follows in the wake of its predecessor, upon which a bio-tech firm called Horzine was tricked into creating herds and herds of murderous zombie-like "Zeds," after a military clone project was hijacked by an insane researcher. A month after the first game, Killing Floor 2 showcases the spread of these beings into the reaches of Europe, wherein not only have communications been destroyed, but governments fallen.
Among both the most anticipated PS4 games of 2018 and one of the best PlayStation 4 shooter games overall, Far Cry 5 easily takes the cake (and isn't even released until March 27th). With that being said, it's clear this action adventure shooter will turn out to be another success for the franchise, as the past 2 iterations made Ubisoft lots of money.
But, that's besides the point. Predecessors aside, Far Cry 5 stands alone as having a truly immersive and all-new storyline that casts the likes of an occult following in Hope County, Montana. Inviting some amazing new gameplay, and even more of the same stunning graphics from previous titles, the upcoming Ubisoft project has an immense following already and is sure to be among the most celebrated games of 2018 (right up there next to Red Dead Redemption 2).
One of the best ranked Grand Theft Auto games, GTA V of course makes the list of the best PlayStation 4 shooter games if not for an extraordinary world to behold, but for the unlimited amount of options to choose from, whether it's racing or modding cars or terrorizing the streets and killing cops by the dozens, no one's getting bored in the in-game Los Santos and Blain County communities.
What's more, Grand Theft Auto V came out way back in 2013 and is still being played more and more, thanks to the ingenious addition of Grand Theft Auto Online. This is a multiplayer mode like no other, wherein players can join the world of GTA V and preform a number of various activities, like survival, cops and robbers, street racing and so, so much more.
The name Call of Duty cannot be ignored, for it has been around for quite some time and is one of the most sought after games each and every year. Not to mention the fact that the series is an overall bestseller in the video game industry, there's also the individual games themselves that take away some powerful awards.
Like Call of Duty: Black Ops III, wherein players get to don once agin the mask of ghost-like identity, this time set in a futuristic world with amazing weaponry and superb gameplay. It's not among the best PlayStation 4 shooter games for nothing, and I haven't even mentioned the berth of content under the Zombies namesake.
Naughty Dog's Uncharted series has continuously made fans fall in love with the story and history of Nathan Drake, an Indiana Jones-esque treasure hunter with a bad temper and some hidden secrets, like that of his parentage (is he a descendant of Sir Francis Drake? We may never know).
Though everyone loves the first one, it's become increasingly obvious that 2017's Uncharted 4: A Thief's End is among the best PlayStation 4 shooter games and is an amazing title of adventure, humor, plus familiar concepts of family and love. There's also a nostalgic easter egg where you can play the classic Crash Bandicoot!
Personally, I'd reconsider and make this Fallout 3, but unfortunately that game (one of the greatest open world games ever) is very outdated. The more likely runner up? The third's sequel, Fallout 4, now among Bethesda's pride and joys, right beside the likes of Skyrim, is among the best PlayStation 4 shooter games to date.
Like its predecessor, Fallout 4 dealt with the literal effects of an America in a fallout situation. Lain to waste, Boston streets and geographical locations have been turned to dust and buried under the wake of a ravaging nuclear apocalypse. Rising from cryogenic stasis among many other inhabitants of Vault 111, the player follows the "sole survivor" as he traverses "The Commonwealth" in search of his kidnapped son.
Not a soul will forget playing the badassery of CoD once upon a time, and though the likes of World at War and the aforementioned Black Ops III come highly regaled as among the greatest games of the franchise, no one can deny the fact that Modern Warfare literally changed the scope of the gaming industry, very nearly recreating multiplayer first person shooters.
That's why its remastered edition is one of the best PlayStation 4 shooter games, and will probably remain as among the most talented multiplayer inventions to date. By highly advancing graphics and bringing the likes of modern technology to the video game industry, Call of Duty: Modern Warfare will forever be remembered as both a classic and a title worthy of consistent praise.
With one of the largest in-game worlds next to Just Cause 3 and an intriguing story of spy-like espionage in the wildlands of Bolivia, Tom Clancy's Ghost Recon is among the most celebrated series of tactical shooters, but Wildlands is probably their best yet, and is one of the most favorited PlayStation 4 shooter games for these very reasons.
Under the Delta Company of the 5th Special Forces Group, otherwise known as "Ghosts," players join the likes of "Nomad," the team leader, and various others based on shooting preferences, ie sniper, tactical gunner, and engineer. The goal is to sweep across the various terrains, ridding the Bolivian country side of infesting drug cartels, corrupt police officials, and otherwise tainting groups of violence.
Released back in 2014, Wolfenstein: The New Order is another nostalgic entry among the best PlayStation 4 shooter games, since its critical acclaim in adapting gameplay and level design from the seriously lacking previous games.
The New Order was so iconic it was even nominated for Game of the Year in the category of Best Shooter (ie, why it's on this list). A sequel was released just last year under the title Wolfenstein II: The New Colossus, but nothing will ever beat this game and its extraordinary shooting sequences in toppling the Nazis after having won the Second World War in this alternate historical tale full of moral decisiveness and a dual wield concept for practically every weapon in the game.
Adding an all-new layer of playability to the shooter franchise, Titanfall 2 makes itself known as among the best PlayStation 4 shooter games and continues to sparkle and shine under this codified identity.
Similar to the anime series Gundam, Titanfall 2 sports some heavy artillery called Titans. In reality, they're massive robots with an intent to kill any and everything in its way, stoppable only by the likes of another Titan. It's not just robot-warfare, either, as players start matches as their human selves and must build up points before they can actually call their Titan in as backup.
Though made under the same name, and both among the best PlayStation 4 shooter games, Tom Clancy's Rainbow Six Siege is widely different than that of Wildlands. It sports a rather interesting multiplayer segment that has fans reeling, but much like Ghost Recon, Rainbow Six is a highly beloved classic in the annals of video games.
Players work as either a counter-terrorist unit under the Rainbow Six slogan, or act as the terrorists themselves. This is why so many have come to love the game's online segment, for it pits friends and foes alike in an objective match necessitating strategy, cunning, and intense weapons capabilities. It wouldn't be among the best shooters if otherwise.
first person shooter