Best Gifts for Retro Gamers
Get geeky with these awesome throwback gifts for retro gamers.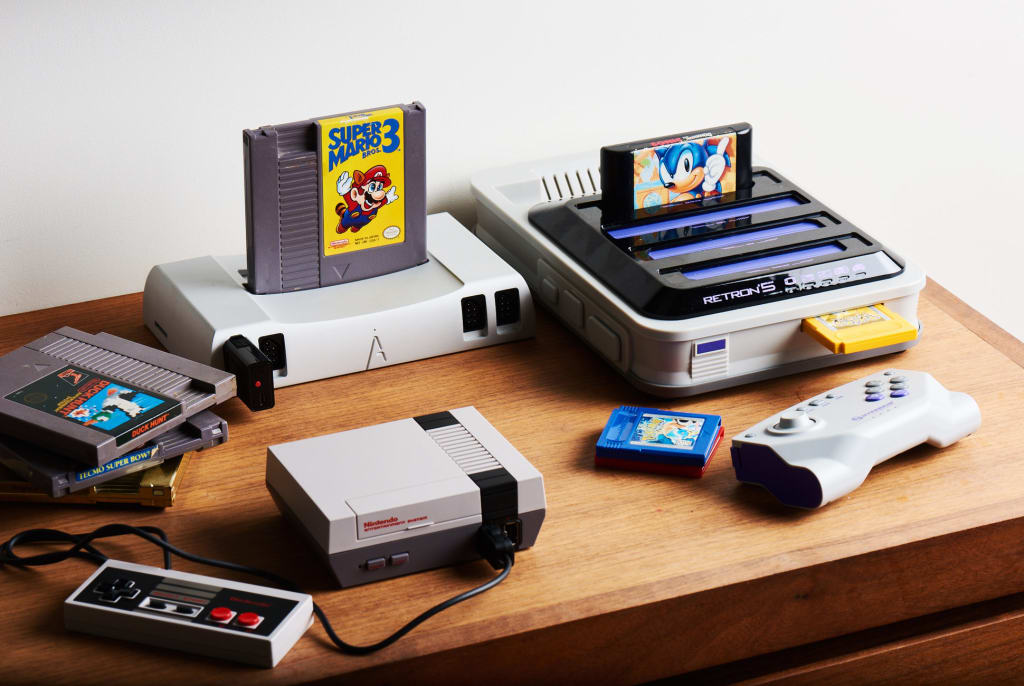 From Legend of Zelda to Pac-Man, the games of our childhood hold up as timeless classics, taking a prominent place in pop culture that we would never have dreamed of as kids playing around at the arcade. Today, there's no denying the draw and appeal of those simpler, highly pixelated times of our lives. Because of this, we look back at the days of old, seeking out the perfect gifts for retro gamers who would truly appreciate a fun, useful gift without having to resort to purchasing and playing some of these retro games on the Nintendo Switch. With all the gaming options out there these days, none are better than those that stir up feelings of nostalgia.
What better gift for retro gamers could there be but the very games themselves? With these tiny arcade games from ThinkGeek, you can give the gift of that genuine arcade experience—without dropping stacks of quarters, waiting in line, or walking away with questionably sticky hands. These tiny arcades include classic Pac-Man, Ms. Pac-Man, Space Invaders, and Galaxian; all the true classics of 80s gaming, but sized to fit right in the palm of your hand. With keychain attachments, you can take them anywhere and everywhere, making these A-lister video games all the more relevant while creating a classic retro gaming experience and vibe no matter where you go.
There are plenty of harsh-sounding, plastic Ocarina toys out there, which many of us would have loved as kids. For the retro gamers of today however, for whom Legend of Zelda is a sea of nostalgia and emotion, playing a genuine ocarina would be a dream come true. With this fully functional, 12-hole ocarina, you can gift a genuine musical experience and skill to the retro gamer in your life. The instrument is fully equipped to play all the classics, from the Song of Healing to Epona's Song—and of course, even non-Legend of Zelda songs. Who would want to do that though?
The incredibly 80s vibe of Tron and the updated special effects that excitingly recreate the look of retro gaming in Tron: Legacy make both of these DVDs perfect gifts for retro gamers. The 2-movie collection, therefore, is all the more perfect. With these movies, you get to dive headfirst into the world of gaming, where the lines between game and reality blur, and the excitement never stops. Tron: Legacy faithfully recreates the daring world of Tron, with better-than-ever special effects, and even more nuance of good, evil, love, hope, and all of the human aspects of this world—thrown into the gaming world of Tron.
The Namco Museum Greatest Hits LP combines the nostalgia of classic retro gaming with the nostalgia (and now popular resurgence) of playing vinyl on a record player. These hits include the classic game music of many arcade favorites, as well as the nostalgically familiar sound effects from games such as Bosconian, Dig Dug, Dragon Buster, Galaga, Gaplus, Mappy, New Rally X, Pac-Man, The Return of Ishtar, Rolling Thunder, Sky Kid, Splatterhouse, Tower of Druaga, and Xevious. Plus, this special edition makes the nostalgia complete with a specially colored vinyl record and Pac-Man themed protective sleeve.
The Vilros Raspberry Pi retro gaming system allows you to bring the classic vibes of retro gaming to any screen, on your own. The kit comes with all the pieces needed to put together the gaming system, as well as an instruction booklet and classic Vilros gamepads. It's fun to set up, and fun to use, bringing a sense of nostalgia from both aspects of the gift that we just can't seem to get enough of. As it comes pre-loaded with Retropie, this kit will allow you to play an incredible range of classic retro games, including the top underrated classic NES games, within hours of opening it, without needing separate gaming systems that are often impossible to find or prohibitively expensive nowadays.
These Pac-Man cufflinks make the perfect gifts for retro gamers, offering a subtle, fashionable way to bring their interests and hobbies into the more dapper areas of their lives. These cufflinks are made of sturdy polished silver, combining the cute retro look of Pac-Man characters with the classic, polished look of a good pair of cufflinks, making them a subtle and appropriate option for any occasion. They're sure to keep their wearer looking sharp, while sparking up conversation and reminiscence wherever they go. Perfect for work, dates, formal events, even weddings, this is one gift that is sure to get plenty of use.
Retro gamers quickly learn what makes a game good or bad. With this in mind, what better gift could you give the retro gamer in your life than the opportunity to put their knowledge to use, and create their own video games? With Mattel Bloxels' Build Your Own Video Game, it's easy to do just that—and you don't have to be a coding expert, either. This isn't just a great way for kids (or adults!) to learn how to map their concepts into a physical product, but it's also a great opportunity for retro gamers to take a deeper step into the world of gaming, and create their own retro video games with ease.
Everyone loves jigsaw puzzles, and what better gift for retro gamers than a classic Super Mario Bros. themed puzzle? This collector's edition 550-piece puzzle is fun to do, and the result is a nostalgic picture fit for framing or displaying—or dismantling and doing again, of course. This is one great way for the retro gamers in your life to enjoy all the nostalgia and fun of classic video games while taking a break from the eye-straining screen. While safe fun for kids as young as three years old, the pixelated image makes for a difficult jigsaw puzzle that will keep you entertained for quite a while, especially with those pesky black sections.
This pixelated, retro backpack is a great fashion statement for retro gamers of all ages. The reversible backpack features images from the classic 80s Super Mario game, and is plenty big for whatever textbooks, notebooks, and even computers you may need to carry with you. Knowing that this look has only become more cool with the passing of time since the 80s and 90s, you can guarantee you're gifting something that will stay fashionable for years to come, within retro gaming circles and without.
This beautifully designed Legend of Zelda chess set is not only a nostalgic harkening to (arguably) the world's best video game, but is also a work of art in itself, and a wonderful way for gamers to carry on the tradition and spirit of the game in a new way. Though the game of chess is certainly a very different game than the epic adventure sagas of Link and Princess Zelda, it is a fun way to pass the time and test your wits and strategic thinking. With this version, you can do so with the added enjoyment of playing with your favorite game characters, as a set of beautifully sculpted game pieces. Unlike a regular chess set, in this game, good is pitted against evil, with Ganon and his ilk on the black side, and Zelda, Link, and friends taking the white. It's one of the most perfect gifts for retro gamers.
About the Creator
Lover of Books, Saxophone, Blogs, and Dogs. Not necessarily in that order. Book blogger at heartofinkandpaper.com.
Reader insights
Be the first to share your insights about this piece.
Add your insights