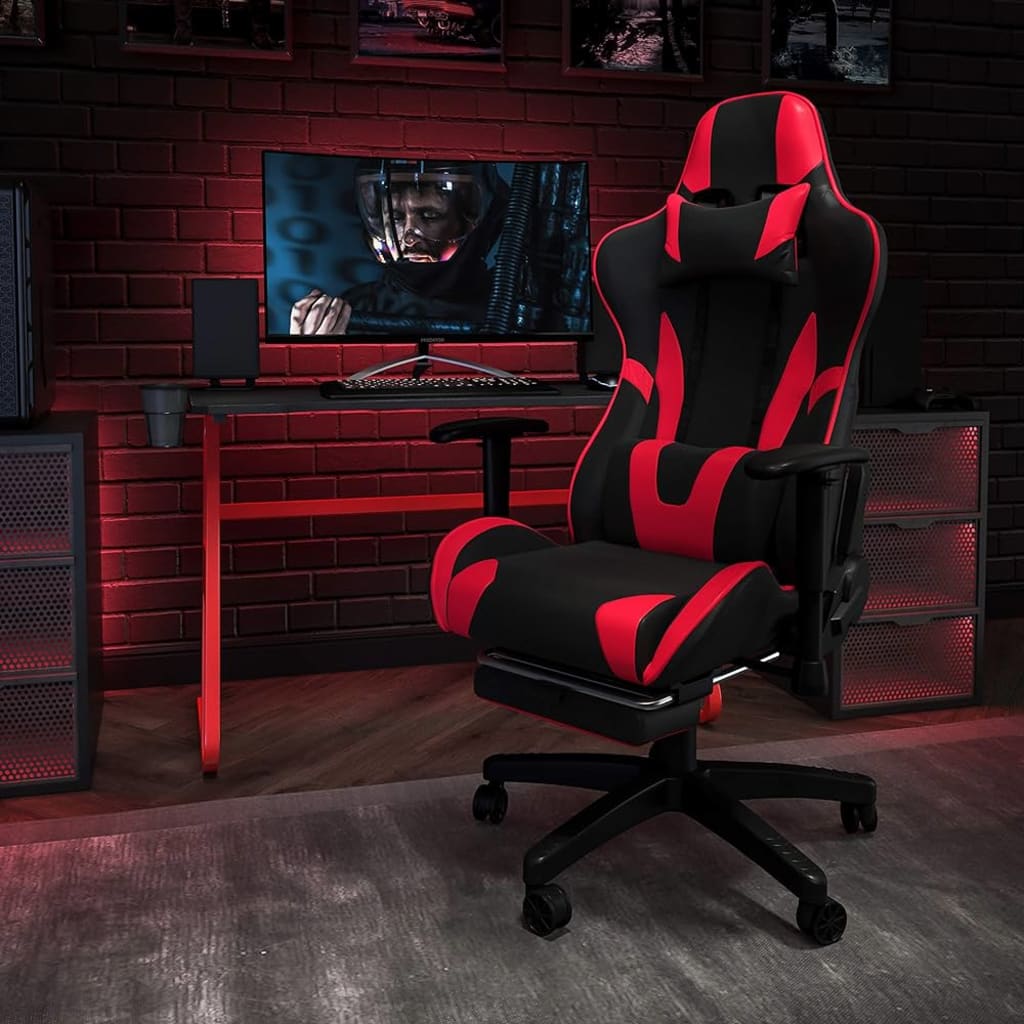 Introduction
In the ever-evolving world of gaming, one crucial component that often goes overlooked but can make a world of difference in your gaming experience is the gaming chair. As gamers, we invest in top-notch graphics cards, ultra-responsive keyboards, and precision gaming mice, all to elevate our gameplay to the next level. Yet, the importance of a comfortable and ergonomically designed gaming chair cannot be overstated.
In this article, we will explore the world of gaming chairs, shedding light on their evolution, key features, and the benefits they offer to avid gamers. We'll also delve into two prominent gaming chair models - the Flash Furniture X20 Gaming Chair and the Anda Seat Spirit King Series Gaming Chair. These chairs have garnered attention for their exceptional designs, comfort, and unique features, making them stand out in the competitive world of gaming chairs.
So, whether you're a seasoned esports professional, a casual gamer, or someone who simply values comfort during extended gaming sessions, read on to discover how the right gaming chair can elevate your gaming experience to new heights.
Flash Furniture X20 Gaming Chair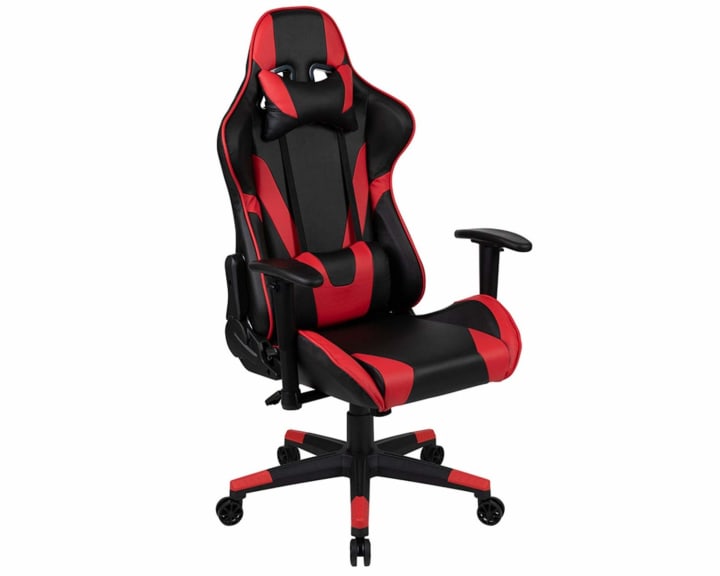 The Flash Furniture X20 Gaming Chair is a formidable contender in the realm of gaming chairs, offering a fusion of style, comfort, and functionality. Designed with gamers in mind, this chair embodies the essence of ergonomics and customizability, ensuring that users can immerse themselves in their favorite games for hours on end.
Ergonomic Racing Chair
The Flash Furniture X20 Gaming Chair is built to provide exceptional support for gamers of all shapes and sizes. Its height-adjustable pivot arms not only cater to different arm lengths but also allow them to move inward and outward, adapting to your preferred gaming posture. The 5-star base adds stability and mobility, equipped with sporty casters that glide smoothly across various surfaces, allowing for easy movement while you're in the gaming zone.
Highly Customizable
One of the standout features of the Flash Furniture X20 is its high degree of customization. Whether you prefer a laid-back position for relaxed gaming or a more upright posture for intense sessions, this chair has you covered. With its infinite back adjustment, you can recline the chair anywhere between 87° and 145° to find that perfect angle that suits your comfort.
Moreover, the chair comes with adjustable lumbar and headrest pillows that can be easily snapped on or removed, ensuring tailored support for your lower back and neck. This adaptability ensures that gamers of all body types can find the ideal seating configuration to prevent discomfort during marathon gaming sessions. Additionally, the full 360-degree range of motion ensures you can easily switch between screens or interact with your gaming setup without strain.
Tilt Mechanism with Tilt Tension Control
The Flash Furniture X20 Gaming Chair is designed for dynamic movement. It features a tilt lever that can be pushed in to lock the chair in an upright position, providing stability when you need it. Conversely, pulling out the lever activates a rocking motion, adding an extra layer of comfort and relaxation when you're not in the heat of the game. The tilt tension knob allows you to fine-tune the resistance level of the chair's tilt, ensuring it matches your preferences precisely.
In summary, the Flash Furniture X20 Gaming Chair is a testament to the importance of ergonomics and customization in the world of gaming chairs. With its ergonomic design, a wide range of customization options, and thoughtful tilt mechanism, it offers an ideal platform for gamers seeking both comfort and functionality during their gaming adventures.
Anda Seat Spirit King Series Gaming Chair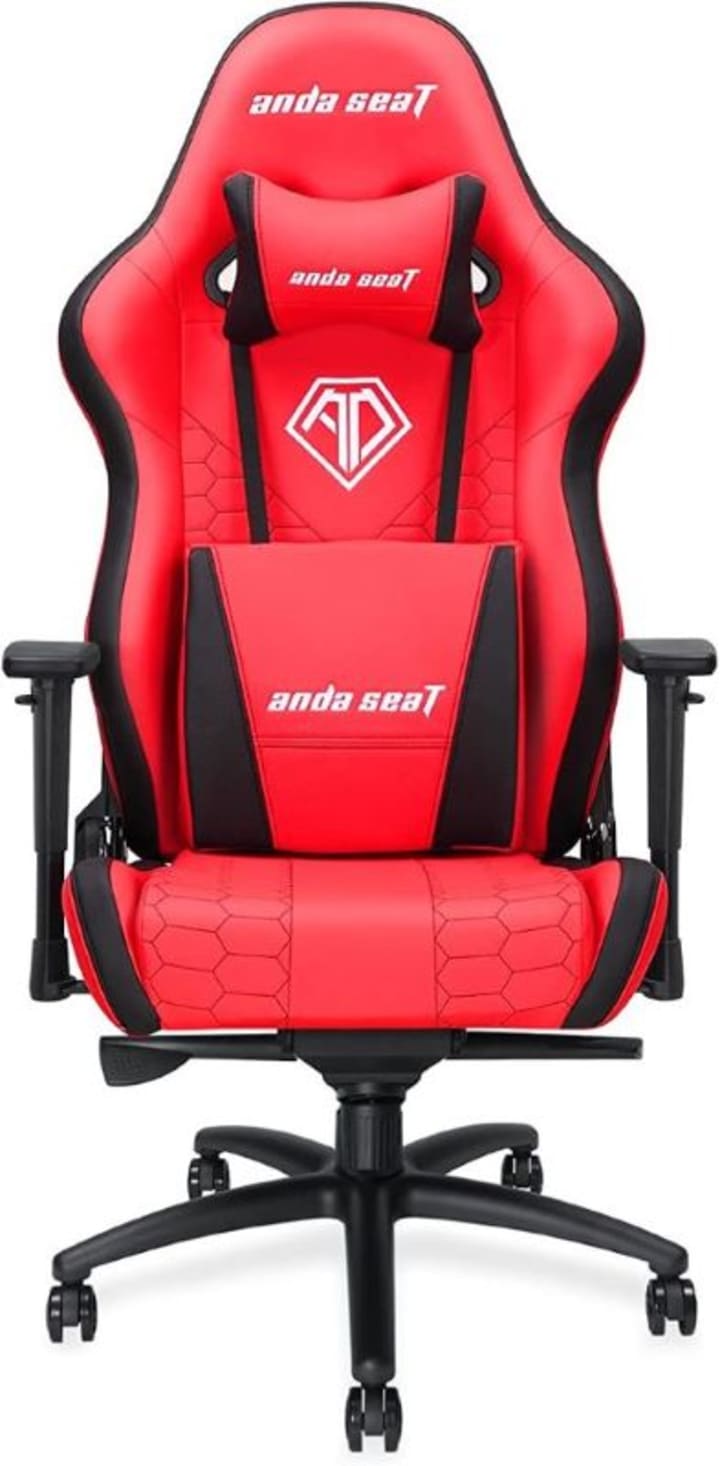 The Anda Seat Spirit King Series Gaming Chair stands as a testament to the marriage of style and substance in the world of gaming chairs. Crafted with meticulous attention to detail, this gaming chair is a remarkable blend of durability, comfort, and aesthetics, making it a preferred choice among gamers who prioritize both form and function.
Highly Stain-Resistant and Durable Pink PVC Leather
One of the standout features of the Anda Seat Spirit King Series Gaming Chair is its highly stain-resistant, durable, and scratch-resistant pink PVC leather upholstery. This material not only adds a touch of elegance but also boasts the same resilience and original design as a race car seat. The chair is built to withstand the rigors of intense gaming sessions, ensuring it remains in pristine condition even after extended use.
Velour Head Pillow and Lumbar Support Cushion
Designed with the comfort of the gamer in mind, the Anda Seat Spirit King Series comes complete with a velour head pillow and lumbar support cushion. These additions are more than just accessories; they are integral components that enhance the overall gaming experience. The head pillow provides crucial neck support, reducing strain during long gaming sessions, while the lumbar support cushion ensures optimal back support, preventing discomfort and potential posture-related issues.
360 Degree Swivel and 90 to 160 Degree Tilt Mechanism
Versatility is key in gaming, and this chair delivers with a 360-degree swivel capability. Whether you need to pivot quickly to interact with multiple screens or simply want to stretch during a break, this feature provides the freedom to move with ease. Additionally, the 90 to 160-degree tilt mechanism allows you to recline the chair to your desired angle, facilitating both intense gaming focus and relaxed moments of leisure.
High Density Mould Shaping Foam
Comfort and support are paramount during long gaming sessions, and the Anda Seat Spirit King Series Gaming Chair doesn't disappoint. It features high-density mould shaping foam that conforms to the contours of your body, providing optimal cushioning and stability. This foam not only ensures a comfortable gaming experience but also maintains its shape over time, ensuring long-lasting performance.
5-Star Aluminum Chair Base
The foundation of any quality gaming chair is its base, and the Anda Seat Spirit King Series features a 5-star aluminum chair base. This sturdy base provides stability and durability, ensuring that the chair remains steadfast even during intense gaming moments. It's designed to support users of varying sizes and weights, making it a reliable choice for gamers of all profiles.
In summary, the Anda Seat Spirit King Series Gaming Chair offers a luxurious and comfortable gaming experience, combining aesthetics with durability. With its stain-resistant pink PVC leather, velour head pillow, lumbar support cushion, versatile tilt and swivel mechanism, and high-density foam, this chair is an excellent investment for gamers who demand both style and substance in their gaming setup.
Reader insights
Be the first to share your insights about this piece.
Add your insights