Best 2-Player Games for PS4
Couch Gamers and Buddy Players alike, snatch up those trusty controllers: the best 2-player games for PS4 are underway. Don't fret if you're a just a shooter, sport, or a co-op kind of player; we've got them all.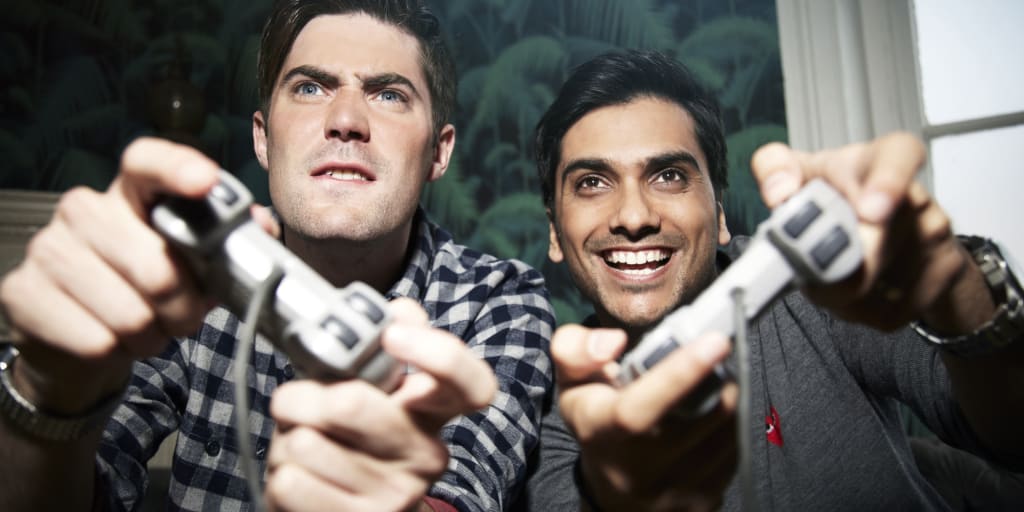 Some of our best and most cherished memories are the scenes that get played out over the all-too-familiar living room couch. Even so, the majority of these subsequent moments are normally reserved for either Game of Thrones reruns, or PlayStation 4 escapism.
What better way to make more of these heartfelt connections within the universes on your screen, likewise spread out amongst the comfort of friends and multiplayer fun?
It gets rather difficult, though, when sifting among the ranging video game titles, in search of one fabled world perfect for you and your mate. Not only must the game relinquish an immersive experience, but likewise allow for a worthwhile adventure in the form of cooperative play, arm and arm with your closest buddies.
Don't get discouraged or swayed by the myriad of single player or RPG games for PS4 that are out there. Get the all-inclusive games that will turn your beloved couch into a world of its own for both you and your many friendships.
Here's how you do it: grab an extra controller (or two), then study this detailed list of best 2-player games for PS4.
Just so you don't get confused, it's ordered in groups of twos, the first being for all ages, next are those dangerous shooters, followed by sports, then RPG, rolling on into the adventure games, and last, but surely not least, the kids section.
A staple in multiplayer video games to date, Rocket League doesn't even have to boast. It's a record shattering, multi-dimensional, high-intensity game that even has its own world tournaments. Yes, and these championships can shell out anywhere from a thousand bucks, to millions...
But you and your friends don't need to put up any money to play, other than its $20 price tag. Rocket League is one of the most affordable, versatile, and time consuming games on the market, with a playback value that screams, "Goal!" That's why it's one of the best 2-player games for PS4.
Plus, with such a diverse set of options to choose from, players can pick their cars apart as if they were in the Fast and Furious movies, and then its off to the soccer field, or maybe you're more of a basketball player? They have it, plus all kinds of modes — even featuring Drop Shot for the volleyballer players!
Ever wanted to be in a band? I know I did, and the best way to make that happen, especially if you and your buddies need a good game to release the urge through, is Rock Band 4, where you'll find that perfect group.
Whether you like music or not, the Rock Band series, plus their long list of similar multiplayer games, have been an ample source of video game music fun for all age groups.
It may not be for every type of player, but it sure is up there for everyone as an all-around favorite in the best 2-player games for PS4. You can choose between drums, singing, guitar, and bass to design your own rock band as if it were 1985 all over again. Leave the hairspray aside, please.
One of the craziest and best 2-player games for PS4, Borderlands can be considered "out there." Like way, way out there. Even when it comes to its graphics, which are rather cartoonish and appear, at first, dated — everything about Borderlands is over the top and packed with an immense array of insanity.
As a top notch shooter, Borderlands proved itself to be A-1 in style, story, and in-game content. Did you know there are so many different weapons in this game that the likelihood of seeing the same one twice is pretty much statistically impossible? Yeah, out there.
The cool thing about Borderlands: The Handsome Collection is that you get all the DLC content and their previous games wrapped into one. You can even play this game with four people on split screen, which gives your couch a whole new berth, and you don't have to wait while your friends change or swap through in-game gear like older games.
Better grab those extra controllers...
Like Borderlands, Call of Duty has made its name in the annals of video game shooters, forever considered by gamer enthusiasts as the godfather of multiplayer war games.
Since World at War, CoD has made the in-game secondary content of zombies as one of its most delectable by-products, now served among the best 2-player games for PS4. Even if you aren't into PS4 zombie games, players can immerse themselves into the near future of modern warfare with its co-op campaign.
Black Ops III is one of those games that constantly gives, and whether you like shooters, or just want to play a well-made video game, this CoD installation is by far one of the best contemporary additions to its still growing list of favorites.
Though it will be released on September 29th, FIFA's brand new 2018 edition to its own series definitely boasts a whole range of available content, from better graphics and physics, to all-inclusive modes and rosters.
The athlete gamers' dream, FIFA 18 is sure to bring people of all kinds to your couch. Its one the best 2-player games for PS4, mainly due to its prowess in the video game world, plus overall ratings in their previous installations.
You don't have to be a soccer player to love this game. FIFA 18 will be a staple in its franchise, but it will also be bringing players to your doorstep, hopefully with their own controllers this time.
Like its soccer counterpart, Madden NFL 18 is the football player's go-to in video game escapism. With a whole new cast of playable characters, up-to-date teams, and upgraded overall rating systems, this new installment will be sure to fill up the living room, even if the Super Bowl isn't on for another six months.
Great thing about this game is you don't need shoulder pads and a helmet to experience the awesome, bone crushing sensations of body on body contact that comes with football games. Plus, you don't even have to leave the house.
One of the most well-known sports video games, as well as the most sought after disc in the best 2-player games for PS4, Madden NFL 18 is a definite must have if you're a sports fan, and every friend is sure to think their team can beat yours. Prove them wrong.
For the role playing fanatics out there, Diablo III is you and your friend's next visit into Hell. For the gamers who like to hack and slash their way through the in-game universe, this one's a perfect fit in the best 2-player games for PS4.
In this world, players can choose between seven different characters, each with their own special skills and equipment. To up the ante above the normal limit, you and your friend can even play Hardcore Mode, which is sure to aggravate the both of you for quite some time.
With a universe that is packed with a myriad of different secrets and unlockables, plus is completely destructible, Diablo III is sure to make both you and your friend shiver in fear the whole ride down the ladder. Don't smash your controller to pieces while attempting that Hardcore Mode, though.
Child of Light is one of the lesser known on this list of best 2-player games for PS4, but don't let that deter you from its awesome greatness.
The game takes place in the fictional land of Lemuria, where you and your friend can explore this insanely beautiful world in search of the pieces to humanity: the moon, the sun and stars, which are all held captive by the evil Queen of Night.
If you want to have a cool time with your son or daughter, Child of Light is perfect for an experience that brings both story and multiplayer gaming into one fluid piece of engineering. As role playing games go, its at the top of its class.
Another one of those versatile video games, the Uncharted series, created by Naughty Dog, has brought a whole berth of grand adventures to life through the eyes of Nathan Drake, son of Francis Drake — a well-known and sought after pirate.
With one of the most awe-inspiring stories in the best 2-player games for PS4, Uncharted: The Nathan Drake Collection gives you and your sidekick the in-depth inclusion of all three previous games, which are playable on both co-op and online splitscreen.
If you love a good adventure, and an even better story to top it off, Nathan Drake's journeys into the pits of his own soul are not only gripping, but perfect for you and your friend to find some heartfelt moments at the end of a PS4 controller.
Lara Croft, the ultimate badass in the adventure game genre, has been cast with a long and bumpy career. With a moniker as subtle as Tomb Raider, she sure has made a name for herself, especially when it comes to the best 2-player games for PS4.
Within her newest installation, Lara is out hunting for the Temple of Osiris. You and your friends can take control of her team as you vault, sift, and run for dear life through the in-game world in search of this fabled place and the secrets that still dwell there.
You don't have to be a Tomb Raider fan to love this brand new multiplayer adventure game. Packed with a plethora of 2-player action, Lara Croft and the Temple of Osiris is good for hours upon hours worth of co-op play that will have you and your crew sweating by its exceptional finality.
If you loved LEGOs as a kid, or if you have children who still do, these collections of LEGO video games are sure to make playtime an actual enjoyment, rather than a bore.
Similar LEGO installations with the ideal of best 2-player games for PS4 are the two games LEGO Star Wars: the Force Awakens and LEGO Marvel Super Heroes. But Dimensions alone packs a whole bunch of characters from a wide variety of different universes into one seemingly unending reel of missions. Play as LEGO people, like Batman, Harry Potter, Scooby-Do, and even the Simpsons!
If you cherished these exceptional playthings when you were a child, or just want to pass on the memories through virtual entertainment, LEGO Dimensions is a household name when it comes to co-op fun, both on and off the screen.
Like puzzles? Want to play cool puzzle games with your kids? Want to be the cool parent and give them an awesome group time activity? Little Big Planet 3 is a perfect place to find that very enjoyment. Its not an addition to the best 2-player games for PS4 for nothing.
Players are thrown into this universe, which is jam packed with a myriad of different surfaces and materials. Creation, like LBP's previous two installments, is where Little Big Planet 3 gets its ultimate drive.
You can even share your creations between players, showcasing your awesome imagination and ingenuity. Use these creations to then defeat enemies, complete objectives, find collectibles, and so much more. This is one of those all-around games that can be played for years and years without losing its initial value.