Angel
The happiest moment of my life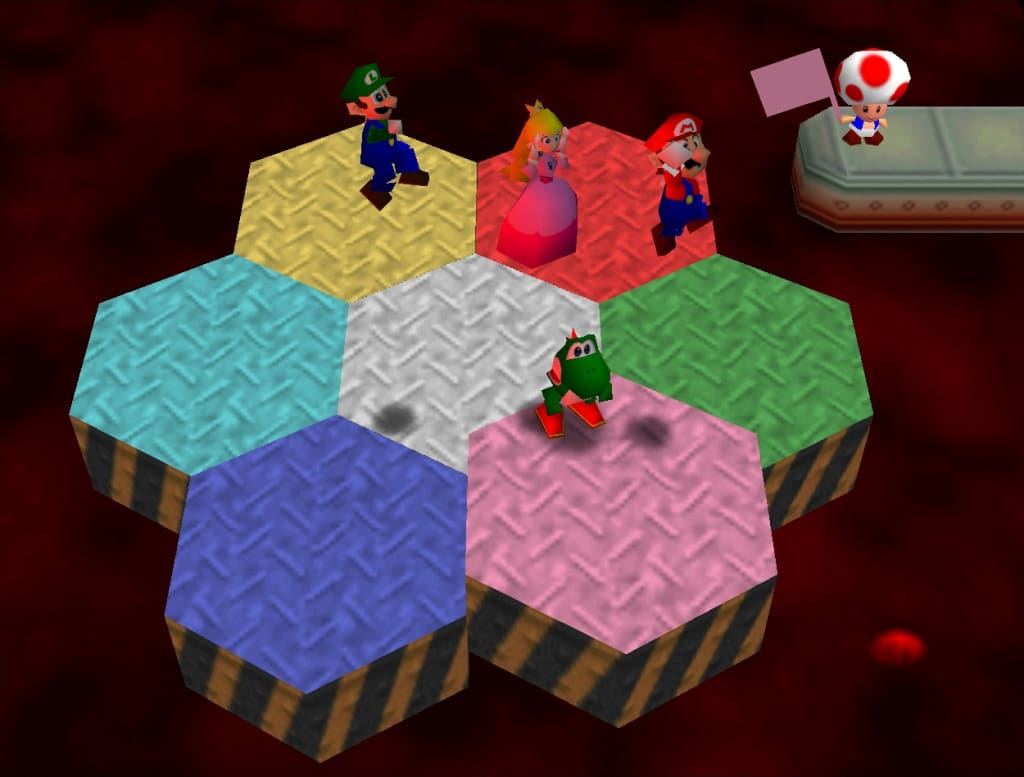 Hexagon Heat
The best moment of my twenty-two-year-old life was so memorably unmemorable. It is as if I was overwhelmed with a powerful sense of realization and appreciation, before I even knew what those words meant. Now, eighteen years after the fact, I am still rushed without mercy back to the moment with two simple triggers. A single mini game on Mario Party 2, and the song "Angel" by Shaggy. In short, life was good.
I had just turned four years old. I was filled with the young innocence of a child living in the suburbs of Long Island, New York. I had two siblings, and two loving parents at this point in my life. They were all I knew, and they were all I really cared to know. It was the summertime, and that meant a few things. Summer meant it was my birthday. June 20th, halfway to Christmas, my birthday. It meant jumping on my trampoline, swimming in the pool, playing with my siblings who were on summer break from 3rd and 5th grade respectively, and it meant weekly barbeques every weekend. I had two siblings, Douglas, my brother who was five and a half years older than me, and Deanna, my sister who was four years older than me. Douglas had a best friend named Steven, who would sleep over our house nearly every weekend in the summer. One specific weekend, though, all these summertime activities and people flooded into one brief moment that I still say was the happiest moment of my life.
It is the weekend after my birthday in June of 2001. The thrill of my birthday is gone, and the anticipation of July 4th is brewing. I always thought fireworks were so beautiful, although very loud. Steven had slept over on Saturday night, and that means that on Sunday we can all sleep in and have fun. I had woken up around 11:00am, and immediately searched for who I can hang out with. As if out of a movie, when I emerged from my room at the end of the hallway, wiping my eyes, so did my sister Deanna from her room in the middle of the hallway, and so did Steven from my brothers room at the beginning of the hallway. The three of us all make eye contact an immediate jump in excitement and run to the basement, nearly knocking over my mother in the process. The basement was, as my father has always put it, his 'man-cave turned kid-cave'. There was a Television on the ground in the corner, it was bigger than me in every way. It was about five feet tall, and about three feet wide. Flat screens were still a futuristic idea at this point. Steven, Deanna, and I sit down two feet in front of this giant TV, and we behold the most prized possession that any of us have ever laid eyes on. The Nintendo64. The holy grail of all children at that time. We turn it on, and we slap in Mario Party 2, all without saying a word to each other yet, some could say that this was a Sunday routine. When we start up the game and the cinematic begins to play, I finally realize we are missing something and say, "where is Douglas"? We all giggle, and Steven runs upstairs. Deanna and I begin to get the game set up and Steven comes back downstairs and says, "he is not waking up anytime soon. Let's just play"!
Without hesitation, we start up a game of Mario Party 2.
As per usual, we are neck and neck through most of the game. As we hit the halfway point, the three of us are blindsided by the strong smell of a barbeque in the works outside. We all know that we only have about twenty minutes before we must eat, but this game will be another thirty at least. We agree that we are going to try and go as fast as we can, when there is a miracle at hand. The turn ends and it is time to play a mini game, as per usual. When the mini games show up on screen, one of which is our absolute favorite one, called "Hexagon Heat". All three of us have mutually agreed that this mini game is the epitome of fun, it is peak video game experience. Alas, this is the mini game that gets selected. So, at this point we decide that opposed to rushing through the game, we are going to play Hexagon Heat practice rounds over and over until it is time to eat. We decided to make this thirty-second-long mini-game and stretch it into twenty minutes through playing a plethora of practice rounds. After the first practice round goes by, all three of us are completely into what we are doing, this is for bragging rights.
It was at this moment that I was struck with something that I can only now describe as a mindful realization. I snapped out of the game that we were all playing, and I entered into the general moment. I took a mental inventory of what was going on around me. I realized that practically every one of my senses were at peak stimuli. I was sitting on the ground playing my favorite game ever with my favorite people ever, I closed my eyes and realized that "Angel" by Shaggy was playing on my houses incredibly loud speakers that fill every room of the home. This song had played every day this summer, and I knew that I liked it, but for some reason in this moment it became divine. I opened my eyes and peaked up the stairs at the open door that lead to my back yard. I saw my father in a tank top, shorts, sunglasses, and a Mets baseball hat standing at the barbeque, with my mother right next to him. They are both swaying and dancing to the song. I saw the sun gleaming through the door and recognized that it was shining through the whole basement too. I smelt the comforting and salivating smell of a barbeque cooking and could not wait for the burger that was inevitably coming my way. At this point I closed my eyes again and I listened to the music. Suddenly, I felt as though the music stopped, the smell went away, and I was in another place. I was in my own astral plane for just a moment. A rush of happiness so strong ran through my body that I physically felt, as though it were adrenaline. My sister then shook my shoulder and I opened my eyes to see her and Steven laughing at me because I was swaying to the song opposed to playing the game. I laugh back, and I get back to the next practice round. I am so happy in this moment, I take inventory once again of all my senses, and continue to play the game with an unwavering, constant smile on my face. I was simultaneously paying full focus to the game I was playing, the song I was hearing, the barbeque I was smelling, and the people that were surrounding me. As the song came to an end, the physical feeling came to an end, yet I was still extremely happy. I recognized that there was simply something about that song that brought me to another level of happiness that I did not know existed and have still yet to reach again.
When I am asked about the happiest moment of my life, I always laugh to myself and tell whoever is asking me to prepare to be underwhelmed, because there is nothing exhilarating about this story. My happiest moment did not involve romance, reunions, life events, or any of the other typical moments that people claim is their happiest. I tell them the story of how I was simply sitting and playing video games with my sister and my late brother's best friend, listening to a fantastic song and smelling a mean barbeque. Even my sister does not seem to understand the gravity of what I felt in that moment, why I felt so divine. So now, eighteen years after that moment, I still try to chase that feeling I felt at four years old. I meditate, practice mindfulness, I even throw on the Nintendo64 from time to time. Although, due to my age and life experiences, I don't believe the childhood exuberance, imagination, innocence, and naivetés can ever be replicated. It is very comforting, though, that still today, every single time I hear the song "Angel" by Shaggy, a part of me awakens and jumps for joy. A portion of that exact child-like feeling comes rushing back to me, and for the duration of the song, I am happy once more. When I play Mario Party 2, I always reminisce about these days, though, when I play the mini-game Hexagon Heat specifically, I am also returned to the childhood happiness that was so great. The happiest moment of my life was simply so memorably unmemorable, yet it will stick with me until the day I am gone.