What Star Trek means to me in 2020
Today is #StarTrekUnitedGives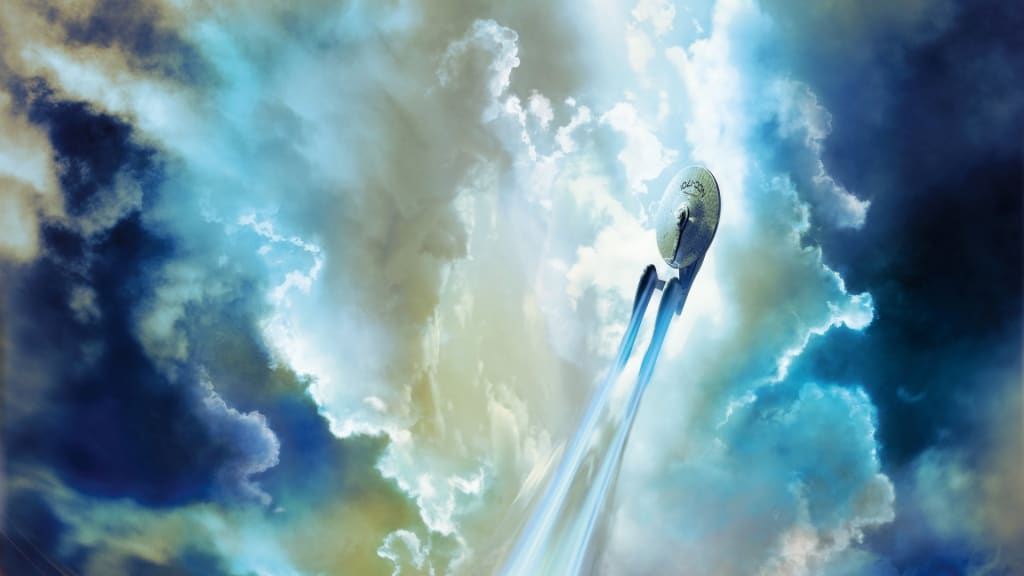 image from Star Trek Beyond
Today, Star Trek on CBS All Access is having a day of donations where every use of the #StarTrekUnitedGives equals $1 that will be donated to the Black Lives Matter movement. It's one of the many ways that Trek always steps up.
Michelle Hurd is my new favorite, btw. Raffi Muskier is possibly the best original character from the Picard series. Her mental demons shape her strength in a brutally refreshing way. But that's an article for another day.
2020 has been one catastrophe after another it seems, but it's bringing along change and unity with each wavefront. This new decade is beginning by showing everything we finally need to start living without. There is no "new normal." It should just be "normal." There are so many things we do not need to go back to.
And even when emotions are at an all-time high, Trek always provides a way to remind me of a greater future. Humanism at its finest. Revisiting characters who've made a difference in my life never fails to encourage me.
I grew up with The Next Generation and had a major crush on Jonathan Frakes' Will Riker. "Make it so" was something we repeated on autopilot. I remember later seeing episodes of Voyager. I distinctly remember Seven of Nine and was fascinated because she was Borg and all I remembered about the Borg was their villainy (one of the episodes in Picard blew that notion up like dilithium crystal particles--even Wil Wheaton was shook).
At the end of the day, though, The Original Series will always be special to me because I went back to it all on my own after seeing the 2009 film with Chris Pine and Zachary Quinto. (Karl Urban still deserves an Oscar for getting Bones so perfect. You don't just make Leonard Nimoy cry happy tears and get away with it.)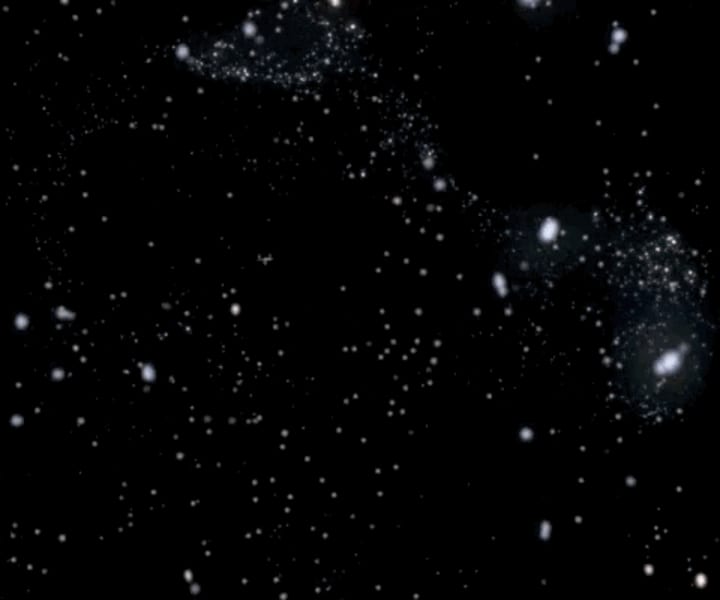 I love the family that the Enterprise crew is and the home that the ship is. There's something so lasting about their dynamic and the atmosphere. The triumvirate of Kirk, Spock, and McCoy--soul, mind, and heart, the balance between logic and emotion--shows that they are so much stronger together than they could be apart. They complete each other. And as much hate as Star Trek V gets, that camping scene in Yosemite there at the beginning demonstrates so much about the intimacy of their relationship. All marshmelons aside, it shows how they interact "off the clock." They eat together, they bicker, they reflect, and they enjoy each other's company.
We see that relationship manifested in so many different ways throughout the show's three seasons. Those episodes pushed social and political boundaries that would have burst under any other type of genre but sci-fi. And even though that is the technical genre, I think of Trek as more of a drama that just happens to take place in space. Kirk even says, "I'm from Iowa. I only work in outer space."
Because at the end of the day for me, it's about how those relationships get tested. When situations around them fluctuate, the constant is the ship and the crew. There's a bond in that. It's powerful in its simplicity, yet challenging in its implications. The bond has to hold no matter what comes. Whatever trials, whatever losses, their faith and loyalty in each other has to hold fast. They sacrifice for each other without question.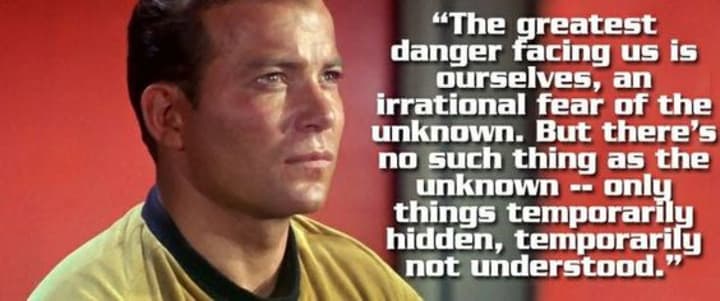 So, yes, there's a lot going on right now. There's a lot of uncertainty and frustration, fear and anger. And all of it is valid. But it's about the choices we make in the midst of those emotions. It's about the personal decisions and goals we set. Trek always pushes me to better myself because it pushes society to better itself. It's a precedent.
2020 feels like a mission "to explore strange new worlds" within ourselves and our communities. "To boldly go" is a challenge to go out and live each day with purpose. That might be to cliché, but it's true. And it's an individual challenge as well as a corporate one. Purpose is not a one-size-fits-all thing either. Your purpose for today might feel smaller than it is tomorrow or next week. That's okay. Just boldly go each day anyway.
And hop onto Netflix to rewatch a few TOS episodes while you're at it.
star trek
English major who never left college. Lover of Victorian novels, Ravenclaw, and Rivendell. Teaching applications at Hogwarts and Starfleet Academy still pending. Find me on Instagram @coffeenerd.writer and Twitter @bryanafern