Top 5 Chatbots Trends That will Rule 2021
Read on the article to find out Chatbot trends to follow in 2021.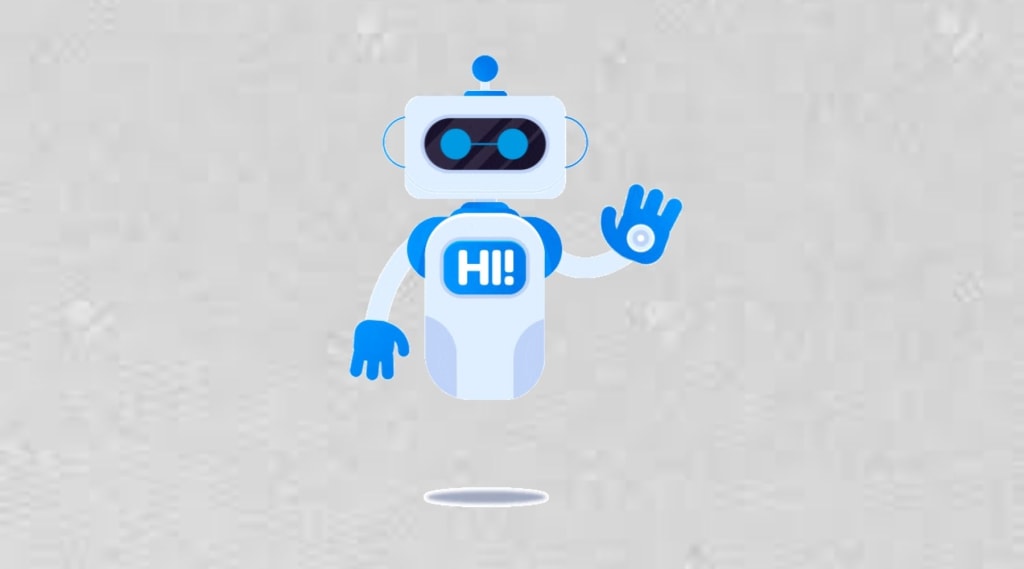 We are witnessing a chatbot revolution, so is your business keeping up with that? One more thing that is evolving with Chatbot is Artificial Intelligence. We are seeing that people across the globe are using messenger applications more than any other social network. So, there is a severe disruption as, for the first time, the app boom is over.
What is a Chatbot?
It is a computer program that is designed to stimulate conversation and to interact with humans.
With Chatbot development services, you can automate the procedure to answer repetitive or most frequently asked questions for your customers.
You must have used a chatbot before. Many times you would have seen this kind of box asking to help you, that's a chatbot.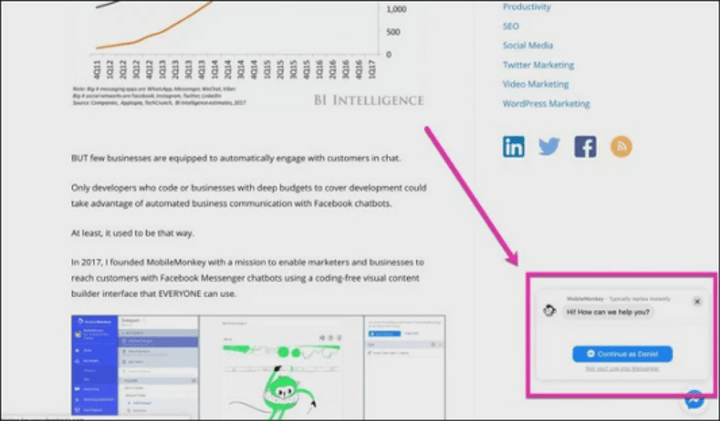 We are witnessing that there is apparently no end to the chatbot technology advancement.
Let's take a look at the Chatbot trends that are going to rule in 2021.
#1. Use of AI & Intelligent Assistants in the workplace
You might be thinking about how chatbots are implemented today in the business world and the challenges that avert many businesses from employing this technology.
Then, let me share some data showing how chatbots are used in businesses and for what purposes.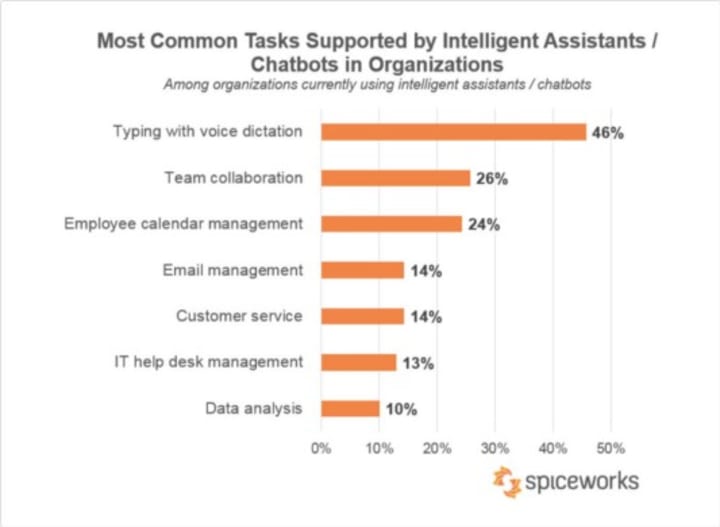 Community Spiceworks studied 500+ IT-specialists in the business in Europe and North America.
And as we can see, they found out various ways in which chatbots are going to be used in 2021. And yes, there will be a surge in the use of AI in the workplace.
That means we will be seeing chatbots being used to streamline internal workflows. They will be utilized for various tasks such as;
Communicate with employees
HR-related transactional functions.
Answer questions
employee onboarding process
Moreover, for hiring and onboarding new employees, chatbots can set the screening questions, record their answers, guide them through company protocols and policies.
#2. AI will enhance the industry but not replace agents
According to the CCW digital survey, 59% of the professionals believe that Artificial Intelligence will enhance the industry and not replace humans.
How can chat experience disrupt your business? There are 5 essential aspects in a chatbot, i.e., versatility, security, conversation quality, customer-centricity, and personalization, that lead to success.
Artificial intelligence-based chatbots enable manpower to focus on other core activities as it can handle easy transactions and simple queries. Therefore, rather than replacement, there will be a need for a perfect balance between humans and AI technology to optimize and streamline the business.
#3. High ROI with Minimal efforts
According to Accenture, 55% of users believe that conversational chatbots can deliver high ROI with minimal effort.
Conversational chatbots help to streamline and automate operations across the startups to large-scale organizations, ultimately improving productivity.
Chatbot technology is evolving to deliver what's best for users. Across startups to large scale organizations, conversational bots help top automate and streamline activities that ultimately improve employee productivity.
Chatbots offers excellent opportunities for your business to grow in the future as they are much more sophisticated, powerful, and intelligent than ever before. With chatbots provided user data, you will be able to make more informed decisions and craft more relevant experiences for your users.
#4. Chatbots with Emotional Intelligence
Chabots are going to go beyond artificial intelligence to emotional intelligence. Chabot's emotional intelligence can be defined as their understanding of human emotions from the conversation and reply to them as per the intent.
Emotional Intelligence in AI identifies speech and text. When a chatbot detects what you have typed, it automatically extracts information and tries to understand your mood to know if you are angry, sad, or happy. Chatbots will also be examining punctuation and capitalization to predict your emotions.
In 2021, chabots with emotional intelligence will be playing a critical role in the artificial intelligence industry to revolutionize the various sectors.
Predications for 2021 are that businesses will develop chatbots based on emotional intelligence for enhancing soft skills that will impact the way users reach out to them and interact with.
#5. Voice bots will become mainstream
Messaging platforms with text-based and voice-based programs are getting more and more popularity, and they are going to continue that for engaging with brands across the globe.
One of the major benefits of Voice chatbots is that they provide an element of personalization that reduces the problems caused by users' requirements. Thus, in 2021 we can expect voice bots to become mainstream.
Conclusion
So, we all are witnessing the revolutions brought by the chatbots in the modern business world. And in the coming years, we are going to just get amazed by the chatbots' trends.
Thus, there are ample opportunities for businesses to build their own chatbots, so hire chatbot developer to stay upto date with the latest trends!
Suggested Read;