The Forgotten "Open-World" 'Star Wars' Game
Have You Played?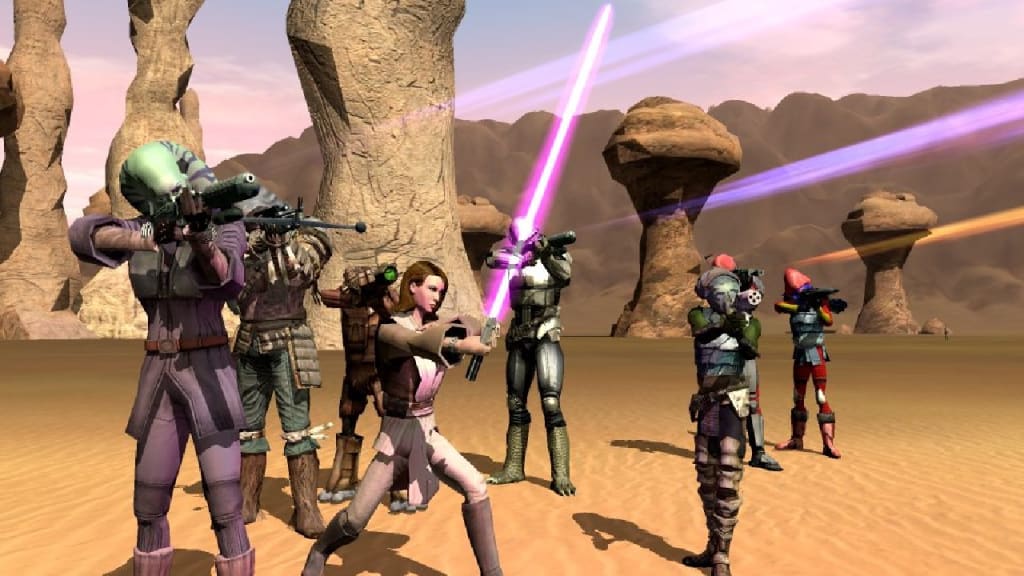 For the last few years, many Star Wars have hoped and prayed for an open-world style game which allows them to roam freely across many of the planets we've been introduced to over the years. Recently, Ubisoft has said things about such a game, and we got fairly close with Jedi: Fallen Order. However, there was actually a closer interpretation of an open-world game long before these - Star Wars Galaxies.
Galaxies was released back in 2003, and although it is an MMORPG rather than the traditional open-world style of gaming, it's definitely not far off. It was like a mix of popular of MMORPG's, such as World of Warcraft, and open-world games like the Legend of Zelda series. Set, obviously, in the Star Wars universe, players could choose to be one of several different species from the galaxy far, far away and could take part in missions, which would result in Experience Points (like a classic MMORPG), but players could also freely explore several areas. At launch, the game contained 10 different planets for players to explore and a bunch of missions to complete. After completing several requirements, players could also unlock the ability to play as a Jedi, although the game received a lot of criticism at the time for how difficult it was to actually achieve this. It took the first player four months to do it.
RELATED: We Might Know A Key Feature From Ubisoft's Open World 'Star Wars' Game
The game was a commercial success upon release, however, which led to expansions being made to make the game more interesting and bigger for players. One of the more appealing aspects was being able to make your own unique Star Wars story.
Sadly, the game's popularity declined pretty quickly over the course of its lifetime. Although it began very strong, less and less people were logging in to play compared to other MMORPG and open-world games out at the same time. It also became the subject of a problem in 2011, which saw many player accounts being hacked. Despite many attempts at breathing new life into the game, via various expansions, players just weren't that into it anymore. So it was announced, in late 2011, that the game's servers would be shut down for good.
Interestingly, once this announcement had been made, many players logged back into their accounts to give the game a well deserved send off for what it tried to do for the world of Star Wars. The game then became quickly forgotten by most, due to the fact that The Old Republic (one of the most popular games in the franchise) came out just five days after the servers for Galaxies shut down.
Over the years, since the first film's release in 1977, there have been many different Star Wars games. Some of them have been great, some hit and miss, and some just downright awful. With the vast majority of games classed as great, all involving an element of open-world play, it really is strange that one hasn't been made before now. But it seems that Ubisoft do plan to change all that. Ironically, they don't have the best track record, leading to many fans being skeptical on just how well it will turn out. But hopefully they do manage to do it justice. Perhaps they may even take elements from this game, and others, and expand upon it. We will just need to wait and see. But one thing is for sure: Galaxies does definitely deserve a place in the archives and to be remembered.
Until next time!
READ NEXT: How 'Star Wars: Bounty Hunter' Answered One Of 'Attack Of The Clones' Biggest Questions
Written By Jordan McGlinchey
Source(s): PC Gamer, Wookieepedia
Syndicated From Culture Slate