The black beach
the flight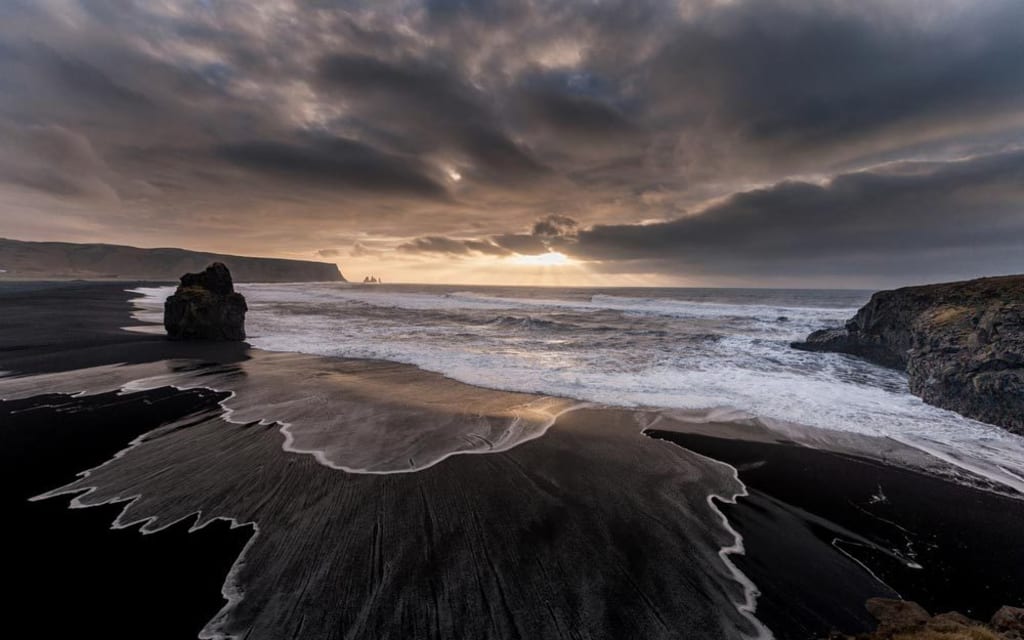 the black beach
The Beach
The sky was covered by heavy black and grey clouds. Every now and then a bright ray of sunshine came into view shining over the coast and sand. Ottie and I were wondering which rest stop He was going to take as we watched the waves curl over the rocks and sand. We finally find a pull off which was not a rest stop but was good for me and Ottie since we both didn't need toilet paper. I grab the collar and leash and get Ottie ready for any other person on the beach. There was never any but I always was prepared. Fred tells me he has a surprise for me in the trunk. He tells me to meet him on the beach and he will show me there, so me and Ottie start are winding walk through the black sand. I still am too young to understand why the sand is black, Fred tells me the powers before us had made mistakes that turned the sand black and the sky almost forever grey.
His stories of war and famine is the only thing I know of my past. My mother and father I have no real, tangible memories. I do have one, where I and being held by my young father. His long black hair and his funny mustache makes him look silly as he teaches me some sort of alchemy to procure an alcoholic beverage. Me only in a diaper and my mother on the couch, her long beautiful blond hair only a flash before I forget again and see Ottie running to the water. I yell for him as I stumble over broken-down metal frames of old aircraft and lost machinery of the wars long forgotten. I make believe I'm a tank gunner in one of the wreckage cockpits and then continue to the water where Ottie already in the water sees me and begins to run back to me. My friend being the pit bull terrier was a big dog and his white accented his light brown patches all over his body, the best of those patches was on his chest where it made it look like he white, blotchy, brown vest on.
I see Fred still in the trunk of the car fiddling around, so I continue down the wind carved path to the water. The sea was black. Not toxic to whatever survived the last plum of algae five years ago. But quite the spectacle as you watch black sea crash on black sand, set by a grey and black sky where the sunshine in ribbons over the rocky and ominous coast. I put down my backpack, and my preferred weapon, a shotgun and sit. Ottie comes and notices Fred walking up. Fred starts putting fiber rods together with this multi-colored nylon fabric to form, what looked like wing off a plane, it has two long, thin, nylon, ropes that attached to the "wing" and then the other side attached to handles. He tells me, "Time for a positive memory.", "This is called a "kite", I grab the handles and he starts to walk away from me with the kite in his hands, he lifts the kite where it catches wind and tells me to hold on.
As the wind starts to grab, the kite flies in the air! Ottie reacts and starts to bark at the thing and I am awestruck with this "kite". It soars into the air, what looks like a whole mile. I soon realize that I have control of this with the handles and begin to get pulled at first slowly but then I was almost able to skid on the sand. Then out of nowhere Fred throws on the ground a foam board with foot slots he tells me to get on and be careful not to "fly away".
At first, I get scared. I have no idea how to "fly". Let alone "skid", which that's what I was doing. Then I began to see that I was in more control than I thought. I pull on one side and I go one direction I pull on the other and so on. My feet are now anchored in the foam and I begin to "fly", over the dunes, around the wreckage and then as I got to the water, I realized I could do the same on the water and also float! I spent most of the time on the brim of the water and sand, but now and then I would go out a few yards into the black sea and "skid" on the surface. Soon though Fred decided to become "worried" for me and yelled for me to come back and all the while Ottie was following me, I didn't even notice till I looked back at how far I had gotten from Fred and where we had parked. Fred yells," Let go of one handle, and you'll stop!", so I did, and I immediately fell hard into the sand! Fred starts to laugh. And I spit sand out of my mouth.