T-Mobile acquires Ryan Reynolds' Mint Mobile for $1.35 billion
Popular actor sells his wireless company to T-Mobile in a multi-billion dollar deal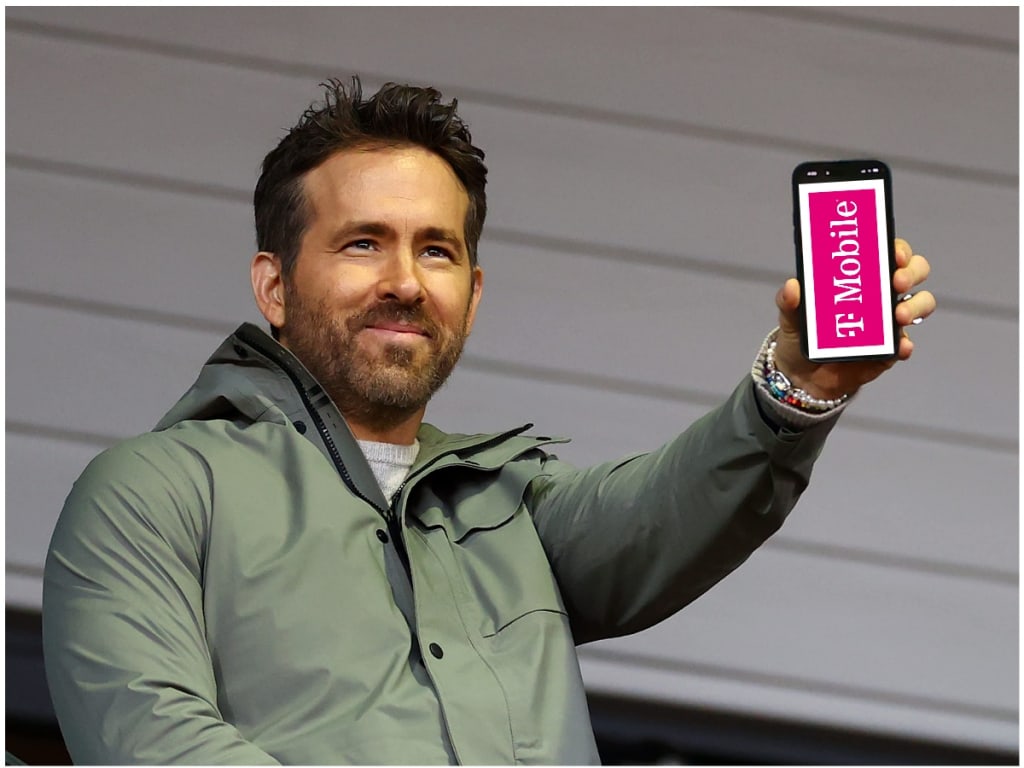 T-Mobile, one of the largest wireless carriers in the United States, has acquired Mint Mobile, a wireless company co-owned by actor Ryan Reynolds, for $1.35 billion. The acquisition was announced on Monday, marking T-Mobile's latest move to expand its offerings in the competitive telecommunications market.
Mint Mobile, which was launched in 2016, has gained a reputation for its affordable and flexible mobile plans. The company's marketing campaigns have also been popular, with Reynolds often featuring in its ads.
Reynolds, who is best known for his roles in movies such as Deadpool and The Proposal, acquired an ownership stake in Mint Mobile in 2019. Mint Mobile is a wireless company that offers affordable mobile plans to customers in the United States. The company was founded in 2016 with a mission to disrupt the traditional wireless carrier model by offering lower prices and greater flexibility to consumers.
Mint Mobile's plans are designed to be simple and easy to understand, with no hidden fees or long-term contracts. Customers can choose from a variety of plans based on their data usage needs, with options ranging from 4GB to unlimited data per month. All plans include unlimited talk and text, as well as access to 5G coverage where available.
One of the unique aspects of Mint Mobile is its "buy in bulk" approach to mobile plans. Customers can choose to purchase three, six, or twelve months of service in advance, which can result in significant savings over the long term. For example, a customer who purchases 12 months of service in advance can save up to 40% compared to the cost of a monthly plan.
Since then, he has been actively involved in the company's marketing efforts and has helped to promote its products to a wider audience.
In a statement, Reynolds expressed his excitement about the acquisition, stating that
"we started this company to bring people closer to the things they love, and we're thrilled to join T-Mobile in their mission to do the same."
For T-Mobile, the acquisition of Mint Mobile represents an opportunity to expand its customer base and offer new, innovative products and services. In a press release, T-Mobile CEO Mike Sievert stated that the acquisition
"brings together two companies that are committed to shaking up the wireless industry and exceeding customer expectations."
The acquisition is subject to regulatory approval and is expected to close in the second quarter of 2023. Once the deal is completed, Mint Mobile will become a part of T-Mobile's portfolio of brands, which includes Metro by T-Mobile and Sprint.
Metro by T-Mobile and Sprint are two of the brands owned by T-Mobile, a major wireless carrier in the United States. Metro by T-Mobile is a prepaid wireless brand that offers affordable and flexible mobile plans with no contracts, while Sprint was a separate wireless carrier that was acquired by T-Mobile in 2020. Since the acquisition, T-Mobile has been working to integrate Sprint's network and customer base into its own operations.
By adding these two brands to its portfolio, T-Mobile is able to offer a range of wireless services to consumers with different needs and preferences. For example, Metro by T-Mobile may appeal to customers who want to pay less for their mobile service or who prefer the flexibility of a prepaid plan. Meanwhile, Sprint's former customers may be interested in T-Mobile's expanded network coverage and the benefits of being part of a larger, more established wireless carrier.
Overall, T-Mobile's acquisition of Sprint and its ownership of Metro by T-Mobile demonstrate the company's efforts to grow its business and compete more effectively in the highly competitive telecommunications market.
The acquisition of Mint Mobile is just the latest in a string of moves by T-Mobile to strengthen its position in the telecommunications market. In 2020, the company completed its merger with Sprint, which helped to solidify its position as one of the top wireless carriers in the country.
Reader insights
Be the first to share your insights about this piece.
Add your insights