Strident
Frightening Futures for the Ferocious Frail and Forgotten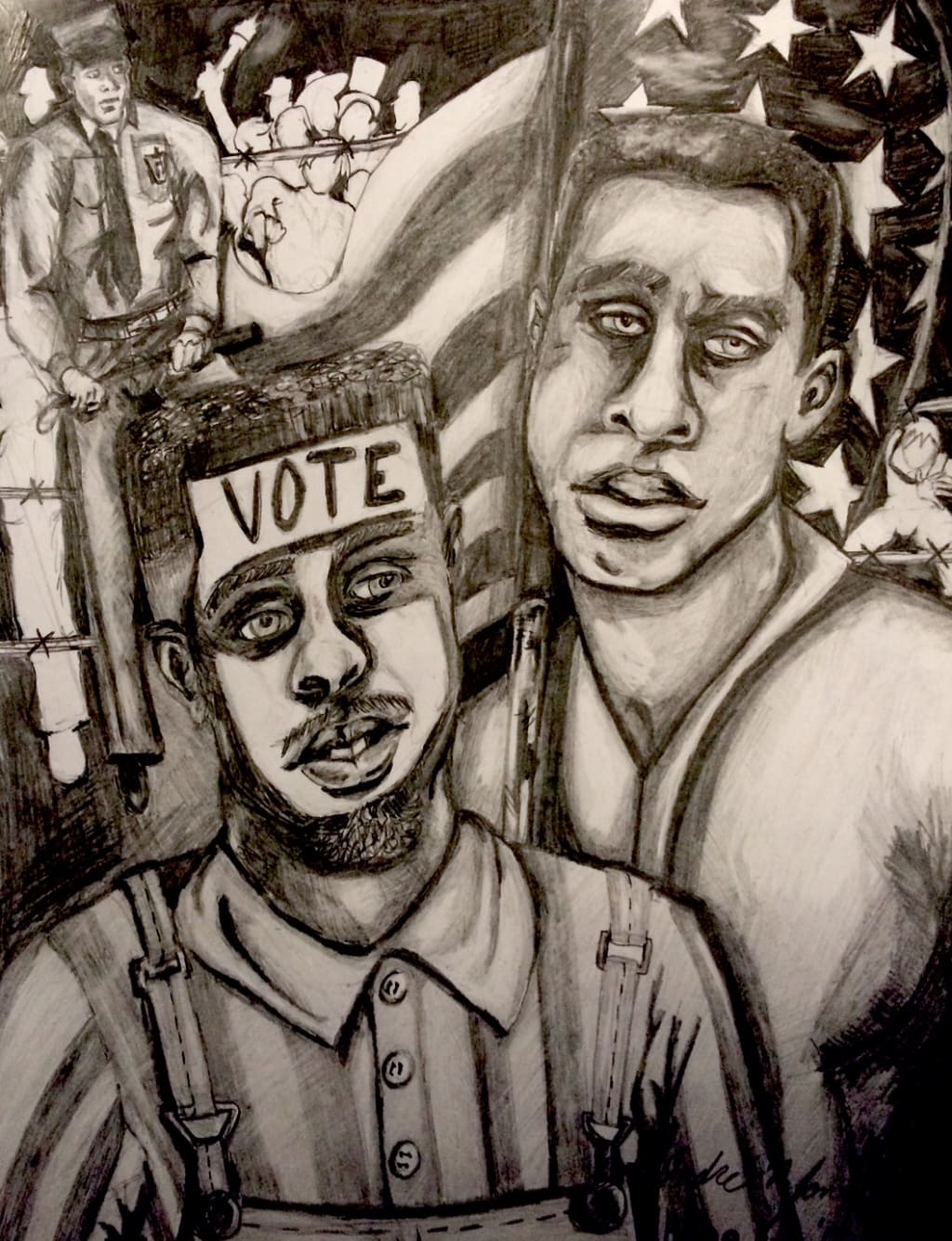 Resistance is the oppressed's pursuit of happiness
Strident by
Andre N. Jones
CHARACTERS
BRAUN An extremely muscular black man. Strong willed, intelligent defiant. Thought to be a hologram in a museum exhibit.
LILY A petite but beautiful Japanese woman. Docile, seemingly cooperative, Analytical. Also thought to be a hologram in a museum exhibit.
SAWYER A white woman. Exhibit artist. Snobbish, passive aggressive with southern charm.
CARTER A white man. Museum Curator. Speaks with a thick New England accent. Excited about the exhibit.
SETTING
ACT I
The World Historical and Cultural Museum
TIME
2525 4 PM
Scene
Exhibit floor
SCENE
(Black. On the screen up stage, A subtitle reads: The World Historical and Cultural Museum. Year 2525. We hear the voices of Sawyer and Carter
speaking to one another.)
CARTER (Off)
We anticipate three hundred thousand patrons coming in the first week alone.
SAWYER (Off)
That's wonderful.
CARTER (Off)
Isn't it!
SAWYER (Off)
Wait til you see it. It truly is a breakthrough.
CARTER (Off)
I'll bet.
SAWYER (Off)
Meet Braun.
CARTER (Off)
Braun?
SAWYER (Off)
I thought it was cute.
(We hear a loud thud and then the hum of electricity. A white special comes up at center on a black man, standing on a pedestal. He wears a pair of jeans and a t-shirt. He is very muscular. However, his appearance is like that of clay, a mix of grey tones. He stands with both palms extended in front of him and his lips appear to have stopped in motion as if he was in the middle of speaking.)
CARTER (Off)
Cute. Our investors don't care about cute.
(We hear footsteps from off and then Sawyer enters carrying, what looks like an electronic tablet).
SAWYER
I know what our investors want.
CARTER (Off)
I hope so.
SAWYER
Watch.
(She types something on her tablet, as she speaks.)
All our patrons will have total control over the holograms. On the tablet we have different settings. They can switch settings to create the desired scenario. Each scenario shows how this particular breed responds. For example, right now, Braun is in defy authority mode. With just a swipe across the screen, I can change him to total submission, like so and...
(She swipes across the screen. Braun doesn't move. She swipes again. Nothing happens again.)
CARTER (Off)
And what?
(We hear heavy footsteps. Moments later Carter enters).
Is there something wrong?
SAWYER
Just a technical glitch.
(Sawyer types frantically and hits enter. Nothing. She hits enter several times. Nothing. Sawyer scratches her head. She types in something. On the screen projected up stage cattle prods appear to be approaching Braun.)
CARTER
Technical glitch? We're opening in less than an hour...
(Braun's eyes widen and suddenly Braun starts to move. His movements are short and choppy isolations. Very robotic and each move is accompanied by short static sounds, that emanate from the cattle prods on the screen.)
SAWYER
Sometimes this one needs an outside stimuli.
CARTER
Outside—will patrons have control or not?
SAWYER
Will you stop it! You're making me nervous.
(The cattle prods continue to crackle with static. Braun keeps moving in isolations to the point where his neck now is contorted to the side with a noose around it. One arm holds the end of the rope. The other arm down by his side, hand flexed and he stands on the balls of his feet.)
SAWYER
There you see...
CARTER
Oh yes, I see. This is gonna flop.
SAWYER
It will not.
CARTER
My career is down the tubes.
SAWYER
Carter.
CARTER
Might as well pack up my office.
SAWYER
Carter!
CARTER
The museum's gonna shut down.
SAWYER
CARTER!!! This particular breed, from all the evidence we were able to collect, was a stubborn breed... Particularly the males. This submission setting was said to be extremely effective to gain compliance.
CARTER
So, the resistance–
SAWYER
Is built into the experience yes.
CARTER
Then why'd you say there was technical glitch?
SAWYER
The prods were supposed to be built into the original prompts. I had to manually reset the defaults so they appear when patrons use the tablets.
CARTER
Oh. Is that fixed now?
SAWYER
Well, let's see.
(Sawyer types on the tablet. The prods hiss statically and Braun begins to move, once again in isolations. He takes off his shirt and steps off of the pedestal performing athletic feats... all of a sudden his movements are fluid, quick, and violent, from boxing, martial arts, and wrestling moves.
CARTER
Wow!
SAWYER
Magnificent, right?
(Braun continues his fighting moves and finds a knife somewhere outside the focus of the light on stage. He approaches Carter slashing with the knife. Carter backs up. )
CARTER
Wait, what is he doing? Stop. Stop! STOP HIM!!!!
(Sawyer types on the tablet. Cattle prods hiss and Braun's eyes widen as his movements become robotic again. He drops the knife with his arm frozen, extended toward Carter's face. Pause.)
CARTER
Was that a real knife?
SAWYER
Nooo. Nothing in the exhibit can harm you. These subjects are totally holographic.
CARTER
That thing sounded real.
SAWYER
Of course it did. The exhibit is 4d. But the breed, Humanus-Negroitus died out in the early twenty first century. There simply are no more of them. He is just a program.
(Pause. Sawyer press a button on her tablet. Although frozen in place, Braun speaks.)
BRAUN
I am a complex algorithm, capable of three hundred thousand simulations of emotions, actions and speech patterns associated with the breed known as Humanus-Negroitus. Thus, I can perform many acts that show an appropriate and accurate depiction of this extinct breed of mammals. For example, in linguistic mode, I can launch into any of several forms of expression...
(Pause. A breakbeat fades up.)
Rappers rhyming for clappers/
Toe tappers, knee slappers/
Phantom mishappers/
Gum and lip flappers/
Talking loud/
But ain't saying crappers/
Your vocabulary is tattered/
My tongue dresses me dapper/
You a verse knapper/
Me the wack trapper/
Dope rhyme mapper/
Tongue so sweet/
Call me the candy wrapper/
Invading brains with verb surgery/
You're sentence 10 to life/
As if you committed perjury/
Sixteen bars from Venus to Mars/
I'm the judge and boom bapper/
Make your fingers snapper/
Full metal jacket rhyme grappler/ Or...
(He freezes. Pause. We hear a basketball bouncing and sneakers squeaking, as Braun unfreezes mimicking dribbling a basketball, and then shooting as he speaks. )
You can't guard me!
(After he attempts the shot, we hear the sound of the ball going through the net.)
Or…
(Braun grabs his crotch.)
Hey yo! What you gritin on on? Don't get yourself merked on some bullshit, yamean?
(He suddenly stops and freezes in place. Sawyer smiles, looking out toward us in wonder. Pause. Carter tries to get her attention but she seems lost for the moment. Beat. Sawyer sighs.)
CARTER
Are you okay?
SAWYER
What were we talking about?
CARTER
You said you had two parts to this exhibit.
SAWYER
Oh, oh, yes.
(Sawyer presses a button. A loud thud. The light goes out. And another light comes up left of center, on another pedestal. On this pedestal, there is a woman, LILY, of Asian descent. She is dressed in a kimono, brown smooth skin and is holding a jar full of white cream. Sawyer types something and Lily comes alive spreading the cream on her face.)
CARTER
Ohhhhh! Exotic. She's quite pretty. Why is she putting that cream on?
SAWYER
Meet Humanus-Mongolius. According to our research among the ruins of their countries, there seemed to be an obsession with European culture, agreeing that the Greeks were purveyors of all knowledge in the known world. She aims to please as a docile maid servant.
CARTER
Really?
(Sawyer nods, as she types something on the tablet. Lily crosses to Carter and bows, smiling politely.)
CARTER
And, what other things can she do?
SAWYER
I'm glad you asked.
(Sawyer types on her tablet. As she speaks, Lily does the action that Sawyer describes.)
Although small in size, Lily is extremely athletic and flexible. She can tumble with ease...
(Lily does a tumbling pass.)
She's a master of contortion.
(Lily bends over backward into an arch and kicks herself back over to her feet.)
CARTER
Woah!
LILY
Yes. I love to serve men. I walk behind him, cook all his meals, bathe after him, and take care of all his needs. I have no need for higher education. Domestic tasks keep me busy. Keep my man happy. Never think for self, only what's best for home.
(She giggles.)
I can solve complex math equations from advanced calculus to quantum physics. And I can do all of this, while weaving silk from the flat yellow filament produced by the Oak tree leaves after being eaten by the Tussah Moth.
CARTER
Great! And she never fusses?
(Sawyer shakes her head.)
SAWYER
Never.
CARTER
She's a super servant.
SAWYER
She's extremely loyal, and amenable for any service-oriented task.
(Lily approaches Carter seductively.)
CARTER
Wait, what is she doing.
LILY
In eros mode I am programmed for man's pleasure, with over three thousand love making techniques, including tea ba–
CARTER
O-kay, I get it. Reset it and the other one and put them on standby.
(Carter looks at his watch. Thud. The light for Braun's exhibit fades up. But, Braun is nowhere in sight.)
Where'd the other one go?
(Lily exits while Carter and Sawyer look toward Braun's side of the room.)
SAWYER
Go? He's a hologram! The projecting mechanism is probably cooling. When the fan comes on the lamp automatically goes out to conserve energy.
(Thud. Braun's light goes to blackout. Thud. Lily's light goes to blackout. In black.)
CARTER
Did you-
SAWYER
No I-
CARTER
We got less than twenty minutes. I have to change and so do yo-
SAWYER
Let go of my leg!
CARTER
I'm not tou—Where are you taking me?
(The cattle prods flash on the screen periodically as we hear Carter and Sawyer holler and scream in the dark. The lights flicker, creating a strobe effect. Both Carter and Sawyer move in isolations to both pedestals, as if electrified. Black. Silence. Ambient voices fade up. Lights fade up on the two pedestals. Carter stands with his palms extended in front of him. His lips appear to have stopped in motion as if he was in the middle of speaking. Across from him, Sawyer stands holding a bottle of sun screen. Braun and Lily enter. Lily holds a tablet in her hand. They both look at the still figures. Then they look out toward us and nod to each other.)
BRAUN
We anticipate three hundred thousand patrons coming in the first week alone.
LILY
That's wonderful.
BRAUN
Isn't it?
(Ambient voices grow to a crescendo. Braun checks his watch.)
LILY
Wait til they see it. It truly is a breakthrough.
(Braun crosses off and comes back with a small wooden podium and places it between the two pedestals. Lily places the tablet on the podium. They smile at each other. and begin to exit.)
BRAUN
Oooh! We better get ready to let them in.
(They exit. We hear doors opening and a loud crowd of voices. Both Carter and Sawyer's eyes widen. Thud. Blackout.)
END OF PLAY