Review of Silo 1.4-1.5
Revelations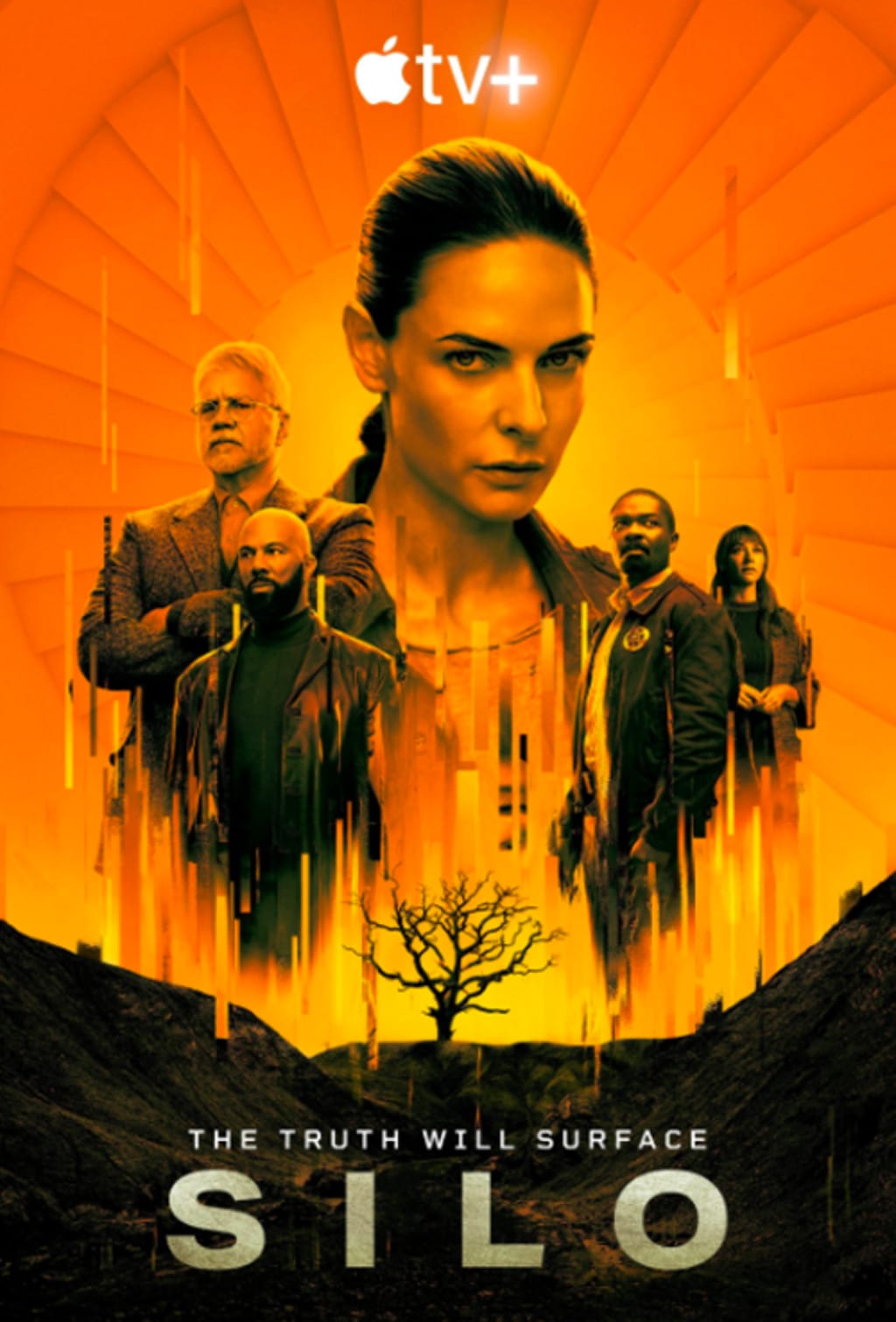 The excellent episode 1.4 of Silo up on Apple TV+ last week was entitled "Truth," no doubt after the word inscribed on the back of Holston's sheriff badge, now in the possession of Juliet. But there wasn't much truth revealed in this episode, as far as I could see, and hence no spoiler warning immediately after this paragraph. But the episode was still a pleasure to see, and my guess is some of what we saw will be crucial further on in the series.
It was good and informative to see Juliet as a teenager, and Iain Glen does a fine job of portraying her father over a decade earlier than we see him in the present. We do confirm that the mortality rate is really high for these denizens of the silo, and not because they all go outside to clean and apparently die.
[Ok, some new developments are ahead, so here's a warning after all about Spoilers ... ]
I'd say the most interesting strategic development in episode 1.4 is the deal that Juliet and Marnes pretty much make (pretty much, because Marnes may not be 100% aboard), which is Marnes will help Juliet find out who killed George (even though Marnes is not sure George was murdered) and Juliet will help Marnes find who killed the late Mayor Jahns. This makes Marnes an even more crucially important character than he's been so far.
Which in turn makes the final scene, and Marnes' survival or not, a really pivotal moment. We earlier are faked out in a scene in which it looks like Marnes is preparing to take his life, when all he's doing is constructing a punching bag or whatever that contraption is called. But the last scene clearly shows Marnes on the wrong side of a shotgun, after a valiant fight in which he almost gets the better of his presumably murderous intruder. Again, I haven't read the books, so I honestly didn't know what would happen, but I thought that Marnes would survive. On the one hand, life is cheap in the silo, as I've said before. But on the other hand, Marnes's murder would take away a really big character, and one which Juliet has talked into what would really be an essential deal.
***
Well, I just said in my review of 1.4 that I thought Marnes would survive, and--
I was wrong. As we quickly find out at the start of Silo 1.5, just up on Apple TV+ tonight, he succumbed to the shotgun we saw pointed at him last week. And what followed was a powerhouse episode with all kinds of disconcerting touches, such as parents afraid to send their kids to school, which sounds a hell of a lot like the USA right now and our deadly contagion of guns, doesn't it.
And we get all kinds of revelations, among the biggest that Trumbull is likely/definitely the killer of the Mayor and Marnes. He almost kills Juliet, too, as she's hanging over the side, fighting for her life, which she likely would have lost had those two good Samaritan runners not come and saved her. I was thinking, as she was struggling, that she's too important a character to die, but then again, the Mayor and Marnes and Holston were too important, too.
I had a feeling Sims was going to kill Trumbull, as Sims was remarking how much he liked the quiet of the dead of night, with no one around. Right, no one around to see him throw Trumbull over the railing. As I think I said before, Sims strikes me as the most villainous character so far in this story. I'd say he killed Trumbull because he didn't want Trumbull to tell anyone that he'd killed all these major characters on Sims' orders.
Silo 1.5 also comes packed with all kinds of scientific and tech revelations about what's going on in this hole. We find out two tonight: that the Pact forbids any automatic ways of getting up and down -- no elevators or escalators. And the even more significant thing -- more significant to my scholarly work about media -- that the Pact forbids any magnification devices. Presumably to keep the denizens from reading any fine print and seeing who knows what else.
As I said, a powerful episode, capped off with a discovery of stars.
See also Review of 'Silo' 1.1-1.3
Reader insights
Be the first to share your insights about this piece.
Add your insights