Review of 'Silo' 1.1-1.3
A Unique Story, Inside and Out -- Like Chernobyl, Repaired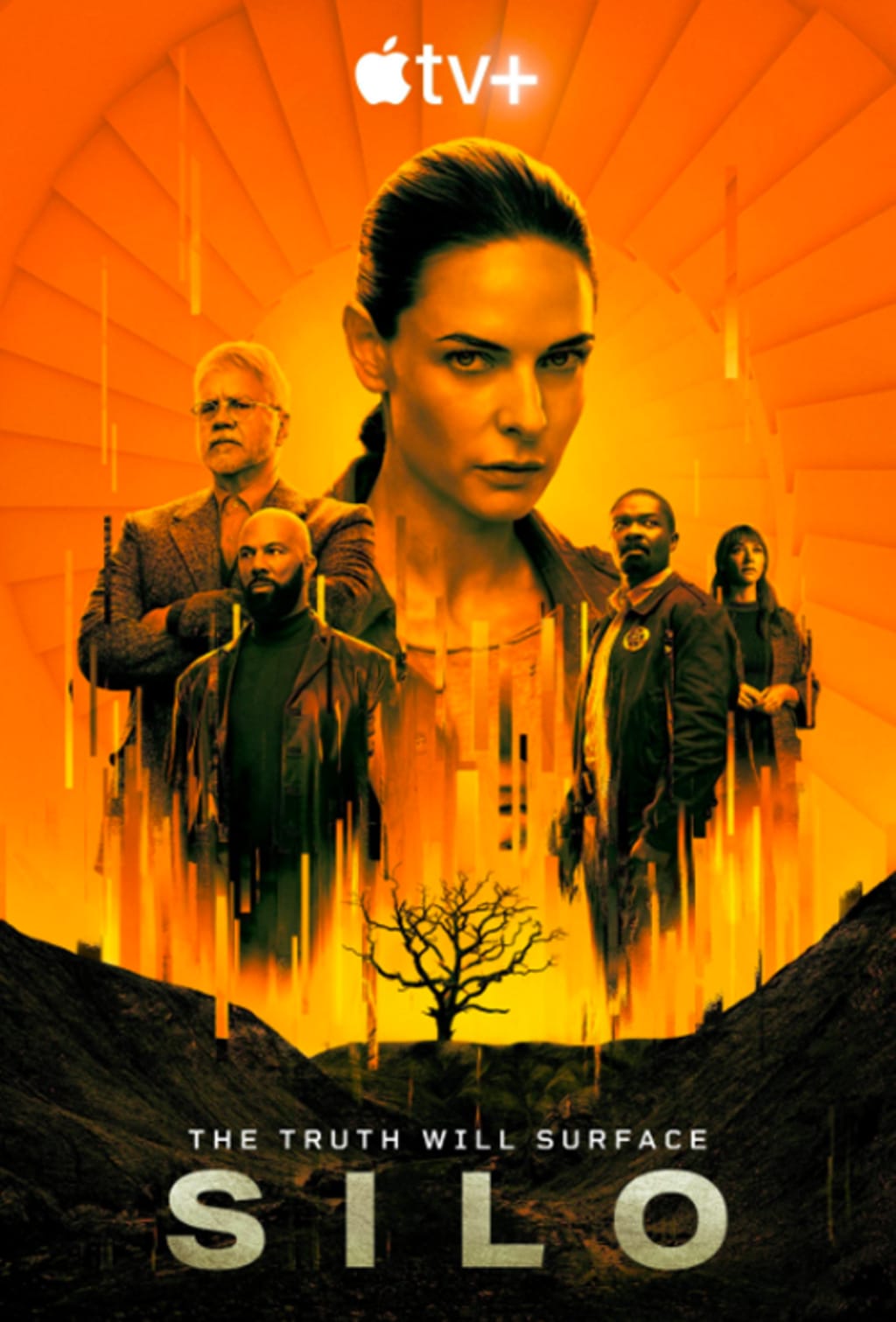 Just saw the first three episodes of Silo on Apple TV+, show-run by Graham Yost, whose previous impressive credits include The Americans, Sneaky Pete, and Justified, based on the Wool series of novels by Hugh Howey that I haven't read. These first three episodes bear some resemblance to most post-apocalypse stories, and even more to Apple TV+''s much lauded Severance. But Silo has a story and an ambience all its own, and it looks to be on its way to a top-notch science fiction series.
[Spoilers follow ...]
The narrative so far takes place in, well, a silo. You can leave, if if you want, but that's apparently a ticket to death, because there's poison in the air outside. I say "apparently" because, in the first episode, there's some talk that the deaths of people who leave, which inhabitants see in the silo on a big screen, is what we would today in our off-screen world call deep fakes. But in the second episode, it seems that Holston and his wife, who left the silo two years earlier, really did die. If I had to bet, though ... I don't know, but I'd come down on they're both being alive.
At this point, I don't see too many villains at hand -- maybe the Judiciary, which wields ultimate police power -- but just about all the action involves a bunch of varied people who for a variety of reasons think and maybe are sure that there's something more outside. These include Sheriff Holston and his wife Allison, who now are either dead or alive outside; George who has discovered something crucial about the silo but is now definitely dead inside it; and Juliet, an engineer, George's lover, sure that he was murdered, and now she's determined to find out what's really going on in and outside the silo. As I said, a unique narrative in a genre -- post-apocalypse -- where it's not easy to be unique. And characters are very well played by David Oyelowo as Sheriff Holston, Rasheeda Jones as his wife, Rebecca Ferguson as the engineer, and Will Patton as Holston's deputy.
***
Silo 1.3 was a thrilling edge-of-your seat episode that felt a lot like Chernobyl, except the damaged generator is ... repaired.
And, of course it had to be, because if it wasn't back up and running, it would have killed everyone pretty quickly, and that would have been the end of the series right there.
Which would have been a shame, because Silo is shaping up with every episode as one riveting series. Juliet not only comes through on the faulty generator -- along with her crack team -- but she's agreed to be the new sheriff, after the mayor gives Juliet the sheriff's badge, and Juliet turns it over to find her predecessor, Sheriff Holston, left her a one-word message: "truth". There's definitely something crucial going on here.
And then there's that big shocker at the end: Mayor Jahns is dying or dead. And she apparently knew she was dying, that's why she excused herself and asked Marnes to choose a dusty bottle of wine. At least, I think so. But if she knew she was dying, how long did she know that? And was she dying because someone poisoned her, and she knew that? Other possibilities are she took her own life, or she died of natural causes.
One thing is clear so far in the first three episodes of Silo: life is pretty expendable, in this haven, or prison, or whatever this silo is. It's pretty clear, now, that anyone and everyone can die, with little or no warning, at any time. An excellent state for a drama to be in.
See also Review of Silo 1.4-1.5
Reader insights
Be the first to share your insights about this piece.
Add your insights