Pataki Entry #1: Prophecies of Metamorphosis
A Modern Oya Story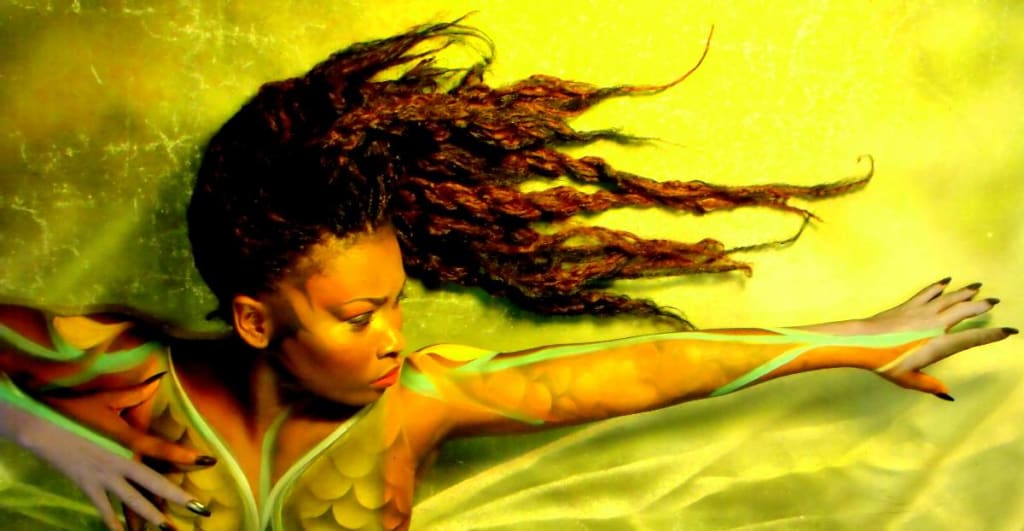 body paint and image by Leroy Roper, Makeup by Tiffany Diamond, 2010
Pataki. (Yoruba for Sacred Story) Oni Mi Ojo Eti, Agemo Ogbon, Odun Egbawa Mewa, Mejidilogoji Ojo Igba Ooru. Translate: Friday July 30th 2010, 38 days into Summer Solstice.
The moon was waning in Aries. I was in my personal year number 3. Crossroads were everywhere. Esu was having a party that year.
I was invited out of town on a weekend getaway trip to Dallas Texas, a birthday trip orchestrated by the others born of my mother. One of few good memories of them. My common-law karmic ex-husband stayed behind for understandable family reasons. I wasn't exactly told what was going to happen on this trip, I only knew it was a surprise weekend gathering for my 26th solar return. Thorsday night consisted of dinner and nightclub dancing, festivities that were fun, but surface. It wasn't at all that I was ungrateful. I was just aloof to anything that wasn't what others considered "deep," and I couldn't help it. Mentally, I was almost always somewhere else, but I cannot say I wasn't happy. The next day, I was told not to lotion after my shower or wear any makeup. Where I was going was a surprise, they said. I was driven to an unknown the next day, and it looked something like a studio loft, from the outside. The inside was an entirely different story. It was literally like I stepped into another realm. There were mannequins of elaborate paintings, costumes, and elaborate backdrops. The paintings were of the female form depicted as sky and sea creatures. The smell of creation was in the air, and up until then, I was unaware that creativity could even have a scent. It was very very very, supernatural and fantasy. I was in the art and photography studio belonging Mr. Roper, an internationally renowned body paint artist.
My sister arranged this part of the birthday weekend, I'm sure. What made this part of it so special was that my sister had done photography work with him a decade prior to the moment. She appeared in his 2001 calendar project as "The Guardian of the Deep." She was painted as an ancient mermaid, and it, to this day was one of the most beautiful photographs I'd ever seen. On this day, I would be a part of his amazing work. I wondered how he came up with that title, but of course my creative process would be entirely different.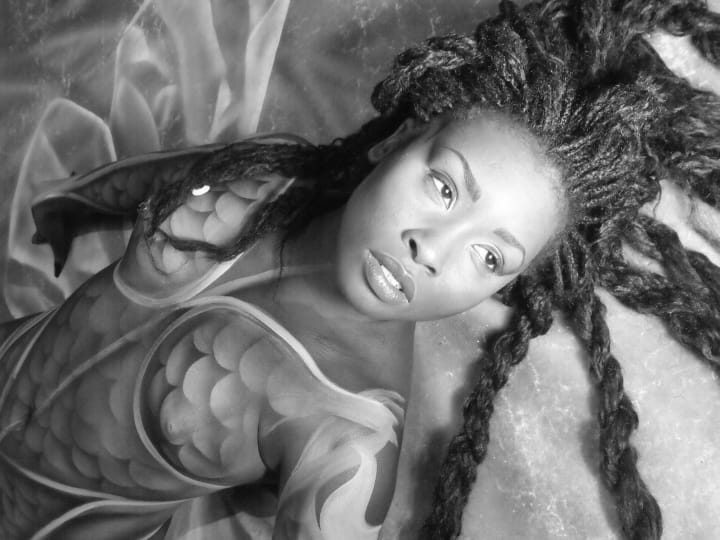 She introduced us, and the family left me to get acquainted with Mr. Roper and Ms. Diamond. It was strikingly obvious to me that they were both ancient souls reincarnated in a modern lifetime. He, a griot type of figure with protruding, intense eyes, strong warrior features, and skin that looked like rare ebony wood. She, reminded me of a fairy, naturally mystical in her peach tones skin, golden hair, glowing eyes, and a soft voice. Before we got to the body painting, we sat down on the couch in the studio...to do a little extra, perhaps because it was my birthday. That something extra was my very first tarot reading. I remember feeling a tinge of nervousness of familiarity all in the same ball of wax as he laid the deck of cards on the table. The nervousness was from my Christian teachings that such things as tarot were a sin against God. The familiarity came from that ancient something deep inside of me secretly rejected the religion I was forced into. That same something that was searching for the deeper meanings of life since childhood. I still remember the surge I felt in my veins the first time I held a tarot deck in my hands. The Christian in me feared it while my ancient essence rejoice in its eerie familiarity. I shuffled...and shuffled….and shuffled... until the fear melted and ancient came out front.
Mr. Roper read first. He did a five-card spread. I don't recall what the first two cards were, but I will never forget the last three. The third card was the cohesion card. It was a dark oracle, full of storm clouds. There were tornadoes with flashes of red in the card's sky. The interpretation of the card was that I was headed into a series of events in life that would shake the very core of my being. I would learn in the years up the road just how significant a role that storms would play in my life. His demeanor was calm, pleasant, but serious as he spoke. I felt chills in my bones as the reading continued. I knew without needing proof he was telling the truth.
Card draw number four. Fusion. It had a bit more color to it than the card before it. Next to the cohesion card, the prophecy revealed that the storms from the cohesion card were designed to turn me into who I have always been. Up until that moment in my life, who I had always been, per se, was chalked up to a crazy lady. A sinner who was in need of correction, a wilting flower that needed watering. A part of me I wanted to let die inside of me out of fear that she wouldn't be accepted by my already suffocating environment. Although Mr. Roper didn't speak the words verbatim, the revelation of the fourth card said to my inner, more esoteric self, "It's ok to come out now."
Card number five. The success card. The most colorful of the three. It was bright and sunny. The art of it showed a person riding the back of a tiger. The revelation brought a release from the tightness in my chest. After the storm cleared, and I was more clear and aware of self, I could expect success, and should prepare for it. It would take 7 more solar returns for Mr. Roper's tarot reading to manifest in full measure.
Ms. Diamond's tarot reading was the perfect contrast to Mr. Roper's. His was deep, introspective, and a bit scary...granted that it was my first tarot reading ever. Hers was more light hearted and refreshing, yet a complement to her husband's spread. The artwork of her tarot was more simple, complete with dream catchers and butterflies. The butterfly was the main card of her three card spread that I can recall. Her prophecy spoke that I would achieve the ultimate freedom from within. The ultimate freedom. Painting time.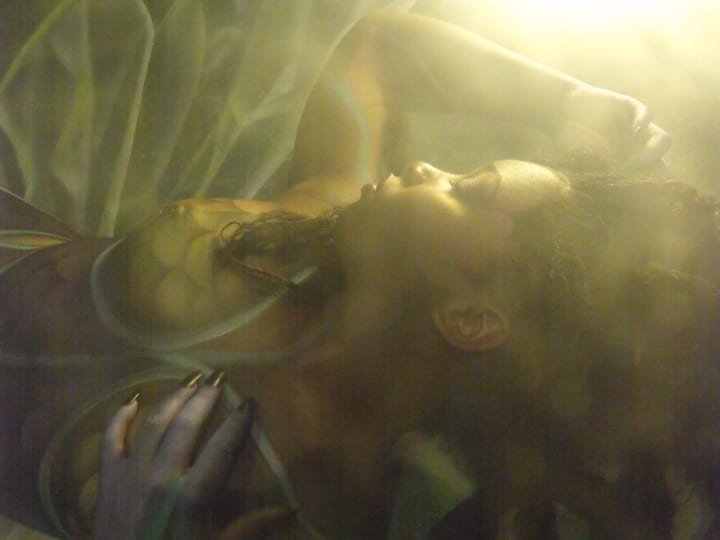 The birthday girl renders her birthday suit to be a canvas, I thought. I squealed inside. I love this type of work. I remember taking a deep breath before disrobing. With all of the energies from the tarot reading still in my head, undressing didn't just feel like undressing. It felt like a shed...like a primary step into my destiny? Removing my clothes felt like removing the first layer of my old self. In this moment, my nudity was divine. The chills my body felt were not completely from the air conditioning. All was coming from within. I wasn't in a very least bit uncomfortable, as I was in a very professional setting. In fact, I'd never felt more natural.
This moment was one of the most natural moments of my life because in it, I was free. I was free, bare, unjudged, unexploited, and most of all, aligned. I was aligned...mind, body, spirit, and soul. I'd done other photoshoots in which I felt beautiful, but none invoked my true spirit as this one did. I laid me down on the painting table and shifted from tarot querent to art subject. Mind you, I was never told what my body art design would be. It, like the rest of the weekend was a surprise. Mr. Roper and Ms. Diamond went into a simultaneous guided meditation, complete with soft voices and positive affirmations. I closed my eyes and immersed into the entire experience, still meditating on the revelations of the tarot readings. Mr. Roper painted my body as Ms. Diamond painted my face. They were a perfect balance of masculine and feminine polarity.
The photo session was an out-of-body experience. The moment was an elixir of artwork, spirituality, creativity, tribalism, and ancient essences, all fused into one frame. Immortalized. What was my spiritual art design? The Rebirth of the Dragonfly. I was the sky creature, where she, my sister was the sea. The Guardian of the Deep.
In spiritual symbolism, the dragonfly represents change and transformation. Of course I was unaware of these things at the time. Life had taught me to look deeper into things as this, not to mention the dragonfly itself represents the seeking of life's deeper meanings. I had been doing so for long, I was just used to feeling like something was wrong with me...but I digress. Dragonflies represent elegance, grace in midst of intense changes. They are symbolic of the discovery of one's own magic abilities. Dragonflies are power, victory over adversities. It was refreshing to know Mr. Roper saw me as this, granted the predictions revealed in the tarot. Most importantly, the dragonfly represents death. Not the grim reaper physical kind, but the death of the old self in order to make way for the new one. With every flash of the camera, I let the dying begin. This photoshoot marked one of the last days of life as I knew it. I returned home a day or so after the shoot wrapped, and the cohesion card kicked in immediately. The metamorphosis was on. I could never find a project to feature the photos on, so I just posted them here and there. I showed them to my nearest and dearest as well. I never felt any of my projects did the images justice...until now.
4 solar returns later, the spiritual powers that be called me forth to serve humanity as a diviner. My main divinatory tool...would be tarot. I never chose it, my cards found me by way of a respected village elder...all six decks .This was after two and a half years of pure hell and high water, as the storm on the Cohesion card predicted. The details of that whirlwind ..are another day's story. 7 solar returns since the prophecy and photoshoot, I made a full conversion from Christianity to Ifa Orisa, as the Fusion card predicted. I was initiated as a priestess of Oya, she who rules the storms. The same storms on the Cohesion card of my prediction...7 years prior. She is represented by multi-colors, like the ones that were painted on my physical landscape...7 years prior. Dragonflies, like many other winged creatures, are sacred to Oya. She was there, claiming me as Hers then. Esu laughs in this moment of realization. The prophecies of Mr. Roper and Ms. Diamonds tarot spreads had fulfilled. The dragonfly did indeed rebirth, and that dragonfly….was me.
***Listen to the audio recording of this mystic diary and others upcoming, complete with soundtrack at 10AM and 4PM CST on my radio station, 222.9 The Mothership, your Mystic Haven on the Airwaves!***
www.poeticallymused.org/mothership
Download the 222.9 The Mothership App on Google Play, or Simple Radio App!
Reader insights
Be the first to share your insights about this piece.
Add your insights