Outrageously Innovative and Controversial: Is this genius or ridiculous? | Vivarium (2019) Review
Your Home. Forever.
Imogen Poots, Jesse Eisenberg, and Senan Jennings in Vivarium (2019)
Have you ever feared that making one decision might change your life forever? That one answer to a question, yes or no, would go on to be the defining factor of how your future plays out? That you will be locked down and stuck, regardless of how much you try to break out of the cycle?
When Gemma and Tom, a young couple looking for the perfect home, give into visiting a new suburban neighbourhood after persistent persuasion from a strange real estate agent (played by Jonathan Aris), they end up finding themselves abandoned in the off-putting labyrinth that is Yonder. Here the houses are identical and the sky just a little bit too blue. With every cloud shaped as if from a children's cartoon, the wind is still and the roads are dead quiet. No matter what direction they drive or fences they climb, the couple continue to circle right back to house number 9. As the realization that they're trapped starts to seep in, a box with a little baby boy inside arrives at their doorstep with the message attached: "RAISE THE BOY AND BE RELEASED". And thus the nightmare begins.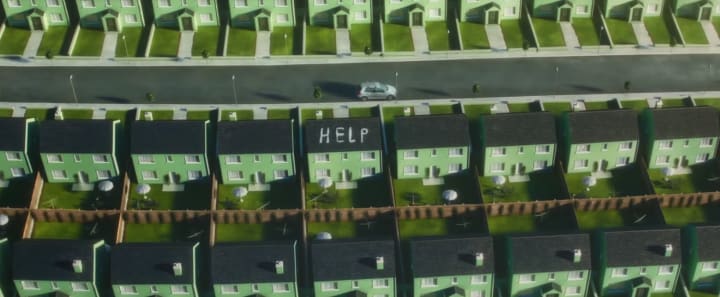 At first, the odd and soul-lacking minimalist nature of Yonder seems almost comical - in a nervously chuckled what-the-fuck? kind of way, but you quickly end up biting your tongue. Vivarium is a striking and immersive execution of the dripping dread and the restlessness reality of what "the perfect life" is on paper actually is.
As the days go by and the Boy continues to grow like a dog, Gemma and Tom's sanity slowly starts to melt away and their jaw-clenching frustration increases. The fear in this minimalistic sci-fi thriller isn't based on jumpscares or rising heartbeats, but rather an intense angst that sinks heavy into your spine as you have no choice but to hold your clenched fist still. In many ways, the atmosphere resembles Kubrick's The Shining: excruciatingly slow and seemingly unstoppable.
vivarium - noun .

an enclosure, container, or structure adapted or prepared for keeping animals under semi-natural conditions for observation or study or as pets.
Drizzled in sci-fi and the unknown, the movie does seem to struggle a little bit as to whether it should commit to lore or mystery. Some of the origin and reasoning of Yonder is very lightly tapped on, but never explored to anything with a solid answer. Seen throughout the eyes and incidents of the characters, everything is a bit of an enigma. But it seems that the writer and director did have some ideas for a background story and would every now and then throw in some shallow clues that wouldn't lead to much. And so instead of leaving it open for interpretation and wonder, the concept at times fell short of its ambition.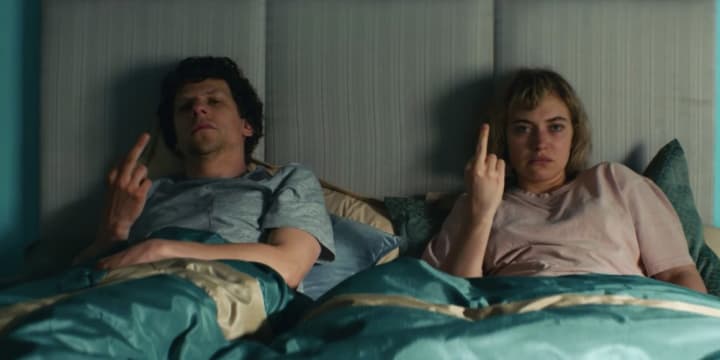 This movie is horrible to watch. Your shoulders hold tense as the groundhog day-like scenes go by with no resolution and no satisfaction. When the credits finally roll through, you are left numb and mindfucked. With a 68% critic score and 37% audience score on Rotten Tomatoes, the divisive reception is very prominent. I have seen many call this movie an utter waste of time, pointless and without any catharsis. But to me, it seems that is the exact point.
It is an unbroken hamster-wheel and it achieves exactly what it sets out to do. It is not objectively bad or good, that's the wonderful thing about cinema; subjectivity. And so, even though I found myself complete spellbound and in love, my reccomendation depends entirely on what kind of person you are. If you are the cinephile that only ever raves about stellar Oscar-dramas with linear depth and critic unity, you'll probably find this ridiculous and vulgar. But if you're fascinated by the experimental and obscure and don't frown your nose at the innovative and unconventional, this might just be the film you've been looking for.
Vivarium (2019) is available now for rent and purchase. Click here to watch the trailer.

Running time: 1h 38m
Directed by Lorcan Finnegan
Screenplay by Garret Shanley
Starring: Jesse Eisenberg, Imogen Poots, Senan Jennings, and Eanna Hardwicke