✨October Energy Update ✨
🔥Clearing and preparing for a collective fresh start 🔥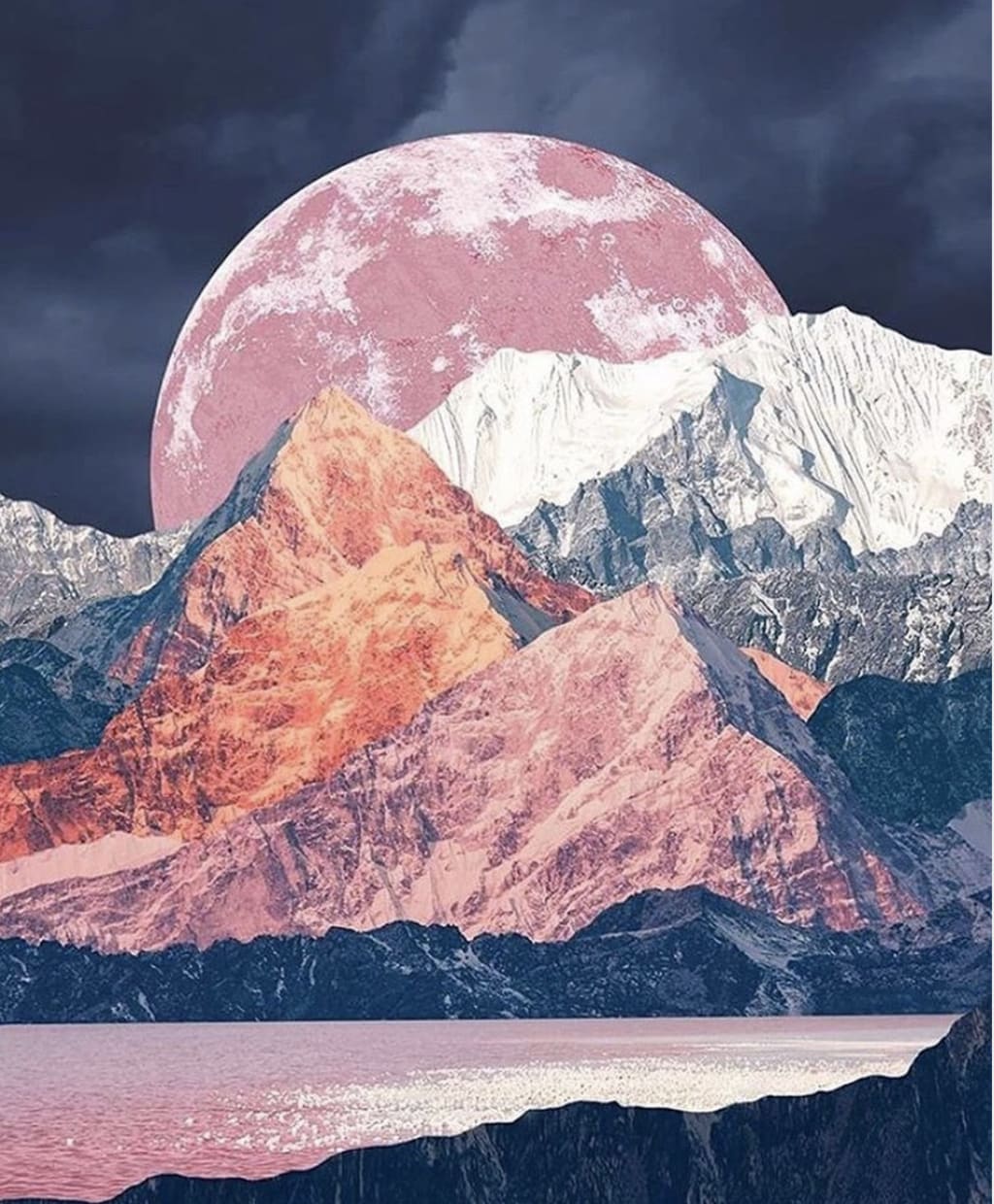 image via @leafandpetaldesign on ig
There's a lot going on this month, if you can't already feel the energy!
First off, we have tonight's Full Moon and Harvest Moon. Chiron conjunct Mars in Aries has been bringing attention to wounds to our core personal beliefs or formation of self. In direct opposition with the moon tonight, it's a great time to identify these wounds and do some meditative visioning around accepting, integrating, healing, and releasing, especially with the use of fire or smoke. You might also consider reframing these wounds to understand the gifts and lessons that they taught you. Bring forward the lessons, and leave the pain behind. Read my full moon in aries article for more on tonight's moon.
For some quick ideas on how best to work with this moon's energy, exercise to access Mars and Aries energy, meditate or journal on clearly seeing what works in your life and what doesn't – identify things to be released, with the intention of creating space in your life to welcome in all that is meant for you and all that you need to know in the remaining 3 months of 2020. Take a bath to access heat and aid in releasing. Light a candle to tap in to Aries fire energy. Spend some time meditating on your releases and gaze into the flame – I know that's what I'll be doing! 🕯🔥❤️
Major energy is shifting on the collective and personal levels as Saturn stationed direct on September 28th. Saturn is a planet of discipline, hardwork, structure, limits, the material world, and time. Retrograde the last few months over pandemic and quarantine, saturn is direct now which will lead to new developments or breakthroughs surrounding our existence on the material plane. Whether this means finding an effective way to combat Covid-19 and return a sense of safety and wellbeing to the collective, or a total reworking of our government and societal structures as a whole, the results are to be determined over the next few months as Saturn finally moves forward. On the individual level, this could also look/feel like getting very real, serious, and disciplined about what your material needs are and how to achieve them as we enter a new phase of life. With Mars rx our energy may feel low - I know I've been feeling lethargic and sleeping A LOT – but with Saturn direct now it may alleviate some of the dragging heaviness. I've been waking up a lot more easily since Saturn went direct!
Take the last few months of 2020 to identify what your needs are if you haven't already. The clearer you can be mentally about what needs to happen, the better. Our thoughts and plans of course might be due for some reworking as well when Mercury goes through its last 3 week retrograde cycle of the year on October 13. This is another opportunity to review where we've been and decide the kinds of changes we want to make in our lives.
Because Mercury will be rx in moody and sexual Scorpio, relationships might be a hot topic this month. Scorpio loves the realms of dreams, deep desires, secrets, tabboos, talking about all the things "you know you shouldn't be talking about." Don 't be afriad to go deep with friends, significant others, and maybe even...exes. If there are ex lovers floating around in your life, this could be an opportunity to reconnect just in time for all of the direct forward motion of the outer planets, or to trasmute what you've learned and release them for good as we prepare to begin a completely new chapter of our lives. Think blank slate, fresh start, carte blanche, new world. The upcoming astrology presents the kind of life-changing opportunity that could transplant you somewhere completely different, leave you feeling like a brand new person, and like the old you with all of your bad habits and low-vibe friends and habits is dead and gone for good.
In January Saturn will meet up with Jupiter at 0 degrees Aquarius for their 20-year "Great Conjunction," which will provide a collective and personal reset and energy boost around our visions for the future. It's a bit of oxymoronic energy, with Jupiter being the planet of fortune and expansion, and Saturn being the planet of discipline and limitation. We need all of these elements to be successful, but only time will tell how these energies will combine to alter our lives. In the sign of Capricorn I feel strongly that these energies will impact resources, careers, opportunities, and the collective job market, as well as a rewriting of society's rules overall to support equality, emowerment, and earning potential across the board. We won't be on totally virgin ground with these energies until the end of Janruary. Until then, it will be a focus on reworking, revisiting, and perfecting the topics that have been up for review since Pluto Jupiter and Saturn all entered their retrograde zones in Capricorn in January, February, and March of 2020. Think about what has been up for review in your personal life and for the collective since then. These are the issues that will be resolved and leveled up by the end of January 2021. When these energies meet at 0 degrees Aquarius, it will usher in a fresh wave of energy that will ensure 2021 brings radical new beginnings and a totally different flavor to life. Think revolutionary humanitarian futurist Aquarian energy - our planet could it right about now!!
For more insight about where your personal life might be most changed by Saturn Jupiter and Pluto, all still clustered in Capricorn, check out which house Capricorn rules in your chart and if you have any natal planets there. For me, it's my 11th house although when they join for the great conjunction at 0 degrees that's my 12th house. So I'm looking at some very intense reworkings of my networks, goals, dreams, and my own subconscious views and connection to my spirituality.
Are you curious about how the planets are impacting your unique astrology chart and life? My October books are OPEN for astrology and intuitive guidance sessions ✨ For now contact me through my instagram @ascensionastrology to book a reading. I'm SO excited to share that a fancy new WEBSITE is in the works to help facilitate booking and informational needs. Coming soon, y'all, yay!!
Full Moon Blessings and Happy October, friends!
xx
Jenna
Reader insights
Be the first to share your insights about this piece.
Add your insights