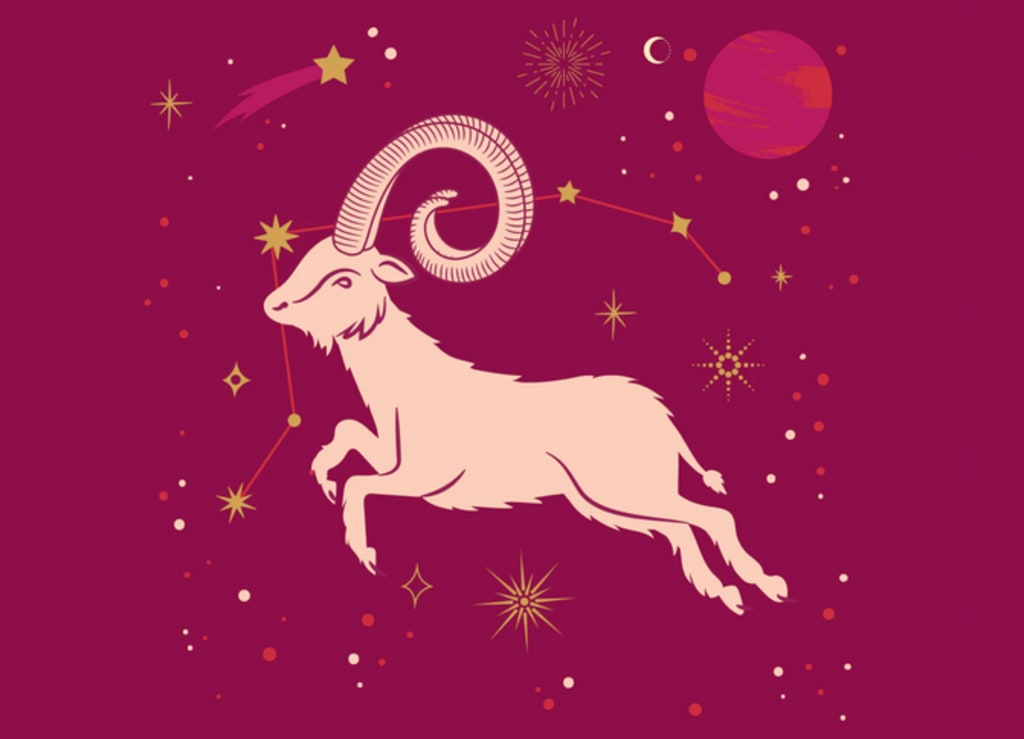 Photo: Google Images.
The start of both spring and the astrological year is bringing us just what we need - a jolt of energy! April's new moon will spark the fire needed to recharge us [in our respective areas and fields]. On April 1st (Mar. 31, depending on where you are in the world), the moon will find itself at the beginning of it's cycle in cardinal, fiery Aries. But, what does that actually mean? Anytime the moon is in conjunction to the sun, we have a new moon. The entirety of the moon seems to be hidden from view (although if your eyesight is good, you'll be able to see the moon's outline) in the night sky during this lunar transit. Speaking to energy, the new moon in every lunar cycle marks a period of anticipation, initiation, manifestation, and often, heightened intuition and emotions. This new moon will be in the sign of the ram, which is ruled by Mars and associated with the first house (1H) in astrology, which makes this a great time to focus on our dreams, the path to achieving these dreams, and how to make the moves that will bring us success in these areas.
The moon in Aries
Aries is a cardinal sign (occurs at the beginning of the spring season and starts the astrological year) in the fire element. Aries energy is dynamic, optimistic, dominant, initiative, and rebellious. The new moon occurring in this sign will bring in an energy that feels super-charged, this is definitely a time where many of us will feel like we need to be doing something as opposed to sole;y thinking and planning ahead. The Aries zodiac is considered the leader, as it is associated with Mars - the planet of action. The next month will be filled with what can be best described as "busy-bee" or "worker-bee" energy. Aries is also a cardinal sign, so this is also a time where new projects, ideas, and connections can come into play. As this is a manifestation period, expect to see a return on the things you find yourself working on over the next few weeks, toward the beginning of the fall season - around the Aries full moon.
Aries belongs to the fire element, which encompasses passion, action, and creativity. This Aries new moon prompts us to make good on the intentions we've been hoping to manifest by taking the necessary steps to turn our dreams into reality. The energy associated with this Aries transit is generally positive and there may even be opportunities to heal in certain areas. This moon makes a conjunction to both Mercury and the asteroid that typically tends to point out our sore spots (Chiron). Mercury governs communication and perspective so, over the next few weeks many of us will find ourselves in spaces where we're able to have conversations that we might have considered "tough" at one point in time. The Aries moon making this aspect to Mercury and Chiron will help us realize the areas that need some work in our personal lives; this could refer to where we need to improve and/or heal. Take a look at where this transit lines up with your chart and the aspects it makes to your natal planets for an idea of what might be coming up.
Aries new moon rituals
Intentions are a great way to manifest the things you want to see in your life. It is important to remember that the new moon marks the beginning of the a lunar cycle therefore, intentions should be focused on bringing in something new. Write intentions with phrases like "I can," "I do," and "I am" related to the Aries energy of this lunar transit. You can write your intentions in a new moon notebook, so that you can reference them later on in the year. Another way to tap into this new moons' vibes is by working with the fire element. Fire is dangerous, so don't go and literally work with fire…instead go outside and let the sun hit your skin, or do something that gets you moving and circulates heat (energy) throughout your body (Fun fact: Mars is one of the planets that astrologers associate with sex, so you could literally get it poppin' in the bedroom, or wherever, in the name of Aries).
New moons and full moons are a great time to get in touch and in tune with our spiritual energy, sometimes called our "higher selves. " Working with colors, scents, and stones associated with the Aries zodiac energy is one of the best ways to make the most of the spiritual tools you have available. Aries colors include different "hot" hues however, we mostly see Aries paired with red. Invigorating citrus essential oils like sweet orange and lemongrass are best to work with for this particular moon. A few stones that you can work with during the next couple of weeks are: Black Kyanite, Bloodstone, Fire Agate, Hypersthene, Red Jasper, and Ruby Zoistite. You can either place these stones around you, wear or carry them, or meditate with them to get the full effects of their healing properties.
Don't forget about Virgo…and get ready for Libra!
We are starting a new lunar cycle however we did have a Virgo full moon a couple of weeks ago (Mar. 18). While the Virgo themes will be a lot less intense moving away from that lunar transit, some residual energy will linger for a few weeks, or until we have the full moon in Libra. You can also use the first couple of weeks in April to pair your Virgo full moon rituals with some Aries new moon tools. A good way to mix in Virgo energy is to add a couple of stones to your Aries collection. A few Virgo stones you could use are: Chrysocolla, Green Calcite, Howlite, Moss Agate, Petrified Wood, and Snowflake Obsidian. You can also incorporate the earth element into your rituals going outside and interacting with the earth (putting your toes in the grass, meditating, etc.).
The Aries new moon energy will stay with us for about a month, or until we have the Aries new moon (Apr. 1). The strength of the effects will be more prominent during the new moon shadow periods, which are typically about three to four days before and after the new moon. It's best to do your new moon rituals on during the transit however, if you're unable to during that time, the shadow period is always a good second option (speaking to spirituality - it's all about intention, do what works best for you…don't worry about anybody telling you that you can't do your rituals because the moon left a certain sign). This lunar transit will primarily affect individuals with natal Aries moon placements, specifically in 11 degrees or within the orb (six to seven degrees). People with a lot of Aries, cardinal, and fire in their chart(s) can expect for this to be a transformative time, even if it's not clearly evident on a conscious level. Additionally, anywhere you find these placements in your chart can give you a hint as to what this new moon might bring in for you based on the surrounding planets, houses, and aspects.
Reader insights
Be the first to share your insights about this piece.
Add your insights