Most Popular 'Star Wars' Actors Ranked By Instagram Followers
Which Ones Do You Follow?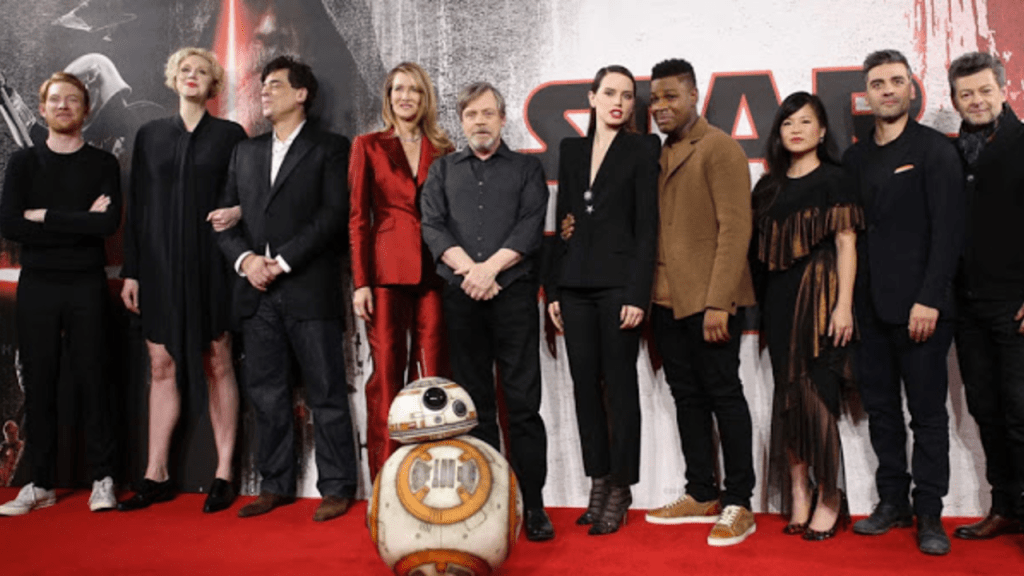 8. Ming-Na Wen (1m)
One of the few people to complete the Disney Trifecta (animation, Marvel, and Star Wars), Ming-Na Wen is no stranger to the spotlight. As the voice behind 1998's Mulan, many Star Wars fans were thrilled to have her show up in The Mandalorian. Wen's character, Fennec Shand, then followed in the footsteps of Darth Maul and Boba Fett and was resurrected from a seemingly fatal injury, to the near universal joy of fans. Long loved by fans of the Marvel show Agents of S.H.I.E.L.D., Wen has embraced her role in nerd culture and will be reprising her role of Shand in the highly anticipated The Bad Batch series. Fitness and diet tips are also two very common things to see on her Insta, undoubtedly contributing to her youthful good looks and sunny demeanor.
7. Pedro Pascal (2.2m)
The Mandalorian himself, Pedro Pascal's 'gram is full of shout-outs to his peers and to artists across the world. As vivacious as the actor himself, Pascal's page is easy to get lost in as he clearly has an eye for social media, catching one's attention with ease. The Chilean-born actor, best known for his roles in Game of Thrones and Narcos, has also made a name for himself on the stage in New York. With the smashing success of The Mandalorian, we can anticipate Pascal and his trademark mustache being a staple in the Star Wars community for years to come.
6. Taika Waititi (2.3m)
Possibly the most unique filmmaker on this list, Waititi has had plenty of success with his original film and show What We Do In The Shadows, a mockumentary revolving around vampiric roommates. Like Ming-Na Wen, he has also left his mark on the MCU with the direction of Thor: Ragnarok, a fantastic creative vision that translated exceptionally well in comic book movie form. While his time in the Star Wars universe was all too short (fingers crossed for an IG-11 rebuild), fans of the saga can look forward to his direction of a new Star Wars movie within the next few years.
5. John Boyega (2.3m)
Clearly, John Boyega is a big deal, and not just to the Resistance. Many actors find their careers bogged down after a role in Star Wars. However, the exact opposite is true of Boyega, as he has several TV shows and movies under his belt since the conclusion of the sequel trilogy. Also extremely active in social activism and the Black Lives Matter movement, Boyega is no stranger to taking center stage and relentlessly moving forward. A Finn Disney+ show should be on a shortlist of projects over at Lucasfilm. (Boyega did express that he would be open for a role in an animated series.)
4. Mercedes Varnado (aka Sasha Banks) (5.1m)
Sasha Banks has a huge following in part due to her meteoric rise in the Wrestling World. Nicknamed "the Boss," Banks is the current SmackDown Woman's Champion. This martial skill easily translates into the physical presence she has onscreen, even unleashing her moves on a surprised Boba Fett in The Mandalorian. Banks makes an excellent Mandalorian and a great addition to the Nite Owls. Hopefully, she will be accompanying Bo-Katan for many missions in the future.
3. Mark Hamill (5.7m)
How could any list of popular Star Wars characters be complete without Hamill himself? The actor behind Luke Skywalker has been a staple of the fan community since its onset, with appearances on late night shows, surprise promotional appearances, and a laundry list of charitable work. Hamill has enjoyed a successful career as a voice actor, giving the Joker one of his most chilling and memorable iterations throughout the animated Batman series.
2. Natalie Portman (7.3m)
Born in Jerusalem and raised in New York City, Portman has led a fascinating life of acting, advocacy, and, recently, fable writing. The Academy Award-winning actress was cast in her breakout role when she received the part of Queen Amidala in The Phantom Menace. Portraying the powerful Padme Amidala for the rest of the prequel trilogy, Portman did an exceptional job of portraying the mother of Luke Skywalker and Princess Leia. Following up the tenacity and guts of Carrie Fisher is no small task, but it is one that Portman accomplished in spades.
1. Emilia Clarke (27.1m)
Topping the list by a landslide, Emilia Clarke is the rare actress who might be least known for her work in Star Wars. Arguably the main character of Game of Thrones, Clarke rose to fame alongside Kit Harrington, quickly becoming the fan favorite character of the show. Born in London and raised in theaters with her father, Clarke began acting at the age of 3. This quickly became her passion and her goal in life. Clarke acted on Broadway and in several films before landing her breakout role. Hopefully, between the recent fan calling for a Solo sequel and potential appearances in the Lando show, we have not seen the last of Emilia Clarke in a galaxy far, far, away.
Written By Weston Erickson
Syndicated From Culture Slate