'Moon Of Endor' Popup Bar Coming to Hotel Madrid's Walkers Point
Wow!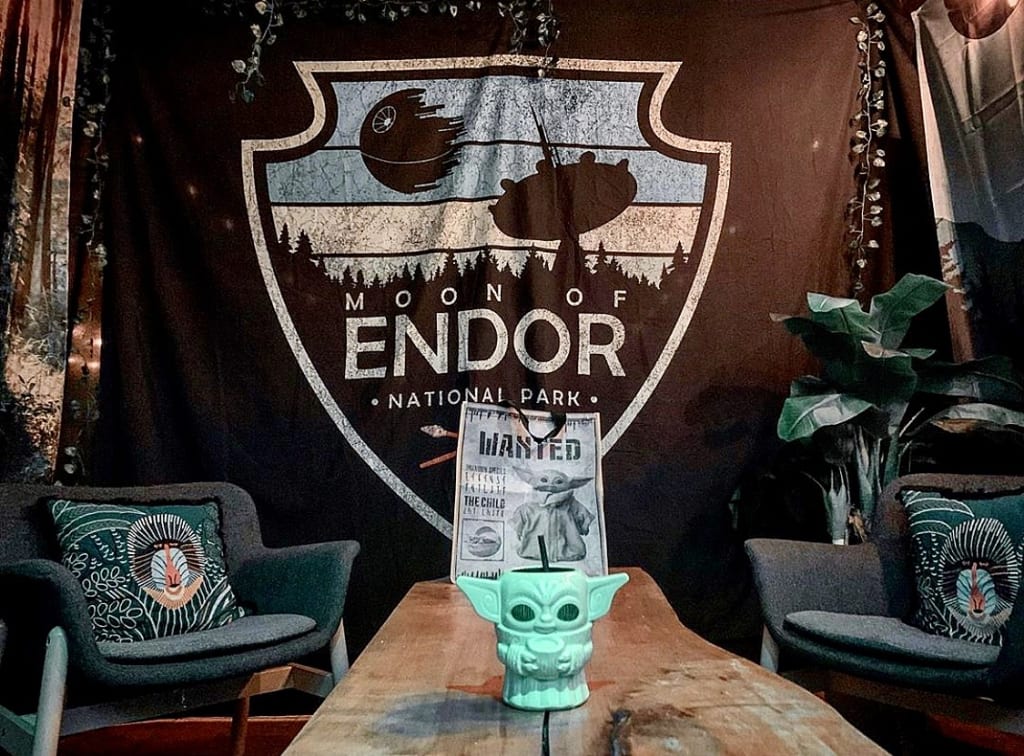 While Halloween may look a little different this year thanks to the pandemic, one hotel in Milwaukee, Wisconsin, is getting in the Star Wars spirit just in time for the big holiday.
Movida, which has already been sporting a baby Yoda mural on the wall outside, is turning their bar into a "Bar Far Far Away" until Thanksgiving, in celebration of Halloween and Star Wars, especially the upcoming release of The Mandalorian season 2.
The bar is transforming into a cantina of sorts, similar to the kind you might find at Mos Eisley Spaceport on Tatooine, or even at Olga's in Galaxy's Edge. Private rooms will contain candlelit tables for two, and other lounge rooms will be available for reservation on the heated patio.
The website features this introduction to the Star Wars-themed bar:
"Baby Yoda has returned home to Hotel Madrid. Unrest in the galactic senate has forced Star Wars favorites to take refuge at Hotel Madrid. Join us at as the cantina will be home to both sides of the force, bounty hunters, Jawa Juice, that cantina band everyone loves, planets from around the galaxy, villainy & scum."
The bar has spared no expense designing the space, as they commissioned artists from across the country to design art for each room. Each room is themed after a planet, including Hoth (the ice planet from the opening of The Empire Strikes Back), Endor (the forest moon featured in Return of the Jedi), Tatooine (Luke Skywalker's home planet), and Bespin (home to Cloud City, and site of the climactic battle at the end of Empire).
Not only will the décor and atmosphere be in order, but so will the drinks and food, featuring cocktails like the Millennium Falcon, a sweet drink fashioned to taste like key lime pie, and the Mos Eisley Iced Tea, which is "a Long Island iced tea with an orange chocolate twist."
Snacks will include deep fried Old Bay ramen noodles as well as Southern fried frog legs, and the full tapas menu will also be available.
Patrons are encouraged to dress up, and there will be photo opportunities as well.
While this bar is a short-lived pop-up, it reminds me of some of my favorite Star Wars themed bars to visit, including, of course, Olga's Cantina at Galaxy's Edge, as well as Scum and Villainy Cantina, a bar on Hollywood Boulevard in Los Angeles that feels like you're stepping straight into a scene from Star Wars.
While it is not necessarily safe to visit bars and restaurants right now, places like this pop up at the Movida Hotel are doing their best to make the experience as safe as possible by requiring face masks, social distancing, and sanitizing rooms before and after use.
Bookings are now available, with swag bags available for $80.
The swag bags include:
"...one tote bag, 32oz bottle of Movida's famous house red sangria, amazing ceramic tiki mug, & Bar Far, Far Away Stickers."
While we unfortunately cannot all book a trip to Milwaukee for Halloween this year, we hope that we will see more businesses like Hotel Madrid adding some Star Wars cheer to safe experiences during the pandemic. Even if we cannot go to some of our favorite bars or visit Galaxy's Edge at Disneyland, this shows that there are still ways to experience and celebrate Star Wars out and about and have fun while being safe doing it.
If you are near Wisconsin, check out this pop up bar, and if not, stay tuned for more updates of fun activities, especially as we roll into the Halloween and Christmas holidays. Most importantly, we cannot wait for season 2 of The Mandalorian, which is only a couple weeks away now!
Written By Alex Cherry
Syndicated From Culture Slate