Human Parts (Part 3)
Part 3: Only Darkness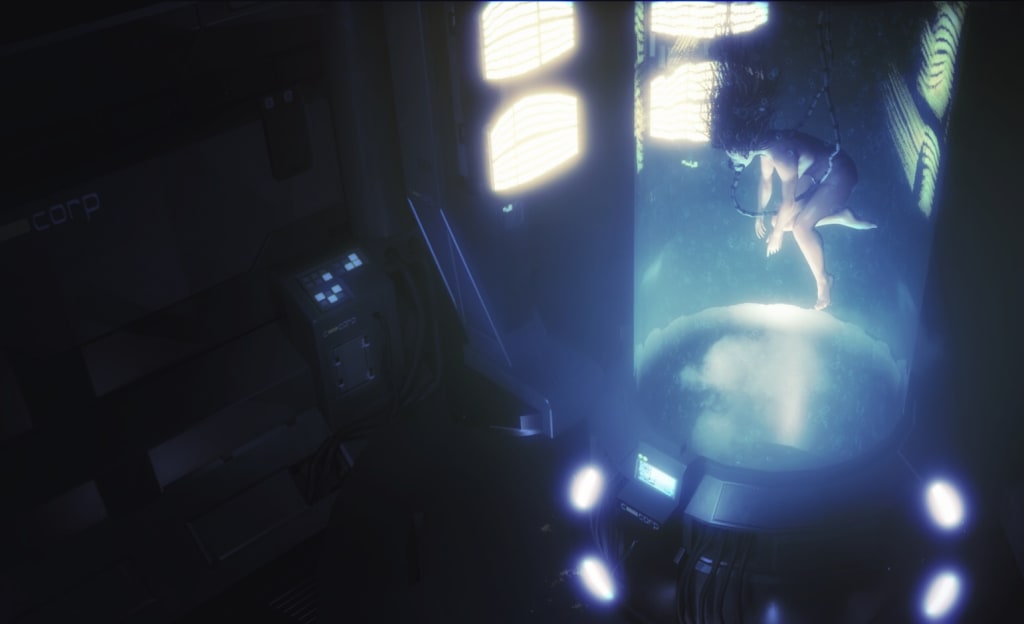 Plasmeridium Tank. Original 3D Art by Yavuz Yener. Edited by E.K. Sandoval
What's going on? I can't breathe! I'm drowning! What the hell? What is this fluid?! Where am I?
Ack! *cough* *cough* Bang! Let me out! Bang! It's hard glass. Who are these white coats? Is he helping me?
Bum-bum! As the tank drains of teal fluid, I feel a huge reverberation coming from my chest. Bum-bum. It's getting faster and faster and faster. My hands... why am I getting claws?
The glass pane drops and disappears in the floor. I fall to the ground, staggered.
"Hi, Meta, are you ok?" The white coats. I hid my hands behind my back. Who's Meta?
Boom! At the sound of a mechanical buzz, a blast door to my left opens.
"Doctor, I told you to constantly keep him sedated! Get him back in the tank now!"
This man is tall, dark and scarred. But his face seems familiar. He has claw marks running from the back of his right ear to the middle of his chin. He also had one on his jugular, someone was aiming to kill. The man seemed restless like he hadn't slept in years. I guess I wouldn't sleep either if someone wanted to claw me to death.
BUM-BUM! No! The claws, they're coming back. BUM-BUM!
Ahhh!! I scream in agony as my heart sinks. The scream doesn't just come from me, it comes from all around me. Every person, including the scarred man.
"Sedate him, now!"
I am pushed back The wall goes back up in the tank. A needle shoots into my arm. The claws are becoming more prominent. The last thing I see is every single man turning into the darkness. The knife. The one beacon of light comes from the knife. I hear his voice, "Show me again!"
They... must... die...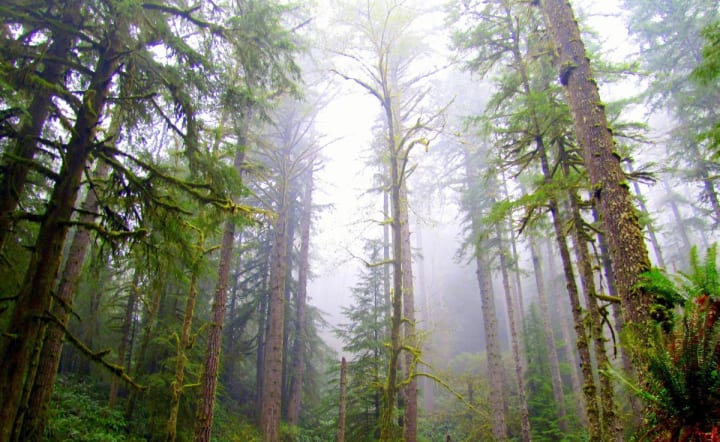 I have been moving camps for months. I don't what day it is or the time. Well I guess I can guesstimate by looking up but that is besides the point. Ever since I broke out of the tank, it's been hell.
How long was it? Days on end where I just had constant needles in me. Then somehow I broke out, and woke up one day on the outskirts of the city. Raeka found me, lying there... naked.
Anyway, we are moving camps... oh, you want me to go back to how I woke up in the forest. See, I would love to... but I don't remember.... a little awkward I know. Hey, I have a great idea. Let's figure it out together. I don't even know my own name so... here we go.
We are moving camps. Why? Because I am fighting a war, in which I know nothing about. Although for some reason, I feel safer than ever. The battle makes me feel alive in some way. I am a part of a mercenary corps, Freedom's Bane, we fight for the people that can't fight for themselves. We give resources where we can. The corps has been fighting ever since they took over.
The nation we are fighting, they are everywhere, feared by everyone. They are called Institia Ordinis... bleh. I know, it's gross, we simplified to the Scepters. Because they carry around scepters to signify their wealth. More on that later. Corporations and businesses ran the government anyway so they eventually took power. No one to govern, just greed, money, and one's own hubris to keep the balance. If you fit the capitalist blueprint then you get a house that looks similar to everyone else's. Red brick, nice roof, great benefits. What could be wrong?
No, I am asking. Like, really asking. What could be wrong? I mean so far all I know is the Scepters want to stick needles in me and the corps feeds me food and treats me nice. So let's be honest, which would you pick? Especially without memories showcasing my values. I mean, there might be something else wrong with them other than using humans as guinea pigs. I am here to tell you that I have no way of knowing. So I want to let you decide. Who is the real villain in this? Me and the corps, or them?
I should end this journal entry and get back to reality. Raeka is calling me over and I can hear plas fire about 10 km away. Are you confused? Perfect! Welcome to the club! Here's where it gets dicey.
End of Journal Entry
Author's Note: Hey everybody! First and foremost, Thank you for reading! I appreciate it! I apologize for not posting these last couple months. I have been screen writing several pilots and shorts that I will share over the next couple days. Thanks again! Stay hopeful reader, and may your wildest dream come true!
About the Creator
Hi! I'm just a guy writing about this thing we call life. I journal about my exp and struggles with mental health and life in general. I occasionally dabble in Sci-Fi and Fantasy. Stay hopeful reader and may your wildest dream come true!
Reader insights
Be the first to share your insights about this piece.
Add your insights