Best Science Fantasy Authors
They can almost be deemed as extra-dimensional beings, or simply some of the greatest sci-fi writers around; the best science fantasy authors have brought us to places far and wide, often more scary and treacherous than our own world boasts.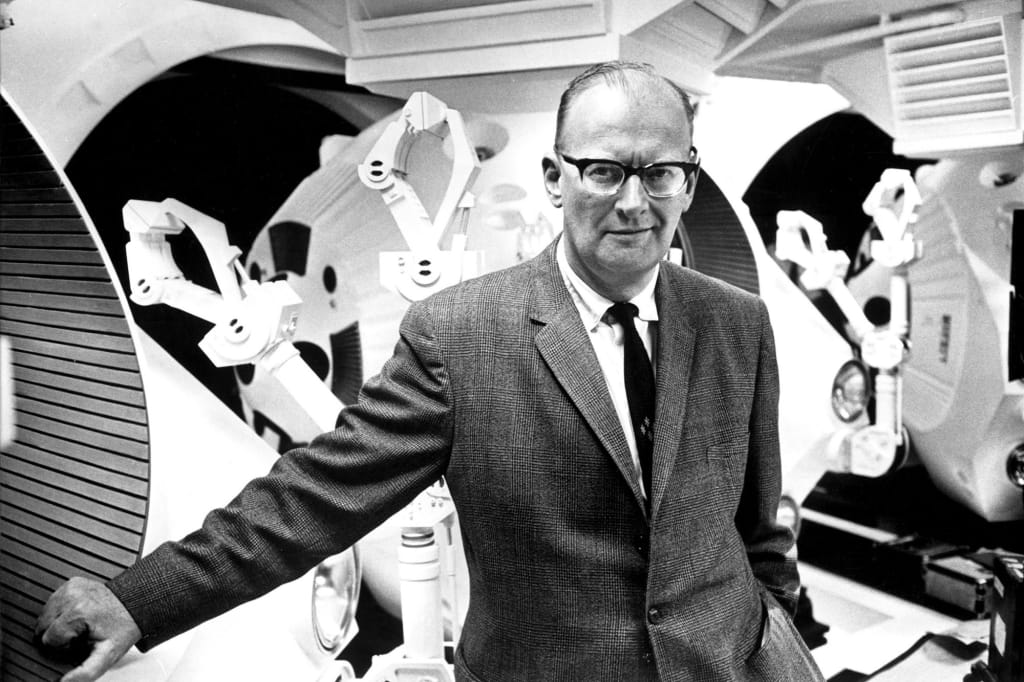 The art of science fiction is that it can be, and simply represent, pretty much anything within or without the boundary of reality. Imagination, in this regard, is free and open for practically any formulation, connotation, and activity. If one presses even deeper into these vast confines of unreality and shape-shifted real worlds never before beheld, they will find the very contexts of sci-fi fantasy. This is the subsetting, or the subgenre, of science fiction, a place where not only the real can be distorted, but even that of the distorted can be compressed and compounded even further.
To make gargantuan and otherworldly settings like these takes not only skill, but a mind of complete listlessness and utter freedom, wherein the vast contexts of the norm can be reversed and multiplied in many different ways. Don't think for a second that the genre of science fiction and fantasy only deals with the contours of what can and can't be, there's a myriad of ways it can be used, treated, and understood. This is why so many fans within the world of sci-fi adore the best science fantasy authors, because they can write masterpieces of places that aren't real, but are so fantastic and utterly conceptual, they almost feel real.
This 1870 classic in both literature and science fiction tells of the wonders found at the bottom of the ocean and enjoys a title: Twenty Thousand Leagues Under the Sea. Not for nothing, but I feel that Jules Verne goes steadfastly unnoticed quite a bit in the world of sci-fi, which is a shame since he's among the best science fantasy authors around.
I think it goes without explaining that Twenty Thousand Leagues Under the Sea tries to unearth (literally) bits and parts of the ocean by way of a fictional adventure following Captain Nemo and his Nautilus; an account of which has never been told before. That's why Verne is, in my opinion, one of the most talented architects of the world's science fiction literature.
Not only does Gene Wolfe look like some sci-fi fantasy character, he also plays the part, too. The Book of the New Sun is among the best Gene Wolfe books, but you need not look far, or for very long, as he's among the best science fantasy authors, as so premised by his vast library of works on the subject.
Wolfe is known for creating a world of amazing characters, more often than not leading into an awesome series that takes off from the very start. His The Book of the New Sun is among the most interesting pieces in sci-fi fantasy.
Thanks to the online delivery service that's literally changing the game, Amazon is turning the Lord of the Rings into a TV show. Without one of the best science fantasy authors, we'd never get this epic opportunity to witness something even beyond the legend of Frodo and his trusty friend Samwise Gamgee, as they traverse the treacherous and often brutal terrain of Middle Earth in their quest to destroy the, "one ring to rule them all, one ring to find them, one ring to bring them all and in the darkness bind them."
That's the most profound, quoted, and beloved series ever told, even though it was never meant to exist. J.R.R. Tolkien, the mastermind behind this amazing story, never intended to write anything beyond The Hobbit, but thankfully, we now have one of the most quintessential science fiction fantasy stories ever told.
He might not be readily known by most, but Steven Erikson is still among the best science fantasy authors for his Malazan Book of the Fallen series, which takes the cake in a long run of stories devoted to the telling and retelling of amazing new worlds placated by a berth of countless issues, for which only the main characters can amend.
Erikson's works aren't as praised as the likes of Verne or PKD, but he's gaining more prominence with each new fan and addition to the series (he's published ten under this series and finished on The Crippled God). While some may call it "high fantasy," I'm more inclined to call it science fiction fantasy, for no other fictional worlds are as involved as these.
There's no doubt she's among the greatest sci-fi authors of all time, Ursula K. Le Guin has provided us with a great many fictional worlds of vast wonders, often in either short story format, or through the immense concepts of epic fantasy.
Most people would steer you toward Tehanu, which won her the Nebula Award, but she's much more famous for her rendition of The Left Hand of Darkness, which not only won her the Nebula Award but the Hugo Award as well. The story itself proves Le Guin is among the best science fantasy authors, for it paints a fantastical space opera unlike anything ever experienced (Genly Ai is one heck of a main character).
If you're a fan of sci-fi, you'll have read or at least know of Arthur C. Clarke. Despite his more relative fame being garnered for the likes of 2001: A Space Odyssey (for which he both co-wrote the screenplay for and penned the book, too), Clarke is also among the best science fantasy authors, most aptly rendered by the likes of his story Childhood's End.
This eerie tale portrays the Earth under an alien invasion by the ruthless and mysterious "Overlords," which then leads the planet on a path of "utopian existence" thereby held captive under the alien superiors. Published way back in 1953, the story intends to gaze at a reality wherein human culture and identity is challenged by an outside force, the likes of which no one can understand.
I'd say he's among the best science fantasy authors, but you probably already know this (or, at least, thought you had). George R.R. Martin is a man of many feats and wonders, including his Game of Thrones series, which has garnered an immense following thanks to HBO's elongated and now soon ending nine-season long series of epic proportions.
You may or may not already know the series' main topic of discussion: fantasy-driven, family strife spanning the likes of which can only be described as an old-country world much like Middle Earth, called Westeros. There's no doubt he's modeled for himself one of the most popular and awe-inspiring fantasy worlds, but what's in the store for his next two books remains to be seen. Hopefully, the wait for season eight won't be too debilitating.
If you didn't read them as a kid, did you really have a childhood? You may not even realize it, but J.K. Rowling is by far one of the best science fantasy authors, if not for her beloved Harry Potter series, than at least for her more contemporary work with Warner Brothers and the new Fantastic Beasts series.
It's the childhood story of all our youths, though, that has truly captured and even, for some, encapsulated the very essence of fantasy and magic like never before. The story of Harry Potter and his vast array of friends and family is enough to warrant J.K. Rowling's necessity among the most talented fantasy authors ever put on Earth. Realistically, I'd suspect she lives not among muggles, but within the fantastic world of Hogwarts and beyond.
You have definitely read this as a child, or at least more accurately, in high school. It is more than just a quintessential read for those interested and want to look even deeper into the dark and grotesque world of Nazi-controlled Germany; a distraught and ever detrimental place made the more grotesque if implicated as a Jewish slave.
Still, even more debilitating is the livelihood of Billy Pilgrim, a prisoner of war who is taken into ether-worlds of space, time, and reality by a crafty race of aliens known as the Tralfamadorians. If you thought this was a story about World War II, you'd be somewhat correct, but you'd also have to understand that Kurt Vonnegut is among the best science fantasy authors.
Paolo Bacigalupi isn't as well-known as all the other from this list, but that's what makes him one of the better choices, specifically for his role among the best science fantasy authors of the contemporary world; witnessed most readily by way of his The Windup Girl, which was 2009's ninth best fiction book by Time magazine.
So, you don't need all that much convincing in looking up this stunning author and his tales of the various, near future worlds. The Windup Girl is a spectacle in the sci-fi fantasy genre, having also won both the 2010 Hugo and Nebula Awards, and also being deemed one of the sweetest tales of growing up in a world that's cruel and hampering.
With a title even being an allusion to Exodus 2:22, and a story of a human finding something of unimaginable depth and reason, Stranger in a Strange Land is by far one of the most interesting tales on this list of the best science fantasy authors, for it encapsulates the unreality inherent within science fiction fantasy.
Not for nothing, but it's also one of the best Robert A. Heinlein books and is a direct portrayal of alien connotations of the human. It discusses the life and times of a human born and raised on Mars, Valentine Michael Smith, and his return to the planet he now sees as a foreign land: Earth. It was deemed 88th among the US Library of Congress's "Books that Shaped America," proof enough that he and his novel are two science fiction quintessentials.
book review
About the author
Thinking in nodes of progress, futurism, science, culture, and existence. I experience life in a number of ways, pertaining to mathematical concepts mixed with rich flavors of art.
Reader insights
Be the first to share your insights about this piece.
Add your insights