Who Goes to Gay Saunas?
There's nothing sleazy or shameful about sex-on-premises venues.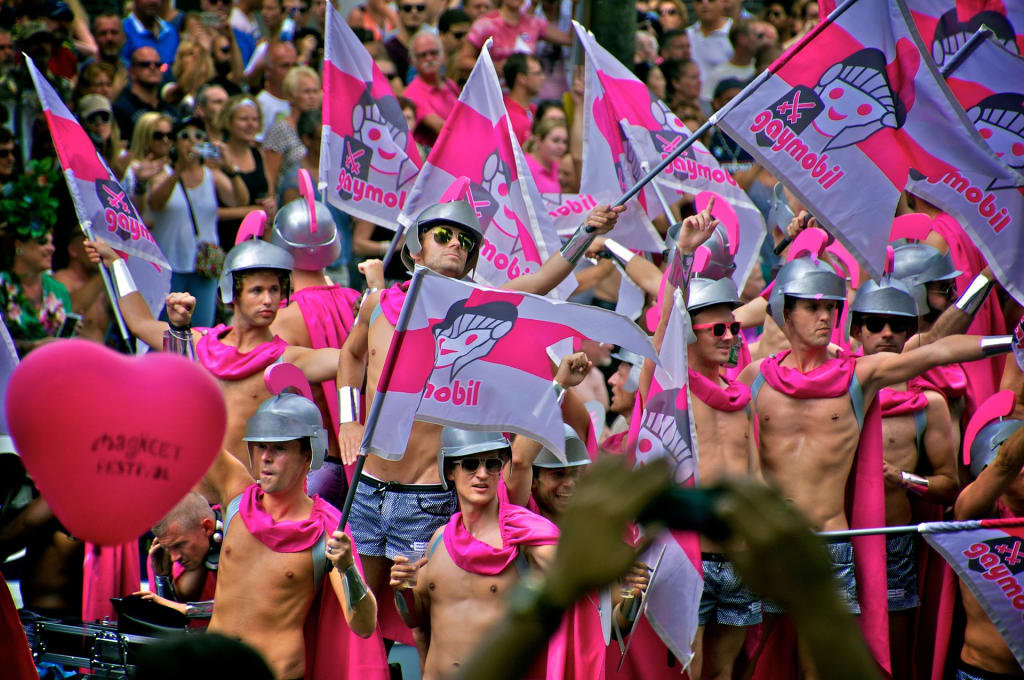 Who gays to gay saunas? (image: Pixabay)
This week in the office we somehow got on to the subject of saunas. Gay saunas. Sex-on-premises venues where guys go to have encounters with other guys.
One of my colleagues, let's call him Cal, asked out of genuine curiosity : "Have any of you ever been to a sauna?"
He's American, in his mid-20s, in a long-term relationship.
I nodded yes, I'm pretty sure everyone else within hearing distance did also — it was a room full of gay men. We'd all been to a sauna.
"I don't know…" continued Cal, "…I just have this perception that saunas are only full of guys who are too fat or ugly to get sex anywhere else…"
He then busied himself on something else, leaving me OMSF (open-mouth-shocked-face) in his wake.
Sometimes I think saunas get a bad rap — mostly from people who haven't been to one.
Saunas – or bathhouses as they're generally referred to in the US – aren't a new thing. The Ancient Greeks were obviously a big fan, but there's quite detailed records from places such as Florence in 1492 when there was a crackdown on sodomy that was targeted at bathhouses, in Paris in 1876 there was a police raid on a bathhouse and six men (aged 14–22) were charged with offenses against public decency, and in New York in 1903 police raided a bathhouse and arrested 26 men — charging a number with the offense of sodomy.
It was the late 1960s and 1970s in the US when gay bathhouses came into their own, around the same time as the concept of gay liberation began to build momentum.
While the devastation caused by HIV to the gay community around the world also impacted saunas and bathhouses, sex-on-premises venues continue to play an important part in the lives of many gay men. Even the emergence of location-based hook-up apps hasn't made saunas redundant — they're often a preferred meeting point once you've connected with someone online.
Who goes to a gay sauna? Honestly, all types of people. From young to old, body conscious to comfortable. From proud gay men, to young guys beginning to explore, to guys who need to exercise a bit of discretion. What they've got in common is that they are looking for sex, for an encounter, for intimacy.
What happens in a gay sauna? It depends a bit on the facilities offered by the venue, but most places will give you a locker and a towel. You take all your clothes off and put everything in the locker, then wrap the towel around you. Generally there will be a shower area, a steam room, a hot tub, a dry sauna, and a series of cubicles. You hang out, you wander around, you make conversation. If you connect with a guy, or more than one guy, then you have sex. No one forces you to do anything, no one is forced to do anything.
Some people seem to have a perception of saunas as representative of a time when being gay was something to be kept hidden, when encounters between guys was illicit and a little bit dangerous. Why do we need saunas now that we have marriage equality and gay men can create normal families like everyone else?
Having great sex is one of the huge advantages of being a gay man. Being able to meet up with other guys and have hassle free sex is fantastic. Having no-strings sex doesn't make you a bad person, it just simply helps satisfy the sexual need that all men have. Going to a sauna doesn't have to involve any compromise of whatever committed relationship you're in — a lot of couples that I know will go to a sauna together, not necessarily to have sex with other people but just to spice things up a bit.
I'm not embarrassed about frequenting gay saunas. If you haven't been to one then I would question your credibility as a gay man.