Treat Me like a Queen and I'll Treat You like My King. Treat Me like a Game and I'll Show You How It's Played
Unknown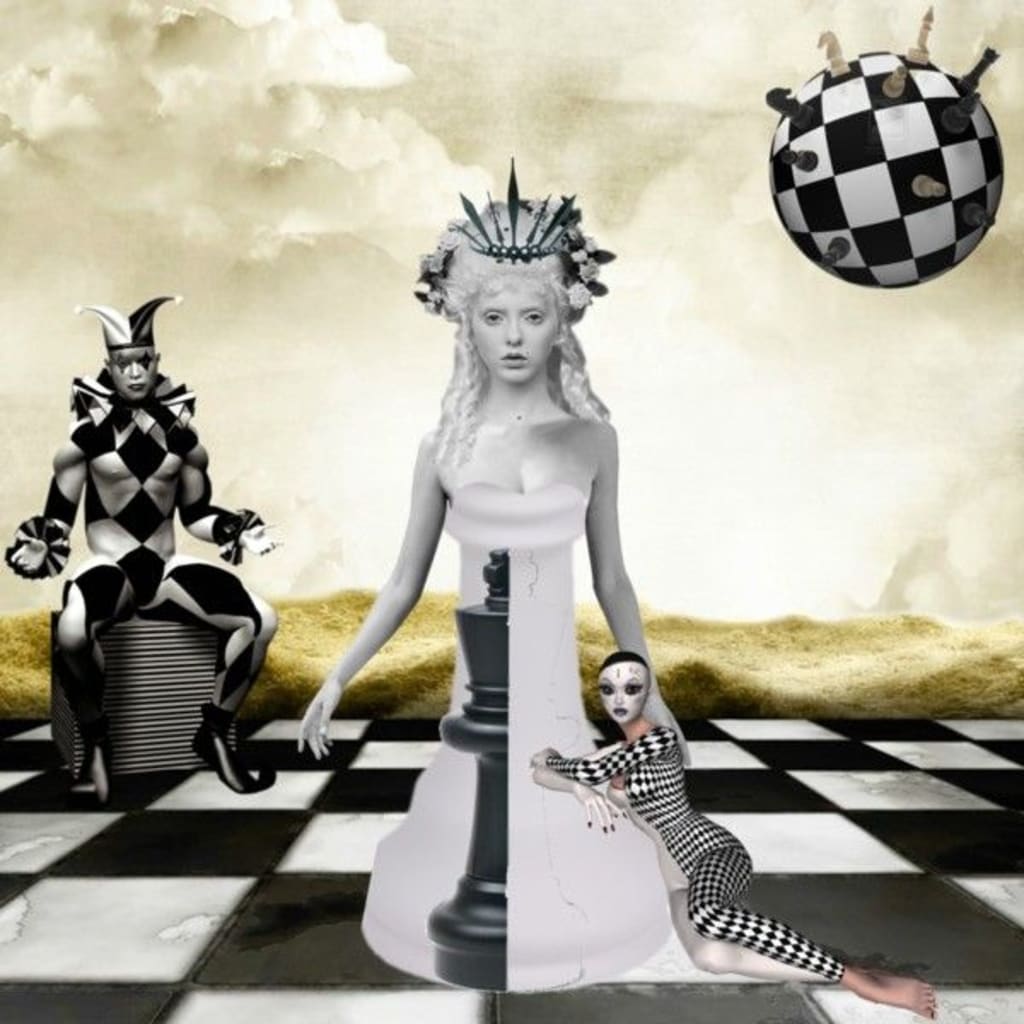 I screwed up a few times in my lifetime. Who hasn't? But I'm talking about real fuck ups that hurt other people close to me or myself. This story, I would say, was on the list of fuck ups. First of all, marriage is not something you should take lightly. It takes discipline, patience, understanding, communication, SEX, honesty, and the list goes on and on. My marriage, just like any other relationship, had its ups and downs, went sideways at times, good and bad times, cheating and lies, the usual shit couples go through, right? After I had my second child though, I became less tolerable and definitely less patient, especially because I now had proof that he was being unfaithful to me. I became very unhappy with my living situation because he was out at all hours of the night and I was home constantly with two young children with no time for myself. Everyone needs time for themselves! Everyone! The ex-husband, which I will call "Douche Bag," became a little more distant and stopped giving me his attention like he used to. Duh, he was too busy fucking other women! Every time I would confront him, he would twist the truth and manipulate me to believe I was crazy and making shit up in my head. Guess what? I wasn't crazy! He was actually cheating the whole 14 years (which I didn't find out until years after the divorce)! Secondly, marriage is hard work, but when someone is being unfaithful and deceitful, then it puts a different burden on the relationship. Just so you all know, I was a good girl for 14 straight years (OK, maybe 12), but who's counting. By good girl, I mean I didn't fuck around while I was with my husband. In this day and age, I deserve a fucking medal for that! My husband, on the other hand, was cheating for the entire 14 years (even when we were on vacation together). Seriously? I didn't know it was that bad until it ended, but Jesus Christ the entire time? Disgusting, to say the least.
I felt the only reason I stuck around as long as I did was for the children. That shouldn't have been such a huge concern now that I think about it. But fear of change, being a divorced mother and having to fend for myself scared me a bit. OK, maybe a lot. I finally became so tired of the situation I was in and decided that I'm worth more than this toxic relationship, I began to change my lifestyle. That's all I could do. I started a business. I read more books. I went to the gym. I ate healthier. I was more involved with my children. I worked hard to distance myself from the relationship. What do you think that made me? Well, it made me stronger (mentally, emotionally, and physically). It boosted my self esteem and confidence (which was in the gutter for a few years now). It made other men check me out. It was a positive change that provided me with hope…
If I didn't decide to change, I strongly believe that I would still be unhappily married and scared to leave "Douche Bag." I also believe that my children wouldn't have received the attention they deserve from me. I built up my confidence so much that I couldn't see myself in that toxic relationship anymore. I convinced myself that my children will survive this and that I would be a better mom if I leave him. All I had to do was go for it! It's been five years after the divorce and I can honestly say that we are all a happier family (well maybe not Douche Bag, but not my problem anymore)!
The way I left him on the other hand was the fuck up I was referring to, which I wouldn't recommend for anyone. But if you are in a toxic relationship (abusive or not), I have learned that you have to start with you! You cannot change the other person. You cannot control how your kids are going to feel. You cannot control anything except for your choices. After holding so much resentment inside for so many years, I became careless and carefree at the same time. I was extremely sexually frustrated, and knowing I was leaving him, I decided that I wanted a new dick.
A close friend of mine told me about a married dating site (WTF, that exists?), but I was desperate and didn't really care about anyone's feelings at this point. I joined and met some amazing men from that site (you will read about a few in future posts). The attention that I received was much needed since I wasn't receiving any at home. I did it all flirting, texting, emailing, sending nudes, things I haven't done for over 12 years. It was new! It was exciting! It was long overdue and I felt alive again!
This cheating faze only lasted about a month (before I got caught… Oooopsss) but it was a great month of a lot of new experiences. Yes, they were all married, and now that I look back at it, it was disrespectful to the other women and it was exactly what my ex-husband was doing to me. I felt ashamed and hypocritical at times, but that was five years ago and we can't change the past. I now have a rule not to fuck with married men for that reason. I wasn't even thinking of the consequences of getting caught. The reality was that I was reckless and didn't care if I got caught.
Which leads me to reminisce about this man... I met "Lucky 96" on that infamous married dating site. We met for drinks near his home town and there was definitely sexual chemistry between us. He was going through the same scenario as I was where his wife was cheating on him, had children involved and just looking for a good time as well. We ended up at his house (wife was away for the weekend) and we of course ended up fucking. Now remember, I haven't fucked anyone else other than my husband for the past 12 years, so as you can imagine this man felt awkward at first, but I slowly got the hang of it and enjoyed myself to the fullest. I'm glad I did, because he's called "Lucky 96" for a reason...
This Latin stud was a biker boy with tattoos, piercings, and very nice to look at. He wore this ring on his dick that was supposed to keep him hornier? No clue, but his dick felt amazing inside of me. He wasn't too big or too small, just a good size and he knew what he was doing with it (side note: it's really not about size, but you definitely need to know how to use it). It might have been the infatuation I had to try something new. It might have been the sexual chemistry we had to have cheating spouses. It might have also been that we were fucking in his bed, but my arousal was at a 1000 percent that night. This man made my body do things I didn't know it can do. For one, he hit this spot inside of me that made a whole lot of fluids to come out of me. WTF just happened? Well what just happened was that "Lucky 96" made me squirt for the first time ever! Holy Mother of God! The feeling was so intense throughout my whole body that I wanted to feel it again and again! The power of our bodies rubbing together, the wetness that surrounded us, the way my legs were shaking got me addicted. "Douche Bag" never made my body feel this way. "Lucky 96" hit a few world records for me. On one of our fuck sessions, I was curious to see how many times I can actually cum from him. Yes, I kept a fucking tally and guess how many time? NINETY-SIX (96)! Yes, it was a span of seven hours but OH MY GOODNESS! That was a day that I will never forget. We tried every position imaginable on the bed, on the floor, in the kitchen, in the living room, on the walls. It was a flood zone! He was the first man that I would let tie me up and take full advantage of me. He was the man that made me love going on for hours and hours with minimal breaks. I think it was just the right timing, but this man showed me many things about myself and he will always be "Lucky 96" in my mind.
As you can imagine, I was pretty satisfied going back home to my husband. My husband felt like I was acting different (happier to say the least, DUH, I was getting amazing dick!) which drove him crazy and made him go through my phone and emails. He stooped as low as to create a "few" fake accounts on this married dating site to catch me in the act. He obviously didn't put his picture or correct information, but yes I sent him emails and sent nudes just like the other men. He confronted me one night and offered offered to give me a "pass" for my infidelity. Ummmm, No thank you! I want a fucking divorce, not a pass! I was done!
Well that's not what he wanted to hear and it didn't end well from that point forward. His ego and macho personality took over and his rage got the best of him. He got physically (which is a no-no in my eyes, EVER!), mentally, and verbally abusive for five days straight before I planned my escape. On the fifth day of hell, he went off to work like normal and I pretended to go to work as well. I dropped the kids off at grandma's house and went home to execute my plan. I stuffed my SUV with anything that fit for me and the kids. Filed a restraining order on his ass and started from scratch. In my mind, it had to end, especially after the way he was treating me. He would have killed me in my sleep if I would have stayed. Seriously! This wasn't the best decision given we had children together, but again I can't change the past.
Fast forward to five years later, he's no better than when we were married. He's still the father to my children, but he will always be an unfaithful man to any woman he is with. I do regret the way it ended, but I couldn't wait around and see what would happen next. I screwed up with my infidelity but it's all about perspective. He's still trying to get me back. What's the saying "you don't know what you have until it's gone?" Yes, well guess what, Karma is bitch, isn't she??