'Trailer Trash Whores'
Carly Parker doesn't care if you're married.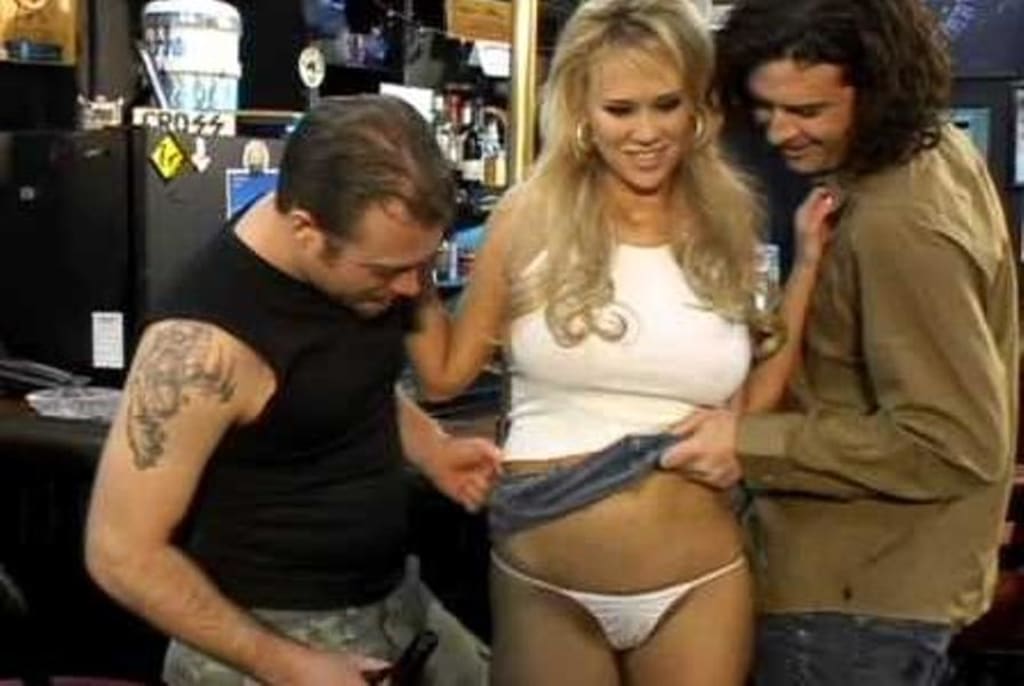 Don't trust Carly Parker to look after your bar!
Trailer Trash Whores is a popular series that was originally available on DVD. Yet with the introduction of 'porn tube' sites online, a lot of the scenes were sold separately to consumers. I managed to pick this scene up on tube site whorestepmom.com. It was from Trailer Trash Whores 37 and starred the delicious Carly Parker. Before she was widespread I actually watched Carly Parker in a 'casting couch' type scene. I remember looking hard for more of her content but could only find this one scene at the time. Appropriately embarrassed at the time, this seemed to be one of her first scenes. She kept sticking her tongue out during the sex and she seemed eager to please her male co-star asking if 'he was enjoying it?'
Times change quickly and she was in high demand before retiring from porn at the age of 33. This for me was one of her best scenes where she plays a promiscuous southerner complete with the accent. It's good acting from Carly for a scene that probably didn't require that much acting. It's set in a bar and Carly is speaking to her bartender friend about the latest tryst she had on a cruise. Her friend is called away on an emergency and asks if Carly will watch the bar for her. She agrees, allowing her friend to leave and immediately makes herself at home. Two big guys are at the other side of the bar shooting some pool. Carly decides to invite them over and offers them a free beer each for their trouble. It looks like she's keen to make an impression with the guys who like the look of her. Carly doesn't seem to lack confidence in front of the camera and you could genuinely believe she's from the south. Unfortunately, her two co-stars are not credited but they do just as good a job as Carly convincing the audience they are from the south. Carly gets flirtatiously close to the boys and one starts to peer up her dress.
'Look at your friend over here, trying to get some free thrills!' She squeals with delight clearly liking the attention she's getting.
The other guys start to tell Carly how good looking she is for her to tell him in kind, 'You're not too bad looking yourself.'
It's kinky stuff and feeds into the idea that Carly is a 'trailer trash whore' who won't settle for just one man. It's a good concept and nice setup from the directors who clearly have experience in this sort of thing.
One of the guys decides to lift up Carly's denim skirt to show her revealing white panties. It's clear there's a mutual attraction between all parties involved which is always good for a scene like this.
'There they are boys, factory fresh!' Announces Carly as she reveals her 34E chest to the delight of the guys.
'What would my wife say about you darling?' One of the guys asks.
To which Carly replies, 'Who the fuck cares?'
With that encouragement, the guy proceeds to gobble at her ample chest while his buddy samples the other breast. Again, it feeds into this idea of her being a slut and works well to the scene. As Carly progressively gets naked she gets on her knees to suck pair's cocks. The camera shoots from below allowing a viewer a good look at her breasts shaking as she strokes the guy's cocks.
Carly seems to really enjoy herself once she gets bent over; at one point looking up at the guy she's sucking off and declaring, 'I love it!'
As she does this there's a dirty scowl on her face; it's quality action and definitely worth a watch. As the scene progresses there's a bit of anal in there which I'm not too keen on, but overall, it's quality footage. I'm going to give it 3 out of 5; it's good if a bit dated and I'm not fussed on anal scenes.
3 out of 5.