Time for School
Bree Olson knows how to make her professor cum.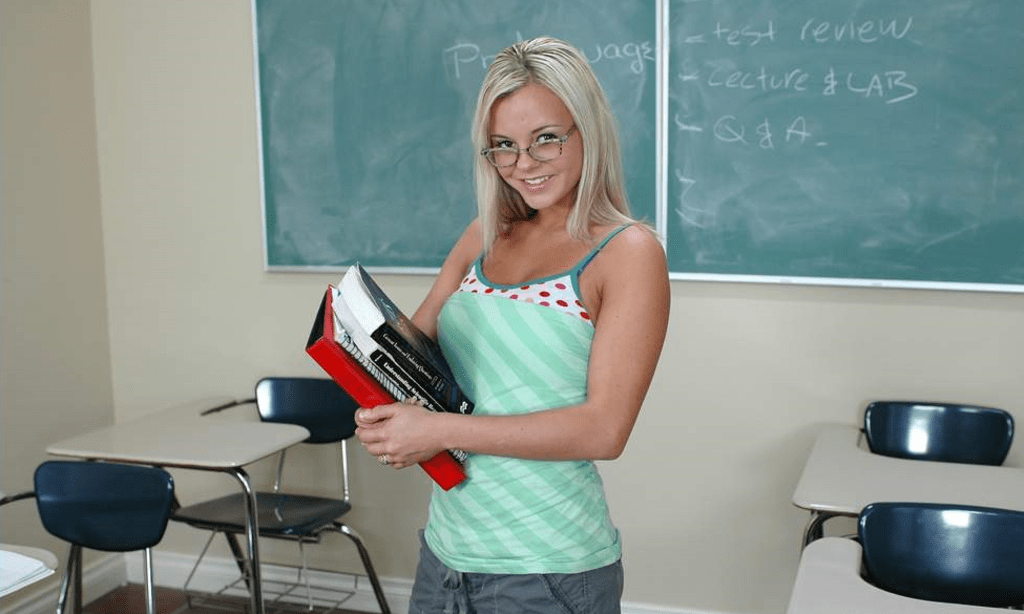 Looks can be deceiving. Watch what Bree does for her teacher who's twice her age.
If I haven't told you already, I would check out the "Bookworm Bitches" catalogue of scenes from the Naughty America website. It seems to be a case of the older the better as I've managed to find some hidden gems there, with porn actresses who had just started their crop up from time to time. One such case is the delicious Bree Olson. Bree actually started her porn career in 2006 and this was shot in the December so chances are it's probably one of her very first scenes. When I first started watching Bookworm Bitches (now "Naughty Bookworms"), they chose some questionable female performers at times. They seem to break that run here though when they cast Bree, who is now infamous for her strange relationship with mega star actor Charlie Sheen.
Winning!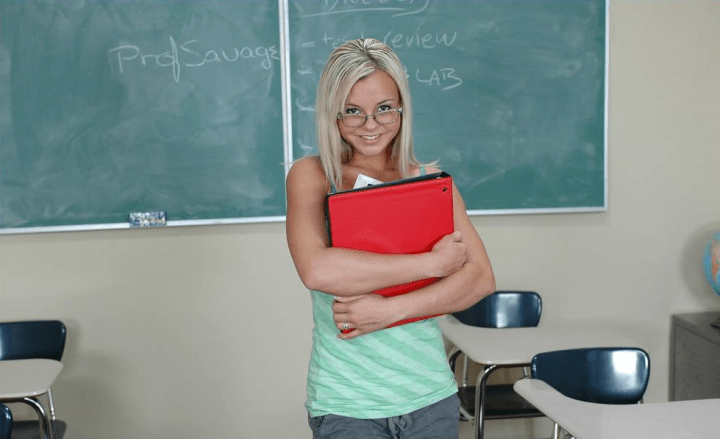 The relationship with Charlie Sheen was pretty bizarre. The actor seemed to be going through a midlife crisis of sorts. So he had a relationship with two women living with him alongside his children as well. Bree was one of those women and literally shared Charlie with a model and graphic designer named Natalie Kenly. The relationship looks to be over but it certainly got Bree in the media headlines.
Enter Professor Savage.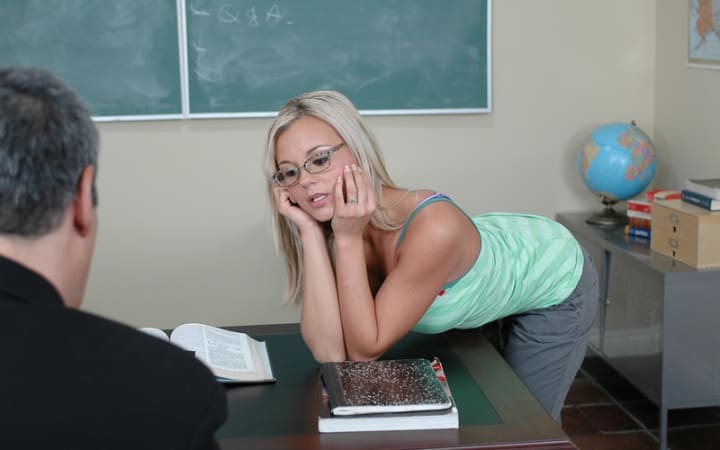 Back to the scene and Bree is suitably young to play the student in this scene. With her model good looks and cute demeanour, it's hard not to enjoy watching this. The 32D-25-35 Texan cutie has the best natural body you have ever seen and when she starts having sex it's even better. Bree's co-star is the charismatic Hershel Savage who is a bit of a legend in the porn industry. He's been working since the 70s and was in the original "Debbie Does Dallas."
Herschel has actually studied acting under some Broadway greats which is evident on screen but he got disillusioned by the competition for roles. Savage took to porn like a fish to water and has won seven AVN awards since. In this particular scene, "Professor Savage" is in a pretty foul mood, demanding Bree to write the subject of today's lesson on the chalkboard. Bree, who is Savage's student teaching assistant, picks up on his rude demeanour. Savage is assertive, which is obviously what student Bree finds very alluring about him. She writes on the chalkboard "Photosynthesis" but then follows it up with "Happy Birthday to Me" and draws a smiley face. Bree does well in the acting department, being very giddy and cheesy like a young girl would be. Savage is not impressed and his mood doesn't soften for an eager-to-please Bree whose personality goes very teenage like. She remarks that Herschel needs to get laid and that he probably hasn't had his dick sucked in a long time. Savage flexes his acting chops here and in true teacher fashion, shuts down the conversation. He labels it inappropriate and says that she shouldn't talk like that to him.
Today's Lesson... Reproduction!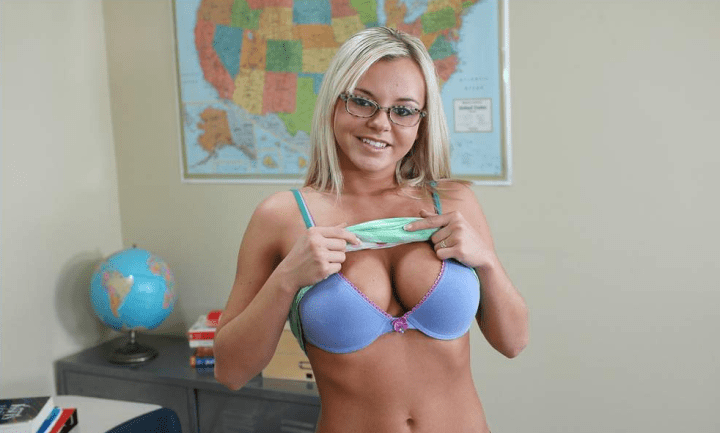 Bree is upset that her favourite professor isn't happy and as it is her Birthday, she would like to help him "relax."
Herschel begins to feel guilty and comes over to her desk to wish her happy Birthday. Again, his acting is really good and it's a shame this guy didn't hit it big in the mainstream. Bree reveals how she would like to help him relax and pulls down his suit pants in true fantasy fashion. It's pretty hot action as Bree has youthful attractiveness here that she'll probably never have again in her career. As she blows the suitably relaxed Savage, she coos, "Do you like little girls, Professor? Am I your favourite student?'
The acting doesn't stop when the sex begins and you can see Bree enjoys being with an older man as she smooches him while getting naked. Savage returns the favor going down on Bree's cute "outie" pussy. Bree's the type of girl who has a body a man wouldn't mind kissing anywhere. It's not long before he's pounding away at her pussy while she's screaming for more. I think she orgasms for real a few times in this scene as she really does squeal!
Bree looks great bent over her desk as well and does a great job looking sexy for the camera. She gives good audio cues as well about getting an "A" grade and how she wants to make her favourite professor cum.
One thing I don't like is when she stands up a bit to work Savage's cock in the cowgirl position. It's minor though and doesn't take away from such a great scene.
Get this one watched. It's available at Naughty America but I also found it for free at whorestepmom.com.
5 out of 5 - A classic scene with two legends of the porn industry in both their acting and physical primes.