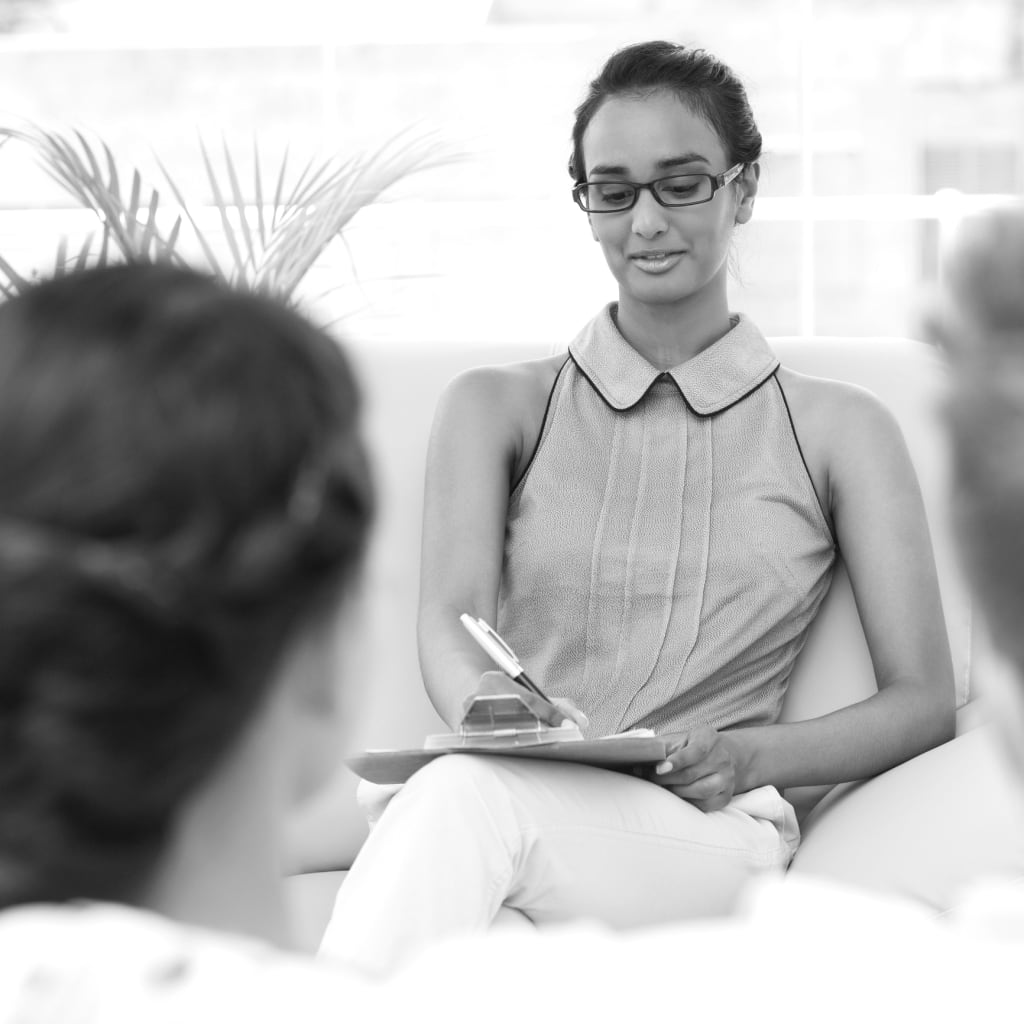 My patients, aka clients, have particular needs and problems that I cater to, aka help them handle in their personal relationships. I guide them through a complete breakdown of their situation, then present them with fresh ideas to improve their current relationship. What am I? I'm a sex therapist that specializes in putting an extra spice in your bedroom life. To elaborate further on what I do, I'm going to talk about a particular couple who are recent clients of mine and how I helped them.
As I observed, HUSBAND and WIFE sitting on the couch in front of me, I wrote down some notes about how they appeared to me. From the outside looking in, I saw no real sexual chemistry, and if it existed previously in their relationship, it was long gone. They were sitting away from each other, which made it like intimacy and touch were not a regular part of their relationship. After a few minutes, I put my pen and pad to the side so that I could we could get started.
"My first request for both of you is for you to describe your intimacy. What's it like? How do you get it on and who initialized it?
HUSBAND: "I'm always begging for it and she's always ignoring me, talking about some bullshit schedule!"
WIFE: "I have a schedule because you act like you don't care about my feelings! Sometimes I come home from work tired as shit and I still have to cook and clean before I can get even an ounce of rest! What are you doing when I'm cooking and cleaning?! Laying on the couch, relaxing and resting, so of course you have all the energy in the world to disturb my rest when I finally get some!"
HUSBAND: "That's bullshit! Whenever you do give me some, it's a lazy, no movement, no means, boring ass lay. You make me feel like you don't want me!"
WIFE: "I don't want you at all when you make me feel like I have to whether I want to or not!"
"Stop right there... while listening to your back and forth banter, I picked up on the fact that you both are not displaying desire for each other correctly. I have an exercise that can help determine the levels of desire you have for each other. In this exercise, you must comply with all of my instructions in order for it to be successful. Would you like to try it?"
HUSBAND: "Absolutely, that's why we're here."
WIFE: "I'm ready to see where this goes."
"Good. To begin, we will remove all of our clothing. I'll get undressed first then you will follow. Are you ready?"
As HUSBAND and WIFE agreed to my terms, I took off the kimono I was wearing to reveal my naked body. Both of them stared at me intensely and HUSBAND'S dick was slowly rising to the occasion, which let me know they were completely ready for the exercise. I began by calling the WIFE over to stand directly in front of me as I sat on my desk, legs spread so they both could see my glory.
"Kneel down and eat my pussy until I cum." WIFE didn't hesitate as she dived in like a hungry cat licking fresh milk. "Hmm, you're quite talented with the tongue WIFE, and it's clear that you like the taste of pussy, am I right?" A sloppy YES was her response as her face made circles on my clit. I then called HUSBAND over to take a closer look at the action. Stroking his pole as he came closer, his eyes widened as he watched her enjoying my pussy.
"HUSBAND do you eat her out like this? If you're not, you should be. This is exactly how you should be eating her out... with passion, desire, and a thirst for her juices...hmmm I'm about to cum! Stick your tongue in my pussy, get a gulp of my juices and hold it in your mouth!" WIFE followed my instructions to the letter. "Stand up and kiss him." She did what she was told, and it was apparent that the exchange of my juices between them was a pleasure for them. "HUSBAND... lay down on the couch and WIFE.. ride his face and don't get off till his face is soaked!" Within seconds, the swishing sounds weren't only coming from him lapping up her cream, they were also coming from my mouth as I swallowed HUSBAND'S dick. Before I knew it, they simultaneously enjoyed an incredible orgasm. As soon as my mouth was full with HUSBAND'S cum, l kissed WIFE just like she kissed HUSBAND when her mouth full with my cream. I then directed her to sit on his dick while facing me, which allowed me to play with her clitoris while she rode him.
"Your bedroom life sometimes needs to be spontaneous, so don't always wait until bed time! Sometimes you have to sneak in a quickie in between cooking and cleaning... maybe wake him up in the morning by sucking his dick... anything out of the blue is spontaneous and sexy! Sit this sweet pussy on his face early in the morning and you'll stay wet all day just from the thought of it!" By the time I was done talking, an orgasm wave hit both of them and the loud moans told it all.
"I hope you enjoyed your session with me and I do hope you take all the lessons taught here into your bedroom," I said as I licked my fingers clean, and just when I thought I was done with them, I soon realized that they weren't done with me. "We both want to thank you for what you did for us today. What would you like for us to do for you?" WIFE asked with a smile on her face. I simply smiled back at her and instantly, she knew what to do. WIFE got on her knees and licked my glory while I rode HUSBAND'S dick in slow motion.
I now see that couple every two weeks on Tuesday!
As always, I encourage you to check out all of my blogs on nattiekai.com and nattiekai.wixsite.com/kaih, subscribe to my YouTube channel, leave a tip, and share with others that are kinky like you!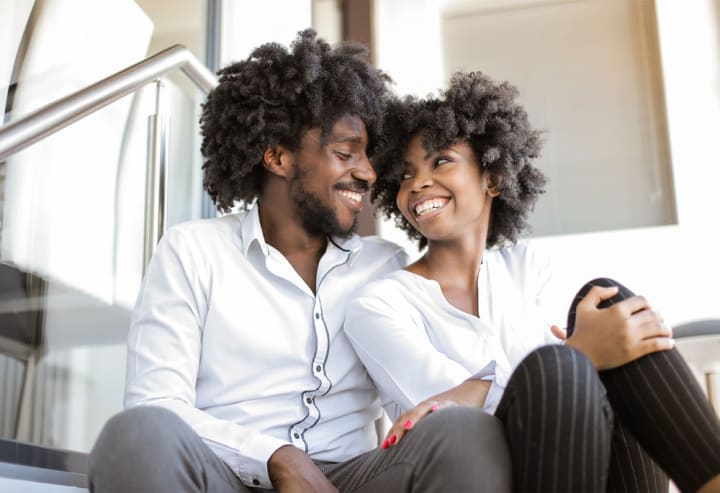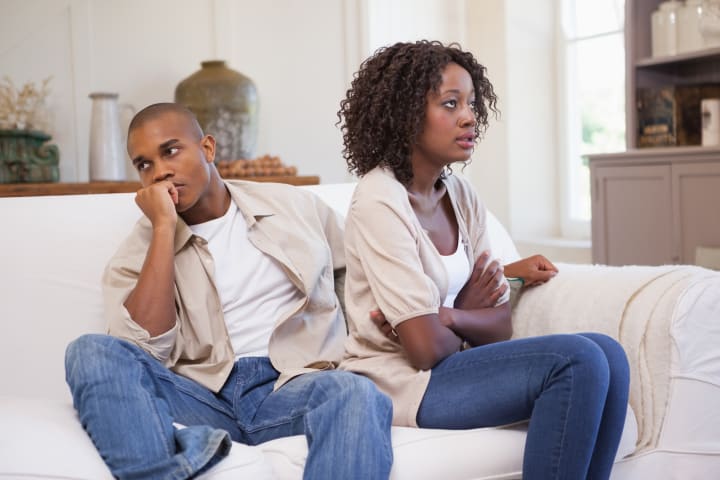 About the Creator
Author, Blogger, Podcaster for Motherhood Sex Marijuana, Writer for Fuego Magazine!
nattiekai.com
nattiekai.wixsite.com/kaih!
motherhoodsexmarijuana.com
Reader insights
Be the first to share your insights about this piece.
Add your insights