The comfort of a truly connected Mistress/slave relationship
Life is good.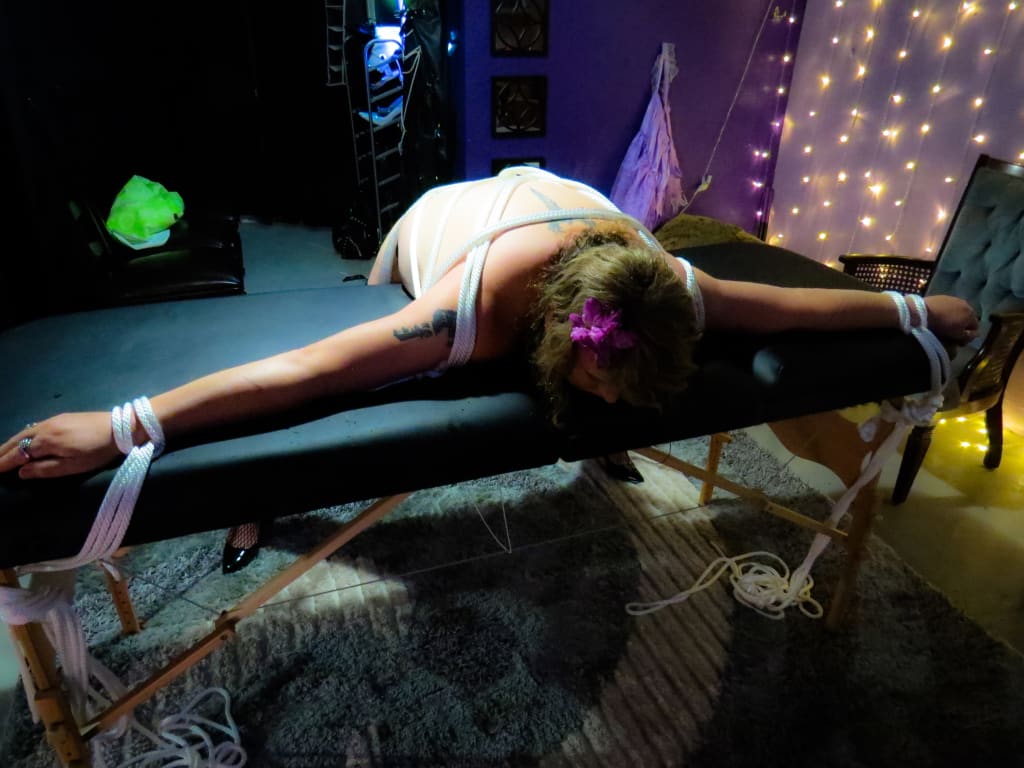 I have had my share of M/s (Mistress/slave) relationships in my life. A few of them were live-in situations that ended after a period of time. I have always wondered what happened in those cases. I know that at that time of my life I hadn't fully admitted who I was and I think I held some things back. Also, I feel like my Mistress did too. An M/s relationship is multi-layered and not easy. It takes a great deal of communication and a full commitment on both sides. There's nothing worse than a rule being made and then broken and the Mistress doesn't follow through to correct it. The same could be said for the slave. It's my responsibility to follow the rules set out for me that were agreed upon.
Lately, I have been looking deeply at my life and have wondered how I got so lucky to have my Mistress today. A bit of history is that we have been friends for some time and she knew me before I transitioned. How we started playing was actually just a simple conversation after not hearing from each other for some time. That grew into a Mistress/sub relationship but then we broke up for a while. That part is on me because I had this shiny new vagina and I wanted to explore my sexuality with it. That didn't work for her because of course, she wanted to control things which didn't include fucking a lot of people. I completely agreed with her so I decided to take some time for myself. But something wonderful happened after some time. We kept playing casually but I got to a place where I had explored enough and craved to be the slave that I am. So, here we are today as Mistress and slave.
The one thing that I love the most about us is the fact that we communicate so well. Yes, we've had our bumps in the road but through deep thought and conversations after we managed to work things out. She is my Mistress and in control but she does listen to me. I can also ask for some time as equals if I need to talk about something on an even footing. As a slave, it's hard to talk about things with your Domme if you feel like it's not your place. Being able to call a meeting on equal footing helps a lot. But, more than all of that we just communicate well. I am asked to be authentic and I am never judged for some of the dark things that come into my mind. She wants to know and she also shares her thoughts and darkness with me. This has led to some very good conversations and we have found that our interests align in many areas.
It is truly comforting to know that I am a slave but I am not just dismissed. Because of how strong our relationship is we can explore some of the darker things that we want to do. No, I am not going to list them here but I will say some of them are pretty dark and scary. The only way that we can do these things is to trust each other and listen to each other. We understand how we think and we are good at knowing or accepting when the other needs a little space for self-care or just some alone time. It's never an issue and we agree that there are times when we need to honour that space. All of this allows me to serve her fully and to know that I am loved, honoured and taken care of. It's hard for me to talk about how I feel at times but knowing that my Mistress is at least willing to listen to what I say is of great comfort to me.
I think the most important thing is that we don't care about how other people do their kink. We have found what works for us. There is no road map or the right way of doing. There is only what we find as work towards an even stronger relationship, I love my Mistress as her slave but I also love her for the woman that she is. There is this image portrait in BDSM porn that Mistress's are always yelling and disgusted by their slaves. They only want to humiliate their slave and it's just not true. Even when my Mistress is beating me with all sorts of implants I feel the love and connection between us. There is no fear or anger. Only us being the authentic people that we are and living life the way that we want to. To me, it's the only way to live for anyone. You can spend your life being what you think people want you to be or you can live your life in a way that truly makes you happy.