The Changing Room
Trying on something sexy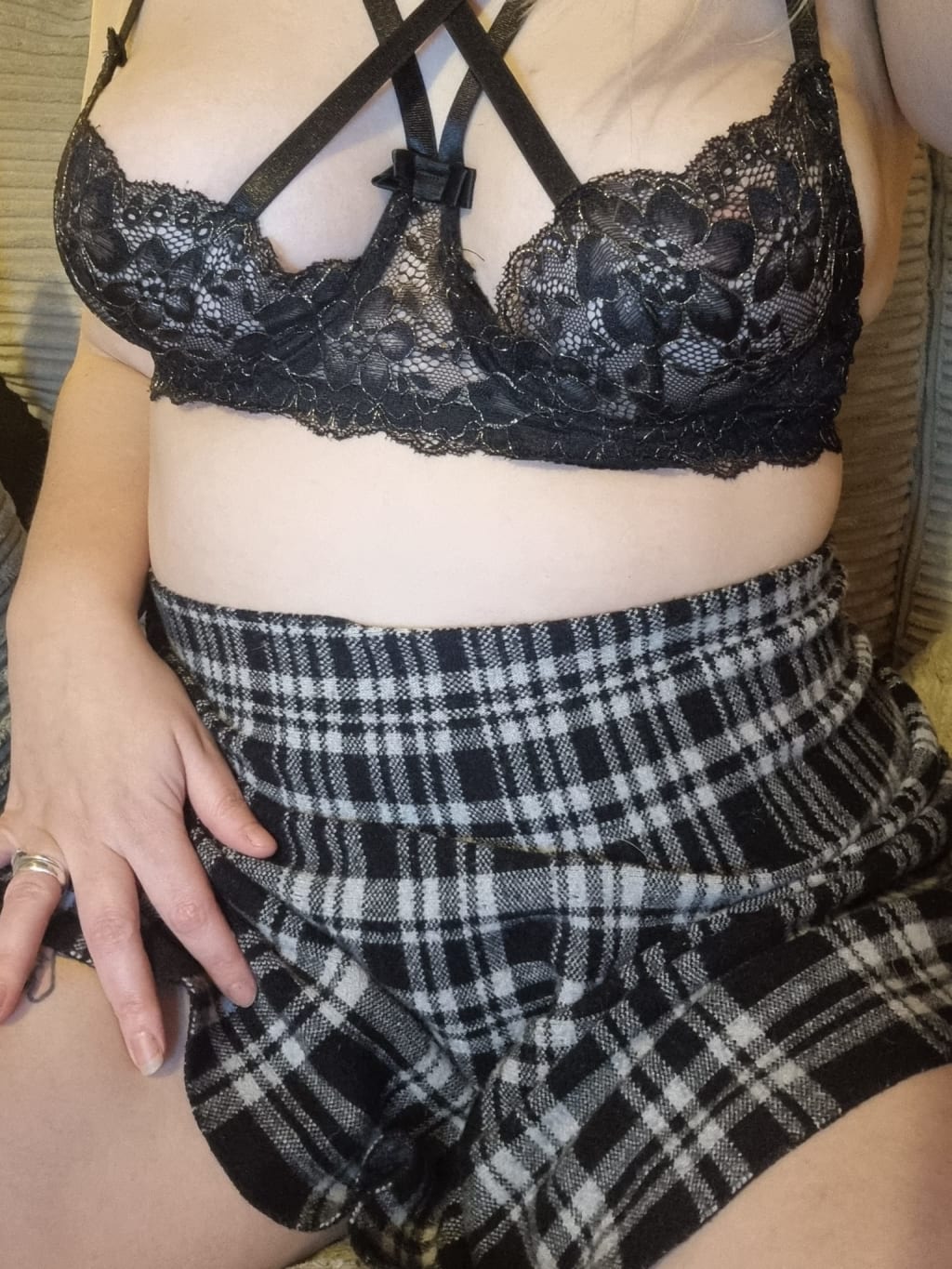 PHoto courtesy of https://twitter.com/LittleBee_x
"How are you getting on in there?"
Tom's voice brought Laura back to reality. She had been distracted as she stood there in front of the mirror in the changing room admiring her body. Her fingers ran over the top of her breasts exposed in the black bra while she enjoyed the short black and grey tartan skirt and how it showed off her legs.
She'd needed something to go with a top she was planning to wear and she liked this skirt. But Tom's voice sounded like he was getting impatient clothes shopping with her.
"Can I get your opinion on this?" Laura replied, unlatching the door to the changing room to let Tom in.
He opened the door far enough to sneak a peek. Upon seeing her there in a skirt and bra his eyes widened. He smiled as he took in the sight of her body and replied, "Yeah, I like that".
Laura felt it was time to tease him some more. She could hear people milling around outside, but she was in a frisky mood. So, she lifted the skirt, to show that she had nothing underneath. Her shaven pussy was exposed, and she pressed her fingers into it, rubbing until she felt her juices on her skin.
She removed her hand, then reached out her hands and her soaked fingers, she pressed them into Tom's mouth. Dutifully he began to suck on them, enjoying his custom-made lollipop. Laura asked, "What about that? What do you think about that?"
Tom's answer wasn't spoken, instead, he opened the changing room door enough to allow him inside, then locked the door behind him. He wrapped his arms around Laura, pulling her close to him, and started to kiss her lips. She could still detect a slight taste of herself on his tongue, she loved the way she tasted mixed with him.
They always kissed passionately, but with the added adrenalin from the risk of getting caught, it was even more intense. Their tongues danced a wild dance, wrapping around each other between their mouths. Laura felt Tom's hand move under her skirt, and press on her now-soaked pussy. His big warm fingers pressed against her clit; she could feel it engorged from the blood pumping through her body. As he continued to move his fingers on her, she could feel the juices start to flow.
Laura's hands ran down Tom's body, she could feel his heart pounding and his breathing getting faster too. His desire for her turned her on even more. She loved the way he loved her and her body.
Moving her hand further down, she found what she'd been looking for. That hard bulge in his pants signaled that she'd had the desired effect on him. Sliding inside his pants, she soon had her fingers wrapped around him, feeling him warm and hard in her hand. She started to tug on him, which evoked a low growl from him to signal his approval. As she felt how long, thick, and warm he was she began to fantasize about him inside her.
Their kissing, Laura grabbing Tom, and Tom rubbing Laura was driving them all crazy. Laura continued to act, she unbuttoned Tom's pants and slipped them to the ground. Finally, she could see the head of that hard cock glistening, even in this department store light. It looked majestic and she needed to feel it now.
Turning away from Tom, Laura faced the mirror, she bent over and flicked the skirt up to expose her ass cheeks. She didn't need to give Tom any further instructions, he knew what to do. Looking in the mirror back at him, Laura watched as Tom guided his hard cock into her wet, hungry pussy. He took only two to three thrusts to get inside, and Laura loved the look of pleasure that appeared on his face when he got deep inside her.
She could feel him where she loved feeling him. She wanted to yell out in pleasure but suspected that might get them kicked out before she would get to cum. He grabbed hold of her hips and began to thrust, as he did, Laura's breasts began to sway in rhythm with him moving in and out. She loved watching her breasts move in time with his body as it pounded her. They made eye contact through the mirror, and Laura mouthed the words, "Fuck me hard!"
Tom didn't need to be told twice. He dug his fingers into Laura's hips and pulled her a little bit back onto him. The sudden move shocked her a little, as she felt him move deeper than she had felt him before. She used one hand on the mirror to support herself and moved her other hand between her legs.
Her fingers began to oscillate on her clit, rubbing herself so fast, it encouraged a stronger stream of juices to lubricate Tom's cock as it slid faster and harder in her. As his hips would smash against Laura's ass at the top of his stroke, she let out a faint moan of pleasure as she felt his hard cock touch the special spot within her. She could feel the excess juices from her pussy start to flow down the inside of her legs, the smell filled the small change room.
She could feel herself close and knew that Tom would be cumming soon too. She arched her back and pressed her ass towards Tom. That slight movement changed his cock to the perfect angle. She could feel it getting warmer and harder inside her. She felt his fingers dig deeper into her skin and she knew before he said it that he was about to cum.
He kept pounding as she felt the warm fluids begin filling her. It drove her to the point where her body began to pulsate, waves of pleasure washing over her, gasping for air as all her senses focussed on the ecstasy filling her. Her clit became sensitive to the touch, and she had to stop rubbing herself. Her arm on the mirror began to ache and she felt spasms in different parts of her body. He always knew how to make her cum.
He stayed there, looking at her in the mirror, lust in both their eyes. His warm hands moved over her bare ass. She wished he could stay in her like that all the time, but she knew he would have to withdraw. As he started to move out of her, she squeeze her pussy muscles to take the last drop of his cum.
Laura turned back around and kissed him some more. She knew they would have to leave this changing room soon, but their scent would linger for the next few customers.
Tom stayed while Laura got re-dressed. As she folded up the skirt, he said, "Well I think you should definitely get that skirt".
Tom was always happy to come clothes shopping with Laura after that.
Thank you for reading. If you enjoyed this story, please like or comment, or if you feel extra generous, please leave a tip.
To read more of my material, subscribe to see more stories like this one or the story below:
The photos used in this story were courtesy of https://twitter.com/LittleBee_x
To see more of her content, you can check out her Linktree
erotic
About the author
Amateur storyteller, LEGO fanatic, leader, ex-Detective and human. All sorts of stories: some funny, some sad, some a little risqué all of them told from the heart.
Thank you all for your support.
Reader insights
Be the first to share your insights about this piece.
Add your insights