The 69 + 1
Google that...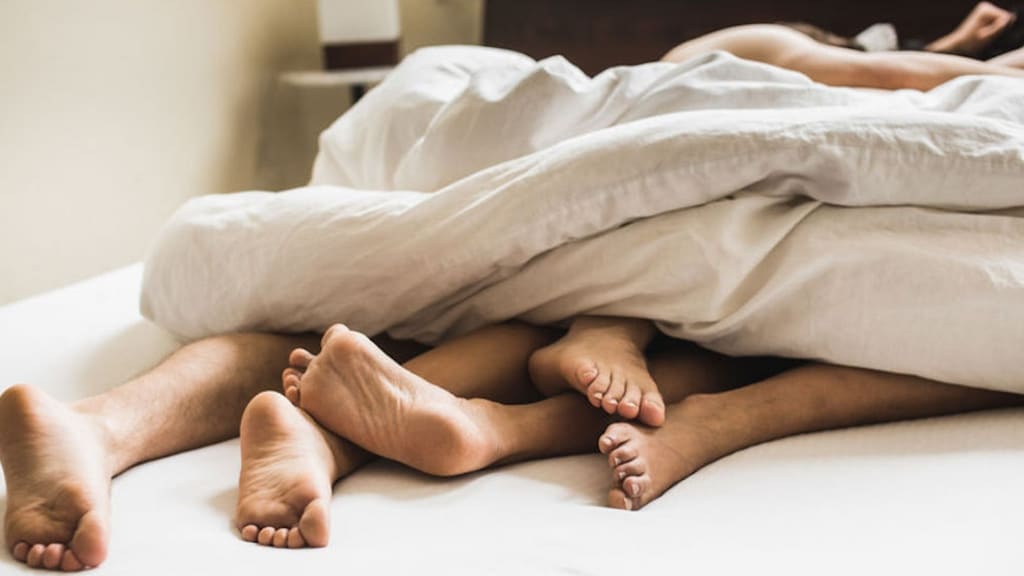 I have a confession, OK maybe a few but this one is about women! Being so secretive for so many years is a wonderful thing, until you have to tell SOMEONE. Well I love them! Not as much as men, but getting a woman here and there is a complete must in my world and if a man I'm fucking brings one to me, that's ultimate bonus points for him. Some men are weary about that though, not all are comfortable with that type of situation. They have had their own experiences with threesomes (and obviously not ones they are fond of), but I'm telling them that I'm different. I will not get attached. I will not choose pussy over dick. That's just the way it is. Truth be told, it's an experience I recommend for every woman. But you have to be open minded or you will get completely fucked up.
Maybe it's because I'm adventurous. Or maybe because I'm a true nympho. Having sex with a woman is obviously different, given the various body parts. Anywhere I go, I'm always checking women out, shit I'm always on the hunt for something new. I appreciate all the body parts of an attractive woman (I'm an ass woman, just saying), I already know that any sexual experience can be an unbelievable one. I had many threesomes in my lifetime and women definitely test your limits when a man is around. I'm a risk taker and always want to test my limits, why the fuck not!
Let's be honest though, it's more difficult to find an open women that I can play with rather than a man. Men are, as I would say, "easier" to get in bed with. But I have had a good share of women, probably 40% women, and one comes to mind when writing this story. Let me enhance this image in your mind of what I do to a woman that I can't do to a man. Let's say, I like taking control in the bedroom. A woman will let you take control more often than a man would. It's an ego thing, I get it. But, I am clearly the dominator and will guide a woman to what I want differently than I would with a man. Pussy is essential at times. I crave it! Don't get me wrong though, I do enjoy being manhandled which is why I love MEN too!!
I'm proud to say, I am bisexual. Shit, if I can have both all the time, I wouldn't say no. But I am definitely sway more to the dick for a number of reasons. (If you haven't read my blog posted on 10/23/19 "Want to come over and watch porn on my flat screen mirror?" go skim down to the part I start talking about my human vibrator, you will get a better picture of what my sex life looks like). Good, you are back! Keep reading.
So why is it that men and women get so attached after a great sexual experience? Don't get me wrong, I have gotten hooked here and there to a great sexual person, but if I'm putting it all out there and stating that this is strictly sexual from the beginning, why do men and women start falling in love or expect more and ultimately try to change you? This is a huge turn off for me. I'm not confused. I know what I want right now and you can't change my mind until I want to change me. You can't change anyone! Except yourself. And that is a FACT. I know I can't please everybody (that's a hard life lesson learned), there are so many different personalities that you have to just grow to appreciate them all. We all have rejection. We all will be loved and experience love. We all endure some type of drama or trauma in our lives. We all will be disappointed or happy in our lifetime. The question is, will you know the difference? There are a lot of fake people out there. I should know, I feel like I met most of them and cut them off as easily as I got to know them (most of which you will read throughout my journey).
I started experimenting with girls when I was younger, even before I was introduced to the DICK. My first kiss was actually with a girl, which wasn't so memorable as I don't remember much about it. What I do remember is that initial feeling of another woman's breasts in my hands and her tender lips on mine. The sensual feeling of two women is a very different experience than a man and a woman. Although, I never actually dated (my definition of dating is very different from the entire population) a woman. Men and women are definitely designed differently when it comes down to sex. Well duh, one has a vagina and the other, a penis. But that's not what I'm talking about. I'm talking about the way women are sensual creatures and most men are savages.
As with having sex with men, there are a billion (ok, maybe trillion) types of ways to fuck. The same is true with a woman. Even more, I have had more orgasms when I was with a woman than when I was with a man (interesting no?). A woman alone is boring to me, it's when you bring in the third party, that's when shit gets interesting. I LOVE DICK TOO MUCH! But a threesome is 100X better. Let me explain…
When I was going through my cheating faze (don't judge), I found this man that I'm going to call "Master." He loved to get extremely rough and BDSM like when we fucked. He would always have a bag ready of "stuff" like blindfolds, restraints, tools like whips, paddles, nipple clamps and shit like that. Hence why he's given the name of "Master," I would also say he was more of a sadist. I have never explored this type of fucking before (other than handcuffs here and there), but nothing more than that, so I was intrigued and willing to try something new. At one of our fuck sessions, I let him blindfold me (no big deal), tie my legs and arms wide open (like an X, very big deal), and he bit every part of my body from my hands to my feet (and in everything in between). It was the biggest tease and pleasure I have ever experienced. I was begging for him to stick his dick in my mouth or pussy, but he wouldn't give it to me. I hated being so vulnerable, but I was horny as fuck! All I wanted was dick and I couldn't have it. Nympho to the fullest! Then and only then, I finally understood the game of what submissive sex was all about. Exactly what I was doing. He wanted me to beg. He loved the vulnerability. He wanted to hear how bad I wanted it. Shit, I can act, so I played along and I enjoyed it. But that is not how I want it all the time. So he got cut off, but not before he brought me a few pussies to lick.
After exploring this sex style for the night, I went home to my "then husband" and couldn't get naked in front of him for a week. I had bruises running up and down the insides of my legs starting from my ankles to my pussy. From my neck all the way down to my lower stomach. Everywhere! I looked like I was beaten, in a good way, of course. Let's just say I bruise easily because he didn't bite me that hard. Well I didn't think he did, I was enjoying every fucking moment of it.
"Master" had a few hot girls that would do anything for him and I fucked three out of the five. This one chick was a cutie and let me take full advantage of her (only reason she belongs in these stories). The only catch was that he didn't want to join and just wanted to watch me and her fucking. OK, so we meet and I get to know her while drinking my rum and smoking my way into a lovely conversation. She warmed up to me pretty quickly and we started touching each other and kissing. Her touch was rough and soft at the same time. I knew she can handle what I was thinking of doing to her. I eat her out, she eats me out and he's just sitting there watching. It was hot, really hot but I went overboard. I wanted excitement, so I started fingering her while I was sucking her nipples at one point. I licked and bit her all the way down to her stomach and down to her clit. She was moaning so loud, he was even going crazy in his chair. I stuck one finger in her nice pussy, then two, then three, then four, then five… I just kept testing. I ended up fisting this woman. Like I was literally fucking her with my hand and mid arm through. I didn't want to stop there, I wanted to see how deep I can go. I felt like a dude at that point, it was exhilarating. Well let's just say, she let me go pretty fucking deep and it was the most amazing thing I was able to experience. She came so much and had multiple orgasms and I was completely satisfied that I just kept going and fist fucking her and licking her at the same time. If you don't know what I'm talking about, just google fist fucking and some porn will come up. Watch it and get your own opinion on the practices. Let's just say she was hooked.
He ended up joining that fuck session (how could he not)! He couldn't deal with all the noises and liquids coming out of us without him being involved. I broke a sadist (true accomplishment in my eyes). Bottom line is, she got hooked on this pussy and apparently my arm because she went completely psycho. Stalkerish physco. You know what I do with those kinds of people? The only thing you can do is deny them of what they want and hopefully they will learn their lesson... Next!