Suffering for my Mistress
Sadomasochism at it's best.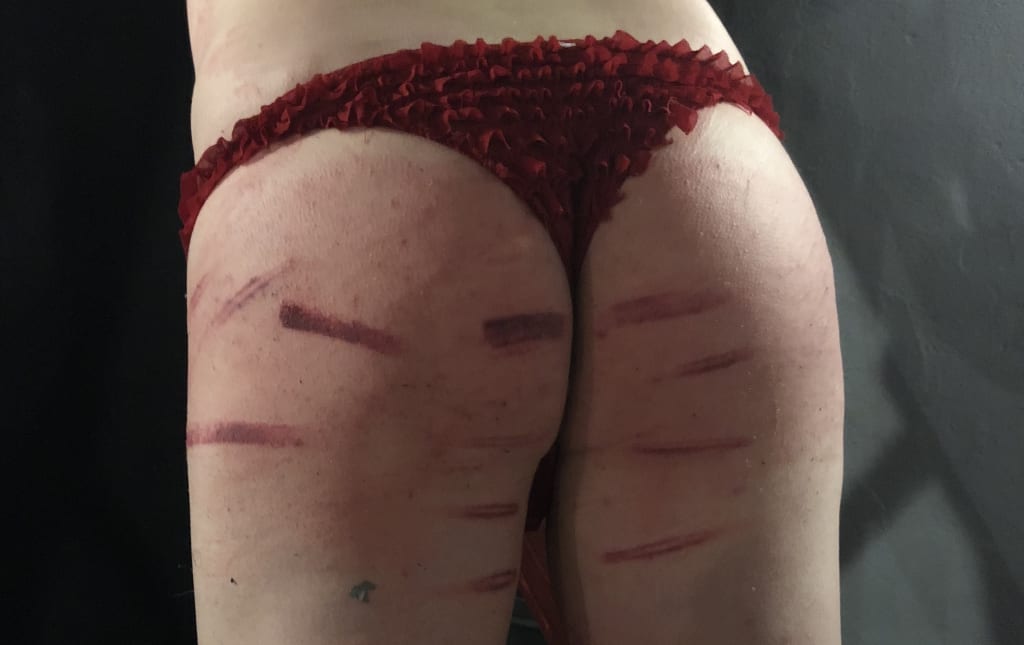 Once you have been around kink for a while you find that there are two kinds of play that can happen in general. The first between a Top and a bottom having a scene. It's not a relationship but just something fun for them both. No D/s, just an experience. We all do this one for sure. Then you discover play within a D/s or M/s dynamic and things can change for you. My Mistress is a sadist and she also thought of herself as masochist in her past. I am a masochist and these two things go together very well. At some point, you have to ask yourself why you do this? Why do I love to take pain for her? The easy answer is that she is my Mistress and this is what she wants. I don't necessarily agree with that thinking. I believe that you have to want to take that pain. I also think that it has to be about more than just the pain. It's the connection and more so for me my desire to suffer for her.
Suffer? That would seem so hard for some people. For me, pain is something that I find very cathartic. I will often cry as a release and that crying free's me. But to suffer for someone there has to be more. My Mistress and I are deeply connected. I want to please her in as many ways as I can. I love we get primal and start to growl and bite. But, in traditional scenes or play, there are safe words. We have chosen to not use those safe words and eventually they will be removed. Once we both agree on that then I don't control the scene in any way. Right now I can say red at any point and stop the scene. So, in essence, I control the scene. I hate that with every fiber of my being. I trust her absolutely. There is no doubt. I know that she will stop when she needs to. I also know if she goes too far she would listen to me. She is not a heartless person. She is a woman that feels deeply and cares and loves me.
In order for me to suffer, I can't control it. When we play I find my self thinking "Take it for her". That puts me in a good headspace. I believe that at this point in my kink journey after 15 years the only way that I grow is to not be able to stop the play. I need to accept what she is giving me and learn to process it on the fly. I want to struggle and scream and cry. That makes her very turned on. She will often put my hand on her pussy so I can feel how wet that she is. That is good for me to know. I am so service-oriented that accepting her pain is part of that. Suffering for her is pushing through and past what I think I can take. It connects us deeper than anything ever has. I can also count on her being there for me for aftercare when we are done. I used to not need a lot of aftercare but now I am beginning to need it. I usually curl up at her feet while she pets my hair. She tells me she's proud fo me and waits to slowly come down off of the natural high that I am on. I may even cry some more. The tears aren't bad. The tears are wonderful.
There was a time when I thought that being a slave was ridiculous. I just couldn't see how or why anyone would put themselves in someone else's hands like that. Now I do get it. There is so much freedom for me as a slave. With choice take away I am free to be who I truly am. I'm not embarrassed about it. I have embraced it. Mistress wasn't even looking for a slave. As we talked about being authentic and I opened up to her about my desires she decided that we should explore it. Now she is very happy with where we are. She also knows that our play is going to continue to be better.
The last time we played she started talking out loud about me wanting to suffer for her. That was music to my ears. I love that she has embraced it. This gives her freedom too. She knows that she can now embrace her sadism more and start to push herself too. The growth happening individually and between us is incredible. All because we opened up and were honest with each other. We were both willing to explore things that maybe weren't so comfortable in the beginning. Because we did we've moved on to a new phase in our relationship. Isn't life about growing and experiencing new things? Isn't it about living in the moment? Yes, we have plans for the future but who knows how that turns out. By focusing on today we have been able to make great steps that have brought us closer.
The thing that excites me the most is that we have not even scratched the surface of my suffering yet. There is so much more to come and I will continue to communicate to her about how I feel. I want her to grow. I want her to become the Mistress and owner that I know is there. I've seen glimpses of it. This is not something that comes easily. It's not natural for most people to want to hurt someone else for pleasure. The most important thing to remember is that she has my full enthusiastic consent to do it.