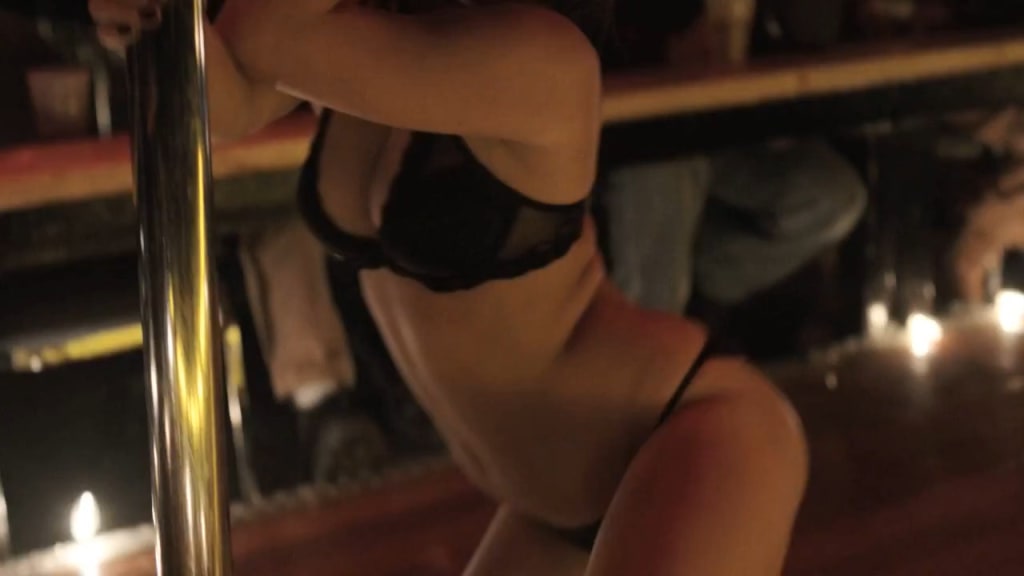 At least every major city across America and the world has a strip club. Also known as a gentlemen's club, the strip club is the epicenter of adult entertainment, where mostly men, but sometimes women, gather to experience the world of strippers, g-strings, lap dances, tipping, and bachelor parties. The world of strip clubs is another world within itself. First, there are the unique names: The Dollhouse, Cheetahs, Sapphire, Blush, Mons Venus, Larry Flynt's Hustler Club, Christies Cabaret, Crazy Horse, Centerfolds, Spearmint Rhino, Playmates, and Magic City, just to name a few. And then there is the lingo, drama, fights, stripper politics, and the secrecy that lies behind the walls of the VIP rooms. Every strip club operates differently—it's usually based on the management and the city ordinances.
As you arrive at a strip club, you are sometimes greeted at the front door by a bouncer/doorman. The bouncer is usually the one who checks for identification. He usually is the first person you encounter. He holds the key to letting you and your friends in. Some clubs have a front desk hostess who sits behind a glass-cased booth or in an open lobby—she's there as eye candy. She usually is an attractive young lady in the most popular trendy gentlemen's club, but in some clubs you'll find an average looking young lady or a not so attractive one. The job of the hostess is to greet customers and to collect the required entrance fee, but sometimes will check for identification if there is no bouncer/doorman. Door fees range from club to club, so never assume that you will get in with five bucks in your pocket.
Before you walk through another set of doors, you can hear the faint, booming sound of the music seeping thru the walls. Once you enter through the second set of doors, you have now entered the world of the strip club. Once inside, you can hear the music blast throughout the speakers that hang above, all throughout the club. The music ranges from hip-hop and the current Top 40 to Alternative and EDM. While you walk around focusing in on where the bar is at, you are sometimes greeted again by another bouncer or floor guy, another member of the club staff. They will ask you if you will be sitting at the bar, table, or booth. If you and a bunch of your friends walk in, he will most likely guide you to a table. Don't be afraid to talk and ask the bouncer what type woman you are interested in. Remember, it's your time, your money, and your choice. Most established clubs usually have three or more floor bouncers. They constantly walk around and guide the strippers to the newly fresh meat just arriving in the club. It's their way of gaining an extra tip at the end of the night. Their main job is to control any situation when a customer gets out of hand with a stripper or with other customers. You'll also see the night shift manager. He usually wears a suit and tie as he stands near the entrance or walks around while overlooking the staff. You will often see him hanging around the bar checking the current intake of receipts at the register(s), checking the current bar inventory, scanning the line up sheet, or walking around, talking to staff and looking busy. Some managers will greet incoming VIP members or regulars. Don't be afraid to introduce yourself to the manager to attain their name. This can be advantageous, as it makes a statement.
Rule No. 1:
Always befriend the bouncers. Get to know them on a first name basis and don't be afraid to give them a tip. The higher the tip, the better. Inquire about a VIP membership. If you start becoming a regular or VIP then this is to your advantage because they will take care of you the next time you walk into the club.
If you are alone, head straight to bar to take an open seat. The bar will have all types of quality liquor brands behind the bar. Brands such as Jameson, Bushmills, Ciroc, Ketel One, Hennessy, Louis XIV, Tullamore Dew, Grey Goose, Crown Royal will often be seen as tier-shelf items. The higher the bottle sits on the shelf, the higher the price per pour. Others such as Skyy, Jim Bean, Captain Morgan, Bacardi, or Jack Daniels are behind the bar and are lower in price per pour. If you are beer connoisseur, branded domestic and foreign beers are also available as well. Drink prices will vary from club to club and city to city.
The bartending and wait staff is comprised of mostly attractive young ladies that are easy on the eyes, but it varies from night to night. The hottest looking bartender or waitress may only work two nights out of the week. So your chances of finding the best looking bartender or waitress to flirt with and getting their numbers are slim.
Rule No. 2:
Always leave a tip for the bartenders and waitresses. Get to know them by name and always give an honest complement when you see them.
Once you have established yourself with a drink in hand, it's time to start scoping the stage for strippers. Scoping enables you to search for the best looking available strippers. It requires patience, a few hours, and excellent observational skills. Throughout the night, the DJ will announce the name of each of the girls as they take turns to do a stage performance with floor dance routines and pole tricks. Stripper names come in a wide variety from Natasha to Skylar. Sometimes you'll hear a name like Sage or Luna. Each name is unique to their personality, similar to their dance routines. There's the one-leg spin kick, one-armed superman, spin move, back spiral reverse grab, chair spin, front hook spin, and then there's the death drop. Each girl will be on stage for two songs, sometimes three, as they perform for tips. Strippers come in many different shapes, personalities, nationalities, attitude, and looks. Every city is different when it comes to the variety of girls. But, remember—this is a fantasy, make-up does make a difference. Once in a blue moon, you will see a natural beauty, but it's rare. You will always see the different ways of tipping when it comes to customers. The type of tippers vary in technique. First, there's the amateur tipper—a guy slowly walks to the stage with money in hand, stands next to the stage rail, but sometimes pulls up an empty seat and just gives a blank stare at the stripper for a few minutes. He is in awe at what he is observing as she performs her routine. Second, there's the professional tipper—he walks to the stage, waits for her to approach him, whispers in her ear for a few seconds, and slowly tips her money into her g-string. Next, there's the drive-by tipper—the drive-by tipper walks by the stage and just throws out a few dollars into the air and then walks away. Another is called the lazy tipper. The lazy tipper is the guy who sometimes tips the girl once she steps off the stage. The tipper will either know the dancer personally and then approach her and tip her. And finally, there is the whale tipper. The whale tipper is the most extreme out of all of them. He will walk-up to the stage with a stack of bills in hand (usually in one dollar denominations) and wait for the girl to greet him. While she performs a floor dance in front of him, he will make it rain by throwing the stacks of bills into the air. Or he will make it snow, as he slowly drops bills one at a time onto a body part (chest or behind) of the girl. Tipping is service to the girls. You don't have to tip every single stripper performing on stage unless you are interested in all of them.
Rule No. 3:
Tip the stripper you are interested in. When you tip them on stage, whisper something intriguing into their ear. Also, look directly into their eyes when giving them their tip. Five to ten dollars gives a good impression. Don't be afraid ask them to stop by your table.
If you happen to be seated at a table, every once in awhile, you will be constantly approached by more than one stripper. One after another, the same questions will be asked of you—"What's your name?", "Have you ever been here before?", "Would you like some company?", "Is anyone sitting here?", "Do you mind if I join you?" Or the classic line, "Would you like a dance?" If she happens to be someone you are interested in, then don't be afraid to have her sit at your table.
If you are not interested in her, you can politely say, "I just arrived here," "I'm just sitting and drinking," or "Thanks, but I'm waiting for someone." If you are unable to gain the attention of girl you are interested in, approach one of the bouncers and request her. He will be able to assist you. Just make sure you provide him with a tip of a few dollars. Once you are able to get the girl you've been eyeing all night to sit at your table, always offer to buy her a drink as a gesture. You can start the conversation by asking them how long they have been in the industry. During your conversation, ask questions and don't be afraid to ask them for their number. Exchanging numbers is a good way to get to know them on a personal level. If you become a regular or a VIP, having their number is a good idea if you decide to stop by at the club at any given night. Most strippers will tell you that they have been in the industry for six months or more. Some will tell you they are from another city or state and are just working for some extra money. It's easy to differentiate between the veterans and the rookies. The veterans have good stage performance. They flow like water when they perform on stage. On the other hand, the rookies look lost and stiff during their stage performance. After a few minutes of conversing with her, there will come a time when she will ask you if you want a dance. It will either be a table-side dance or a private dance. A table-side dance occurs out in the open, in front of everyone at the club and costs less. Whereas, a private dance occurs in a remote private area at the back of the club or in a VIP private room at a higher cost. Some clubs do not offer the table-side dance, but only private dances.
Rule No. 4:
Get a table-side dance first before you venture out to get a private lap dance in the private area or room. You can also observe her dance from a distance when she does a table-side for another customer. This is a good way to test whether or not she is worth the money you are going to be spending on her.
Before you make a financial decision to have private lap dance, make sure you have the money to spend. It can be quite costly. Some clubs may have a dance menu which lists the various price ranges for each type of private dance. Prices for a private lap dance can range from a per song standard rate in the private remote area to a few hundred dollars in a VIP private room depending on the time that is being spent in the room. There is the standard half hour or one hour VIP private room session. The private remote area is located somewhere in the back of the club. Each and every club has a different approach to a private remote area, it's usually small cubicles with side walls separating each section. Its has a cushion seat, and some clubs have a curtain that will close off the cubicle. The entire area is dimly lit. On the other hand, the VIP private room is a small room located in another section of the club. It's a dimly lit room with a door and includes a couch and a side table. Once in the VIP private room, always be considerate of the stripper and go with the flow. What happens in the VIP room, stays in the VIP room. Keep things simple, but make a statement. Don't be the asshole that deserves to get kicked in the balls and thrown out by the one of the bouncers.
And the end of the night, just remember—cash is king. Dress for success—wear a suit. It makes a statement when you walk in and it creates an image. Have a budget in mind of how much you are willing to spend that night and never go to the ATM to withdraw more cash.
Rule No. 5:
Enjoy and have fun!
About the Creator
Also known as Jonathan, a part time musician, writer, life stylist at night but a full time business intelligence developer during the day.
Reader insights
Be the first to share your insights about this piece.
Add your insights