Spice Up Your Sex Life
Things are cooling off outside. Heat them up in the bedroom!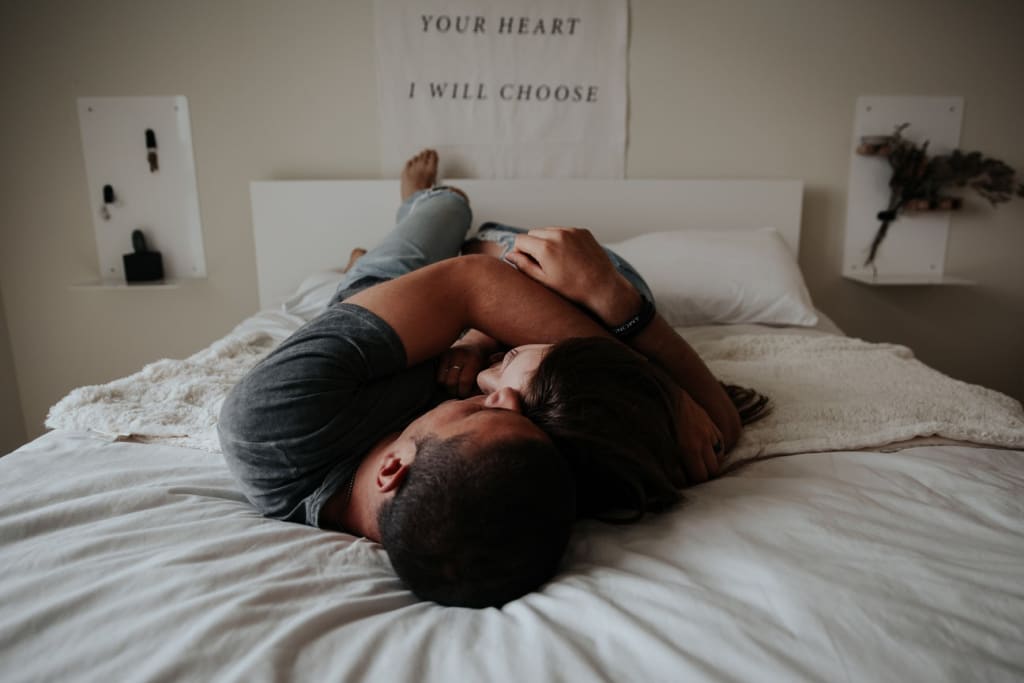 "Who you are in bed is who you are in life," Samantha Jones declares in one episode of the classic dramedy Sex and The City. Couples have the best, most passionate sex in the beginning of their relationship and somewhere in the middle, it cools off. How do you keep things spicy with the one you love? Here are some tips to keep the orgasms coming (pun intentional).
Hygiene matters.
If you smell like you've been rolling around in a dumpster somewhere, chances are your boo is not going to want to throw down with you in the bedroom. Take a shower, wear their favorite scent, then start the seduction process. It's weird that many people actually think that their partner should just automatically want sex, no matter the state of appearance. Ladies and gents, we are not living in a 90s sitcom here. And if we are, we need new writers.
Sext in Real Life
Everyone has sent dirty messages to their partner, whether dick (or boob) pics or just telling them what you want to do to them when you see them. Instead of just doing that via the phone, try telling your partner what you want to do to them and what you want to be done to you, in real life. It's a marvelous concept but one that seems to have been lost the last few years. An "Oh baby" is nice, but there is something primal telling them how big their cock is or how tight their hole is. It's one of the hottest things you can do. Your partner will thank you.
Toys aren't just for kids.
Who hasn't been handcuffed to the bed, while their partner uses a whip on their ass? Just... a friend of mine? Well, ok then. Introducing toys into the bedroom is an excellent way to spice things up and bond with your lover. Try bringing a vibrator and using it on your partner. Straight guys, it is ok to enjoy having it up your ass. It doesn't mean you're gay, the P-spot is up there and usually helps men have amazing orgasms. Ladies and gays have known about the pleasures of a good vibrator for years—now is the time to show them how great it can be with a partner. The aforementioned whips can add an element of painful pleasure to the going ons in bed (or kitchen table, think outside the box).
Get angry.
Let's be real here, the best sex is usually on the rougher side. When I was with my ex, we would fight about the stupidest things, and then have mind-blowing sex afterward. Not the best basis for a relationship but the orgasms made the breakup worth it. While the suggestion is not for you to ruin your relationship, it is meant to mix things up. It's okay to get turned on when you're mad, and it's good to get the frustration out physically with a good romp with your partner. Just make sure to only do it in moderation.
Role Playing
There's a reason that babysitter and naughty nurse porn is so popular, and that reason is because people want to pretend to be someone else. Make your wildest fantasies come true while honoring your commitment to your partner. Playing Doctor and Nurse will give you new identities and bring out more fantasies. Each couple is different, but everyone desires strange sometimes. Why not have the strange be the one you love? Or fuck regularly?
Fantasies abound.
Speaking of fantasies, talk about them. Want a threesome? Talk about it. Let your imagination soar. Who will the threeway be with? Straight men, if you expect your lady to get down with another female, at least hypothetically let her believe that you would fuck her with another dude. In the past, maybe it was ok by society's standards to be selfish about that, but in today's society we are empowering women, and they have an equal say in the bedroom.
Now off you go to have some wild sex and fabulous orgasms.
sexual wellness
About the author
Edward has written hundreds of acclaimed true crime articles and has won numerous awards for his short stories.
Reader insights
Be the first to share your insights about this piece.
Add your insights