Sneaky Stepmom, Clueless Dad
Brand New Scene from Brazzers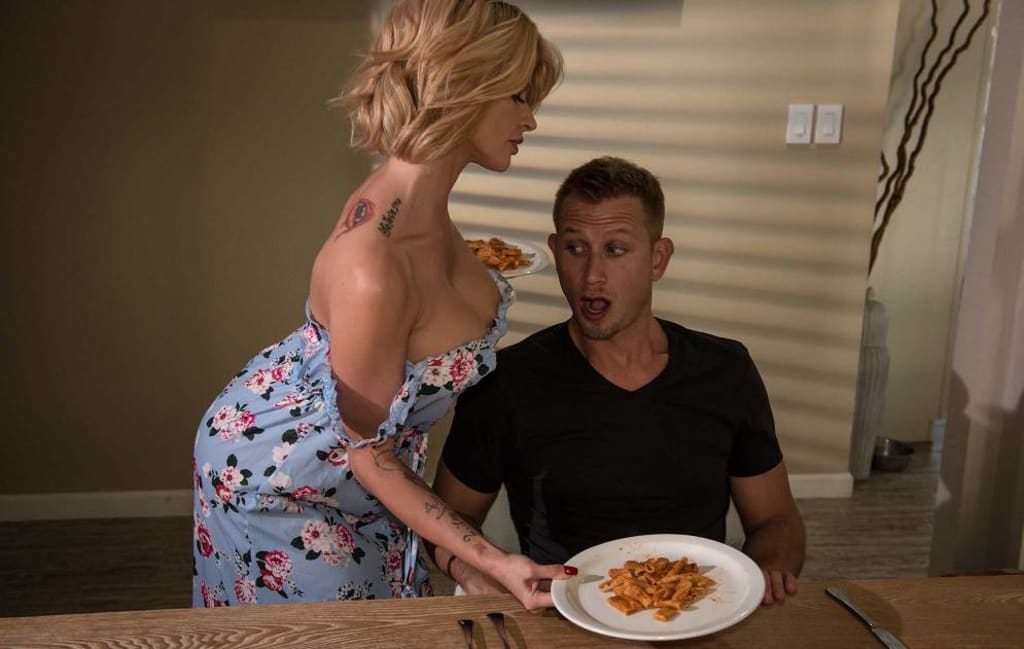 Joslyn James gets inappropriately close to her stepson.
Hot off the press, this sexy scene from Brazzers is bound to get a few of their viewers "hot for mommy."
Joslyn James or "The Tigress MILF" as she is sometimes known gets down and dirty in her third stepmom scene for the company. Personally, I was thrilled to see her back in action sporting a new blonde look with golden eyeshadow. As always she looked incredibly glamorous and I was keen to sample the new scene entitled "Sneaky Stepmom, Clueless Dad."
I was eager but I was very sceptical as well as previously Brazzers had created two stepmom scenes with Joslyn which were of a very high standard. "Joslyn's Secret Shower" had 216,000 views and "Late Riser Gets Laid" had 217,000 so I was curious about how good a product this was going to be. Unfortunately, my scepticism proved to be right as while the other scenes had genuine acting and believable characters; this one just seemed to be like a parody of the other two. Bill Bailey was cast as Joslyn's stepson making the scene slightly more believable but it is dross at times. Bill is a former soldier from Texas and has performed in roles similar to this one previously. As gorgeous as she is I've never actually realised how bad Joslyn Jame's acting can be. Previously she was complimented by her co-stars with additional actors playing her husband in different scenes. Add a good shooting location and you can often overlook one person's bad acting performance. Yet here because of the theme it just all sounds a bit ridiculous. It's not the performers' fault though, they are just doing what they're told to do.
Distraction is always good.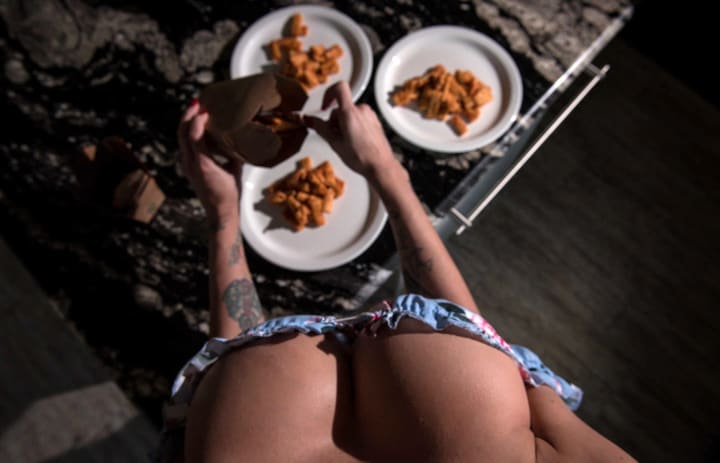 The scene starts off well with Bill looking to talk to his Dad about his new wife Joslyn. This is the same guy who played Joslyn's husband in "Late Riser Gets Laid" which I found an odd choice as well. Surely if you're going to use the same actor and a similar theme surely you could do some type of continuation story?
Perhaps Joslyn gets stuck into the other son in true taboo fashion. Anyway, Bill has a problem with Joslyn and he can't quite figure out what it is that he doesn't like. Bill's father is dismissive and informs Bill that it's only been a month and he should give his new stepmom a chance. As they are speaking, she is supposed to be preparing a delicious meal for the two of them in the kitchen. It looks more like she ordered take out but I think that's meant to be the idea.
Potatoes anyone?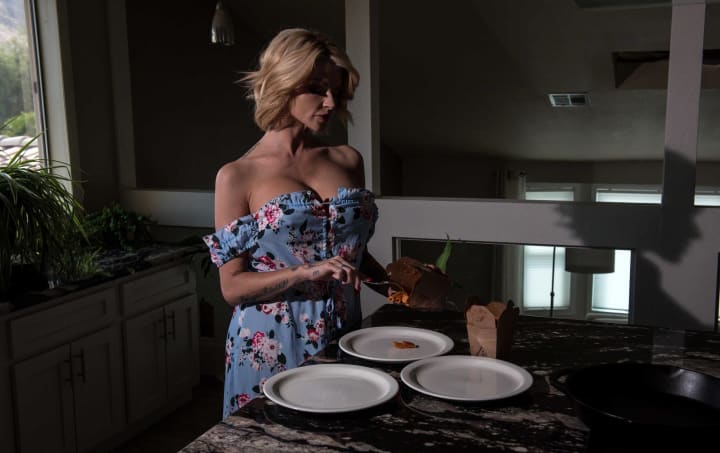 Joslyn enters and flirtatiously hands Bill a plate of food. His father seems oblivious to his new wife's behaviour and is more focused on his upcoming meal. As the three sit down to eat Joslyn talks to Bill about college. She asks general questions about girls and if any have been chasing him. Then she injects "Maybe I can suck your cock after dinner."
Bill is horrified looking to his father who doesn't seem to be listening and never heard a thing. Joslyn disguises what she said and Bill's father seems to think he's being prejudice towards his new stepmom. Bill confused that both of them would deny what he's saying, concludes that he too must have misheard his new stepmom.
Rude Offer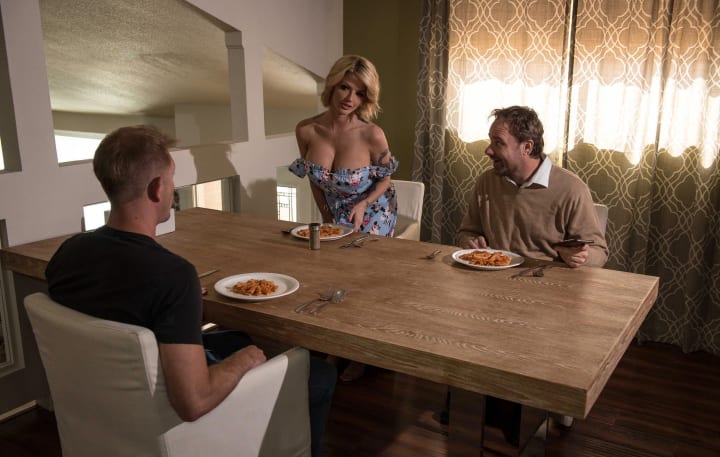 Bill tries to focus on his food but is interrupted when Joslyn coos "Well if you don't like that offer, maybe you can fuck my tits instead."
Joslyn at this point parks her foot on Bill's crotch who becomes just as disgruntled as before. He pleads with his father that he must have heard what she said but he's more concerned with Bill using rude language at the dinner table. Again he scolds Bill for judging his stepmom before he has a chance to know her.
Bill, confused and slightly traumatised, dismisses it all and again focuses on his food telling his parents that what he's going to do. Joslyn interjects some pure filth again backing up, lifting up her dress and saying "Why don't you eat my pussy instead?"
Bill panics and retreats to his room slightly scared that his father doesn't even seem to notice Joslyn's behaviour. Bill's father tries to discipline him but is calmed by the feminine charm of Joslyn who reassures "I'll go talk to him."
It's slightly funny but it's just a bit of a let down since the last two scenes were really good and could be taken seriously. Joslyn arrives at Bill's bed where he is masturbating. She reassures him that his father is just oblivious to whatever she does and that he should take advantage and allow her to satisfy him.
What takes place is a great sex scene, Joslyn knows how to use her tongue properly while smooching and while sucking dick. Her beautiful mature body is adorned with tattoos (one of Kermit the Frog) and it's just a pleasure to watch it in motion. Joslyn makes sure to lick Bill's balls as she works his shaft over. When it's time to return the favour, Bill is quick to lick Joslyn arsehole before inserting his cock to pound her pussy. A good position is when Bill has Joslyn in a standing side position where you can really watch those tits bounce. The two clearly enjoy the scene as Joslyn does a 69 on Bill without a prompt. The acting doesn't stop with Joslyn telling Bill to make her his bitch and that his cock is bigger than his father's.
I don't want to spoil it for you but the sex is fantastic and it's not one to be missed. You can get this on the official Brazzers site as it's hot off the press but I managed to pick it up at whorestepmom.com as well. I'm going to give this a 3.5 as the acting is rubbish but the sex is hot.
3.5 out of 5.