Sheila Kennedy's 'No One's Pet' Excerpt: Axl Rose in the Hotel Room
"I'm really sorry, Axl just wants me to go."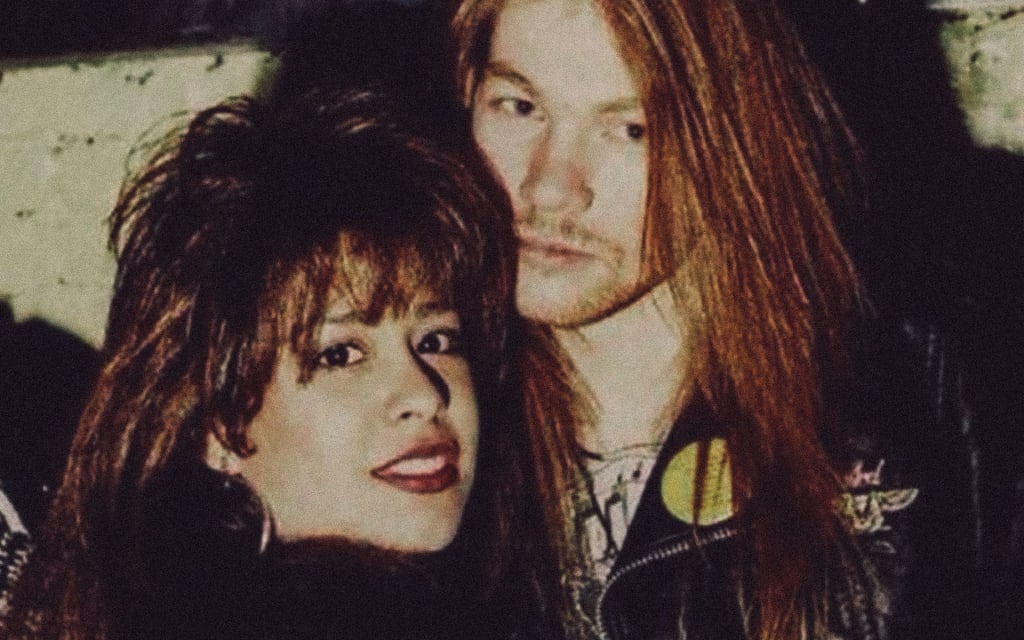 From Penthouse Pet to reality star, Sheila Kennedy turned a modeling stint into a longterm career in the entertainment industry. Penthouse Pet of the Year in 1983, the aspiring actress broke out as one of Bob Guccione's stars. Stardom had many benefits, including roles in films such as The First Turn-On!! and Spring Break, but it also had its drawbacks. Young Sheila was quickly drawn into the world of sex and rock n' roll, including a bout with none other than 80s rock legend, Axl Rose.
Directly from the pages of No One's Pet: the Autobiography of Sheila Kennedy, comes an excerpt from her moment with Axl Rose in the hotel room.
I've never been a big metal fan, but my girlfriend Suzy from Queens was. She loved Poison, Ratt, Def Leppard, Judas Priest, all that shit. I was hanging with her in New York and she was really excited that Rikki Rachtman, the host of the MTV show Headbanger's Ball, was importing his metal club the Cat House to some New York venue that night, and she really wanted to go. Suzy was my manager's secretary, a Cuban extraction, a little on the zaftig side but still smoking hot by my estimation. Like I said, I wasn't into metal but I was into nightlife. I thought it could be fun. She helped me dress the part by lending me one of her studded belts.
At the club, we were doing our thing, dancing, drinking. In the back of the room there was this table with a huge crowd around it: models and hangers-on, all gravitating around this incredibly good-looking guy with long red hair. I wanted that fucker, whoever he was.
I said to Suzy, "Man, he is gorgeous, who is that?"
Suzy said, "You don't know who that is?"
"No."
"That's Axl Rose. He's the lead singer of Guns and Roses."
"OK."
"You know, 'Sweet Child of Mine'?"
"OK."
I had no idea what the fuck she was talking about. All I knew was that he was beautiful. Google some pictures of him from the "Appetite for Destruction" era. I'm not lying.
Once we got closer to the table he noticed me, too. He got to the point pretty quick. "Hey, you wanna party with me and Rikki?"
"Sure, my girlfriend and I…"
"Not your girlfriend. She's not hot."
I was thinking, "Oh shit." I didn't feel great about abandoning my friend, but I fucking wanted this guy.
"Go find another girl, we'll take some other girl but not your girlfriend."
Fuck it. I said to Suzy, "I'm really sorry, Axl just wants me to go." She was a pretty good sport about it, or maybe she knew she was about to dodge a bullet. When I got back to Axl, Rikki had found himself a nice looking model named Brooke, and we were good to go.
We all went to the hotel where Axl and Rikki were sharing a suite. It wasn't a rock-and-roll hotel, it was a pretty high end place, near the Plaza. Could have been the Pierre. When we got to the suite there was a contingent of hangers-on hanging out, champagne, coke, all that, and Rikki has to play bad cop and clear all these leeches out. I asked Axl to point me to where I could freshen up.
I'm in his bathroom. And there's all kinds of medication laid out on a towel by the sink. There's lithium, there's Adderall, there's all this SHIT. Since this time a lot of Rose's mental health issues have come to light, but back then his main problem as it was understood by the public was that he was a fucked-up rock star who did fucked-up rock star things. Which is just a hair different from being a person on anti-psychotic meds, or whatever these were. On top of that, I'm thinking, he's high on coke, on champagne, on Scotch. He's very high. He's a fucking time bomb...
Find out what happens next in No One's Pet: the Autobiography of Sheila Kennedy.