Sexy Real Sex Dolls
A Sexy Real Product Review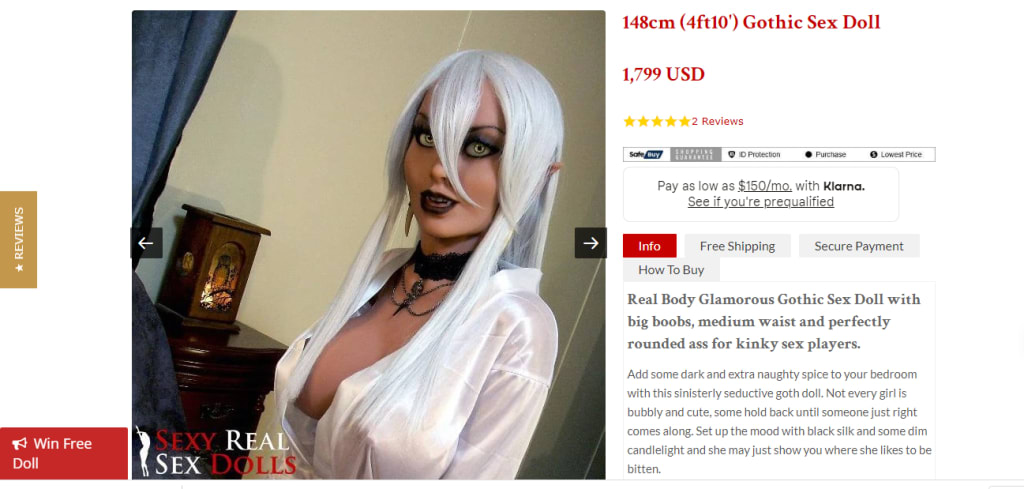 Sexy Real Sex Dolls, or sometimes called SRSD, is a US based company that sells sex dolls. To be perfectly honest, I am not sure if any of their products are manufactured in the US, but the products are purchased and shipped from the US, so they may very well be produced in China, Korea, The Philippines, or Singapore. Apple does the same thing, so, you know, Covid-19 aside, I don't think it's a big deal.
Manufacturing products overseas can cut down on expenses, and companies like Apple and SRSD pass those savings on to customers and consumers. That's a good thing. Furthermore, I can honestly tell you that SRSD makes quality products, but you also need to understand that they sell dolls made by manufacturers who have companies the world over.
For instance, I bought a TPE sex doll, which is manufactured by a company called YL Dolls. YL is based in Fujian Province, China. They also sell dolls from IronTech and WM. All of these companies specialize in high quality sex dolls.
What's the difference between high quality dolls and knock off dolls? I don't know. I don't really see a difference, and I state this from experience.
My first doll was a purchase through XQueenDolls, which is a Chinese company based out of Shenzhen. I bought their Meng model for under $700.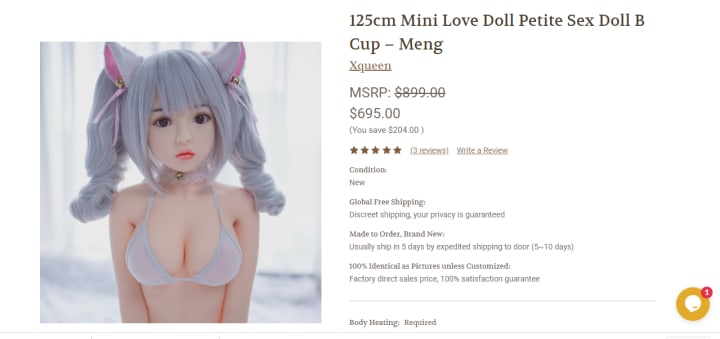 Yes, that's still a sizable chunk of change for a sex toy, but consider Sybian machines and sex machines, which innumerable people—men and women—purchase. Sybians can cost upwards of $1245. Sex machines can cost upwards of $1100, so all-in-all, $700 for a sex doll is not astronomical.
This second doll that I bought was $1799, but I was able to utilize a coupon, which knocked nearly $500 off the price, and I was able to make 3 payments over the course of 3 months without added interest.
Now, if you check my links, which I'll provide at the end of this review as well, you might notice that the Meng model from XQueen is said to be constructed of medical grade TPE. There is no such thing; it's just silicone.
Silicone feels more realistic…I suppose. TPE, which is also a plastic polymer, can be more easily sculpted, so TPE dolls can be made to appear realistic, which is not the same as feeling realistic, but I wasn't really after realistic anyway; I liked the idea of purchasing a "fantasy" doll.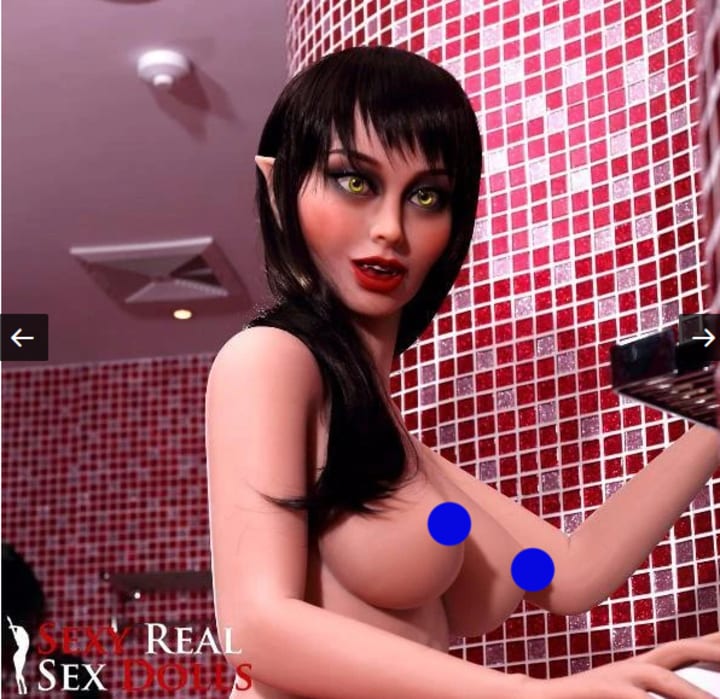 I toyed around with the prospect of either buying a gothic doll or this fox furry doll.
For true furries, I think you'll agree that this is not a fox girl; this is more like a cat girl, but whatevs, am I right? Furthermore, if you really inspect the pictures, you might notice that the gothic doll and the fox girl doll are really the same product with a different wig and outfit, hence the same price; there's also a "Halloween" doll, which again, is the same doll.
Just so ya's know, you can buy any doll, and then purchase accessories like cat eyes, lashes, wigs, etc. though SRSD. You can also purchase different outfits and cosplay accessories through Amazon, so you can buy a realistic doll, and then buy several outfits for your doll; you can't do that for dildos or Fleshlights….
At any rate, if you are new to sex dolls, or confused about doll ownership, there is too much skewed data circulating the web to comfortably make a purchase, much less discuss it with people. First of all, most of you will unbiasedly believe that only weirdos with small penises—men, who can't get a woman—will purchase sex dolls. That's not accurate.
Many companies make male dolls and shemale dolls, and they are just high quality sex toys, which everyone can enjoy. Even couples can enjoy them. It's no big deal. I promise. Your friends have toyed around with the idea of purchasing a doll. I promise you. You can talk about buying a doll. It's okay.
Second of all, if you are someone who is interested in the idea of a sex doll, you may have joined reddit's sex doll forum and read reports from users including "u/tom", who is hailed as the sex doll sexpert…he isn't.
I joined that subreddit, and I tried to post news about my first doll, which I had purchased over a year ago, the Meng doll, and I was not allowed to post because "tom" felt that it was a knock off doll.
What is a sex doll knock off? We're not discussing a Guzzi bag versus a Gucci bag. We're talking the difference between a Hitachi brand magic wand masturbator and a non-Hitachi brand magic wand masturbator.
Sure, Hitachi makes a superior product; the materials are better and more durable, the battery may last longer, it may be rechargeable, the vibrations may be more intense, it may have more settings. Does it matter?
Would you rather buy a Hitachi magic wand for $40 or an off brand for $30? Would you rather buy a YL doll for $1799 or another, cheaper brand for $700? Have you ever bought a doll? Will you like owning a doll?
Buy the cheaper one first. Forget "tom" and the sex doll subreddit. It's nothing but skewed information by people who either want to sell you dolls via their special links, or it's information provided by the weirdos, who have never been with a real life partner.
Look, guys like "tom" sell dolls through affiliate links, and that's okay. Lots of people earn money through affiliate links and even sex toy affiliate links, but I'll never tell people to avoid saving money. I want you to save money. Buy from any site you want. Just understand that my links are to sites from which I've purchased an item of some kind, so I know you will not get scammed or ripped off.
You might not like boning a sex doll, so why waste $1799 or even as much as $2999 when you can try a doll for $700, and then stuff it in the closet for a few months while you date your sweetie?
Anyway, the Meng model is a mini doll, and there are various sizes of mini dolls, and mini dolls can be great for people with joint injuries or muscles spasms; they're small, they're light, and they're easy to use. Meng is only 4 feet tall and only weighs 30lbs. Ahri, the "fox girl", is almost 5 ft tall and weighs 70lbs.
70lbs might not sound like much, but this is dead weight that is not balanced the way a human being is balanced. You may have to get your doll up and down the stairs, or move it from room to room. You have to get your doll in the tub to clean it, so you need to consider a number of things before buying a sex doll; it's not a simple dildo, which weighs 2lbs, or a Sybian, which will remain in one room all the time.
Meng is also a silicone doll, which is easier to clean, and it will last longer because silicone is more durable, and it will not degrade as quickly as TPE. Does that mean that a TPE doll will break down over the course of a year? No. It just means it needs to be cleaned more often so the oils from your skin won't accelerate the degradation process; a TPE sex doll will last decades if cared for properly…just like your car.
Your car, whether new or old, whether fiberglass or steel, will break down more quickly if you don't wash it, get the oil changed regularly, top off your fluids, run crummy gas, avoid changing the fuel filter, etc. You have to care for your doll as you would your car, and like your car, a sex doll is just a luxury or convenience that you purchase to increase the quality of your life.
You like being able to hop in your car whenever you want and go shopping, right? Well, some of us like boning our dolls whenever we want, and maybe that's not for you, but if you are considering purchasing a doll, SRSD is a great company, and they will only sell high quality products, most of which are also customizable.
Check out this anime girl.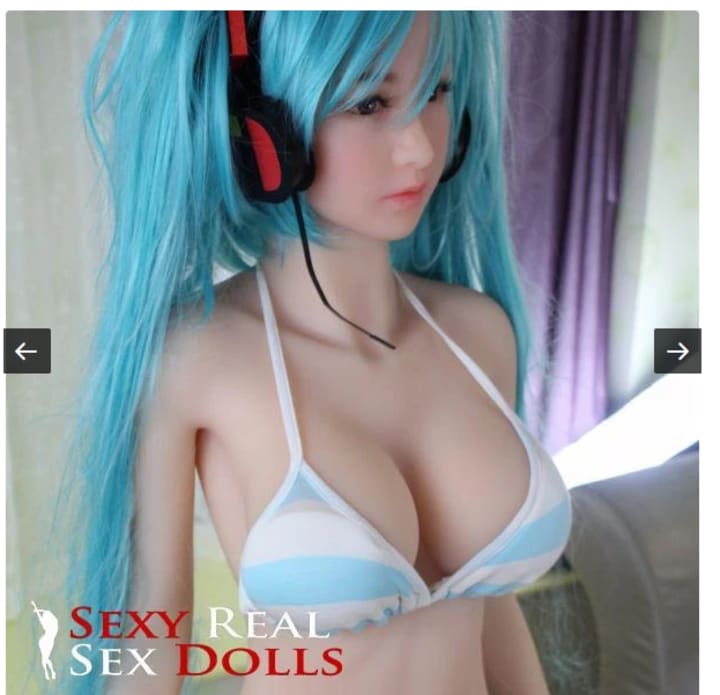 I challenge you to tell me she isn't gorgeous. I mean, c'mon…I almost bought this one, but she's so tall and heavy that I wasn't sure how I would store her, or how I would clean her without throwing my back out.
Let's be honest, once you're spent, you won't want to carry her up the steps, and wash her in the tub, but a mini doll can be as light as 15lbs, so you need to carefully consider your options. To consider those options, you need data. You need my reviews.
After having boned both a silicone doll and a TPE doll, I have to say that there is no real difference in orgasmic pleasure. Neither silicone nor TPE feel like warm skin (yes, you can purchase a built in warming device); a doll won't have hard muscle and fatty tissue. A real life partner is always better than a simulation, but sex dolls are sex toys, and your purchase will boil down to cost, aesthetic appeal, and ease of use.
If you want a more durable product, buy silicone dolls through XQueen. If you want a more aesthetically pleasing product, buy through SRSD. SRSD also allows payment plans, which is great.
Consider also the cost of dating. I mean, really, if you date a partner for a year, and it doesn't lead to marriage, how much do you end up spending just for sex? If you live in a state or country where prostitution is legal…Elko Nv…how much are you paying per year for sex?
Consider also your religion. Are you a hardcore Roman Catholic? You're not supposed to have sex before marriage, but you can masturbate, so you can masturbate with sex toys like sex dolls. Maybe, you're badly injured, and you have a hard time having sex; a doll won't mind if you can't perform as well as someone else. Maybe, you've been in a very abusive relationship, and you don't want to date; you can still simulate sex with a doll. Maybe, you're a germophobe, and you can't stomach the idea of having sex with a person. Maybe, you're autistic, and you can't seem to connect with people. You don't have to connect with your doll; it's a sex toy.
The bottom line is that if you are interested in sex dolls, SRSD has great service and great products. They're almost always open to chats on their site, and you can email or call them, and they will reply. If, on the other hand, you want all of the information on shopping for, buying, owning, and maintaining a doll, you can download this free ebook.
Sex Dolls: A Mysterious World Demystified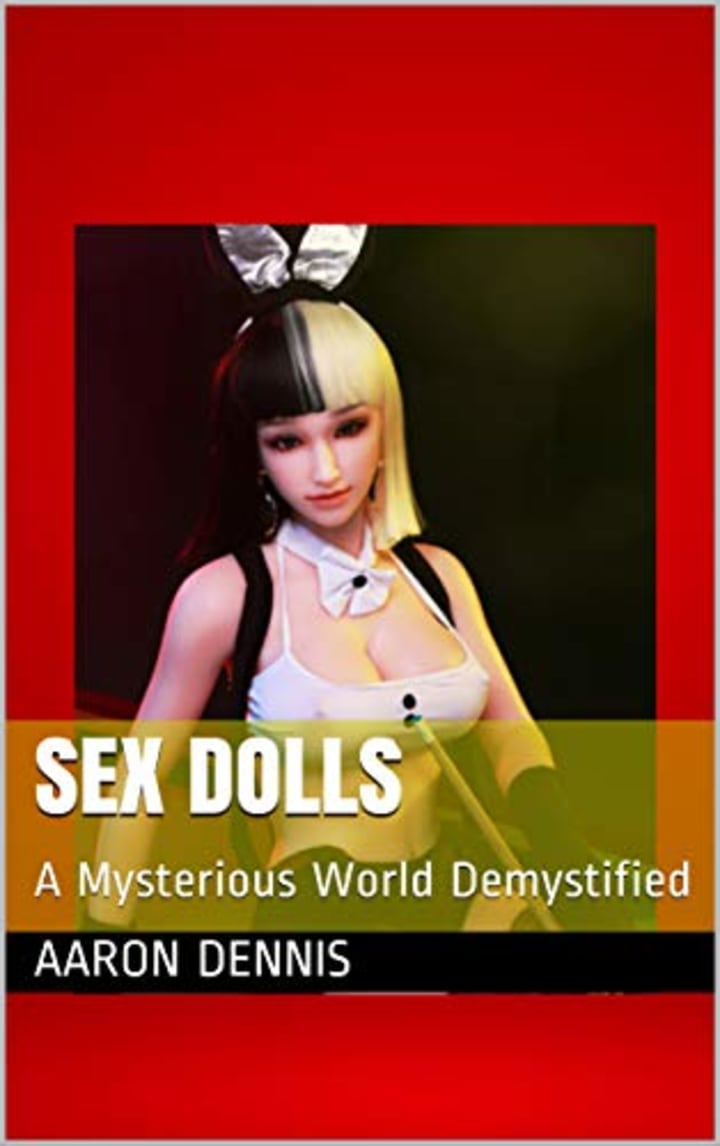 The definitive guide to shopping for, buying, owning, and maintaining sex dolls. If women can buy dildos and vibrators, you can buy sex dolls, not to mention that female dolls, male dolls, and shemale dolls exist. Learn all about doll ownership and reputable sellers. This is an adult book with adult themes and language. If you're under 18, or 21 in some countries, don't view this book
Thanks for reading. Be sure to check out the links for XQueen and SRSD. Then, check out other articles regarding buying dolls and avoiding scams.
Tip me if you'd like; I'd love to buy yet another doll.