Sex with The New Doctor
A Steamy Night With the New Doctor!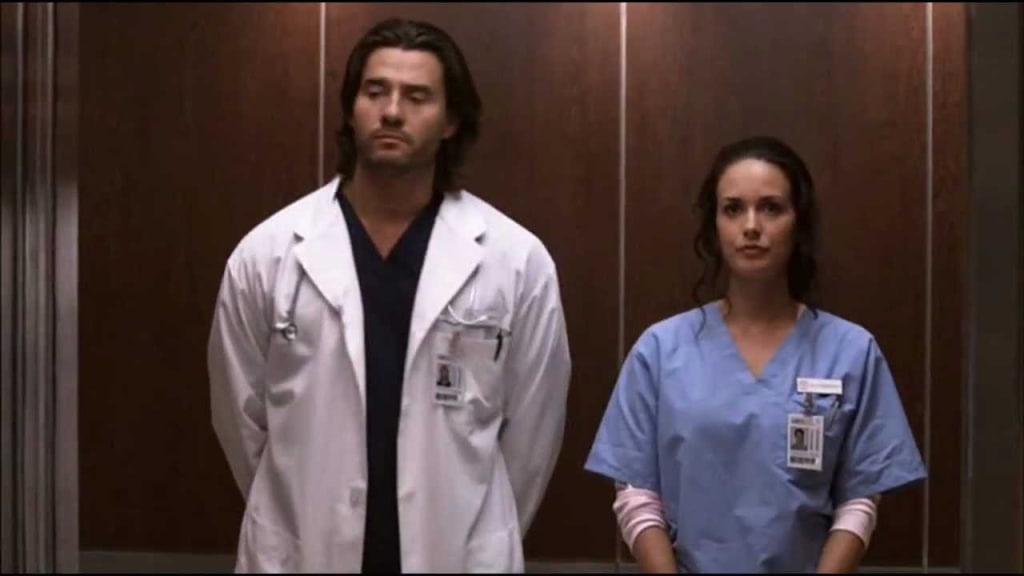 I was working late in the hospital last night when our power went out. Since I was the only one who didn't mind going I volunteered to go reset our generators. Even though it happened to be on the whole other side of the hospital. To get there I had to go through the closed wing where they had been doing construction. Which meant little to no light since the wing had been closed for a year now. Luckily for me right before I left the new resident doctor decided he would join me. I had only worked with Dr. Brent maybe twice, but he seemed cool and cute so Hey! I didn't mind having company on this trip.
We grabbed the only two flashlights and started on our journey to the other side of the hospital. Now you wouldn't think it would be this crazy, but our hospital was practically its own city which I loved but it's just so big. We have everything you could think of a true one stop shop per say. In the beginning the small talk was a little awkward. We didn't really have much to say until we started to ask each other more questions in hopes to pass the time.
Dr. Brent was the son to one of the richest doctors in the world and an owner of our very own hospital which made me even more nervous. One mess up and it's BYE Felica! He told me that his own father didn't know he had even gotten the job because Dr. Brent, who goes by David, gave a fake name on his resume. David wanted to get the job on his own not because of blood or social status. It was in that moment that I felt a little spark and in the same moment I yelled at myself (in my head of course). I knew we shouldn't go there we had to keep professional.
Finally made it to the beginning of the wing that has been locked down for construction. All that was left was a shell, a hollow dark shell. David and I both looked at each other as if to see who was going to go first and to slightly question, "Are we really doing this?" Because this wing had been closed, anything could have really be in there from rodents to squatters. Right before I took another step to enter the darkness David grabs my hand and says "Don't take this wrong I am only trying to comfort you I know you are scared" but I was not that scared, but I didn't mind it either. I laughed and taunted him saying, "Are you sure it's not you?"
We laughed and carried on, at one point I almost tipped on some pipes left on the floor, so David acted fast and pulled me back toward him. I turned around and quickly said, "Thank you that could have hurt." At this point, he is still holding on to me and the only light we had was the little light from the moon, but it rested perfectly on his face. As our faces kept drawing near he softly responds, "Yes would have been bad." Every bone in my body was screaming. Half my mind wanted him the other half knew better. I have never broken a rule or have done anything remotely questionable… Until last night…
With David's face right in front of mine I could almost taste the spearmint gum he had been chewing on, and the scent danced on his breath as he talked. He whispers, "Is this okay?" I responded, "Yes." Before you know it we are making out his tongue felt so right in my mouth. His hands slowly creeping down from my arms to my butt he gave one good squeeze and I about melted. He pushed me up against the bare wall and picked me up as he is kissing my neck.
I let out a pleasurable moan right before taking in another breath. He pulled my scrub top over my head to reveal my black laced bra that held my double D's. He looked up at me waiting for my signal to proceed. I smirked, and he began to kiss and lick my breasts. As he was tracing my boobs with his mouth his hand began to help me take my scrub pants off. They were form fitting, so once he pulled them down my butt popped out and jiggled. David let an "Oh God" out at that moment I knew he was pleased. I then quickly began helping him undress. His scrub top hit the floor and left a bare naked 6 pack right in front of me. I felt my jaw drop a little bit.
But what was to come was the Biggest surprise yet! He pulled his long thick penis out of his pants and it was the biggest thing I have seen. I dropped to my knees and looked up at him waiting for him to shove his big hard bone in my mouth. David grabs my hair and says, "You want it?" with no words coming out of my mouth I gave a big nod, YES! He grabbed his cock and told me to lick it! I love when a man takes control at times. I started to lick all the 12-inch hard cock until I was ready to shove it in my mouth down my throat.
I wanted every bit of him he pulled his cock from my mouth and lightly hit it against my face at this point I am getting wetter and wetter. Touching myself until he grabbed my hand and positioned me facing out the window with one leg on the railing. He then got on his knees and began to eat my pussy out. It was amazing the way his tongue glided up and down from A to Z. He didn't miss a spot and then he slid two fingers in my tight wet pussy while he ate my ass hole out. I grabbed David's head and pushed it further into my ass as I began to bounce all over.
His hands tightened the grip he had on my body. He finally stood up and asked if I was ready again with no verbal response, I nodded. He gave one good spit on his penis before repositioning, facing another window. But this time both legs on the rail in the splits and he slipped it in slowly. It felt so good I had the best orgasm ever in just the first five minutes, so you could imagine what twenty minutes gave me. His cock filled my tight pussy I could feel everything! I then hit him with the, "Yes doctor give it to me." I cheered him on as he went faster and faster, harder and harder.
Five orgasms later we finished hot, sweaty and very much out of breath and still had a little bit further until we reached the hospital's generator. We got dressed and resumed our task I was still in a sex bliss. I couldn't stop smiling and I knew he knew. Every so often we would glance at each other at the same time and quickly turn away it was definitely a night to remember, one of the best kept secrets yet, and our new play spot.
XOXO
𝓓𝓸𝓵𝓵𝔂
erotic
About the author
Take a little look into my life, I write from real situations with a little twist, Stay tuned for more to come...
Reader insights
Be the first to share your insights about this piece.
Add your insights