Scarlett Johansson's Sexuality
Scarlett Johansson is a force to be reckoned with.
Scarlett Johansson has proven she can make waves at the box office. If you've seen any of the films that Scarlett Johansson has starred in in recent years, you know she is no amateur and have witnessed her transformation from a child actress to an action movie star whose sexuality permeates the air on screen and in the theater.
Although she is relatively young, Scarlett Johansson has been in the business for over two decades now, and has successfully climbed to the top of Hollywood's A-list of celebrities. Despite the fact that she's made quite a few headlines regarding her personal affairs, her professional career has been quite admirable and fruitful.
One thing that can be said for sure is that the Scarlett we saw in the 2014 blockbuster hit Lucy is not the same Scarlett we knew in her role as Emily in If Lucy Fell back in 1996 when her career was just starting to gain traction. Debuting at $44 million, the movie Lucy was named the third biggest movie with a leading female in an action role of all time. Angelina Jolie took first and second place with her roles in Wanted and Lara Croft. As with most of her films, even while playing a cerebral role, she cannot contain her sexuality on screen. Lucy has a knack for picking just the right synthetic clothing to tightly rwap her evolving body.
Prior to becoming a Hollywood sex symbol, Scarlett Johansson was a native New Yorker, who was raised in a humble household. Her father, Karsten Johansson, a Danish architect, and her Grandfather, Ejner Johansson, who was a screenwriter and director, may have been the people who embedded her artistic roots. Her mother, Melanie Sloan, who is a producer, also helped turn Johannson into a young child star who went on to break ground in film and make the world fall in love with her.
After years of attending NYC public schools, Johansson began her theatrical career by training and later graduating from Professional Children's School located in Manhattan back in 2002. Shortly after graduating, a child star was born when she landed several small roles in classic movies that proved to be only the beginning of a long and favorable career.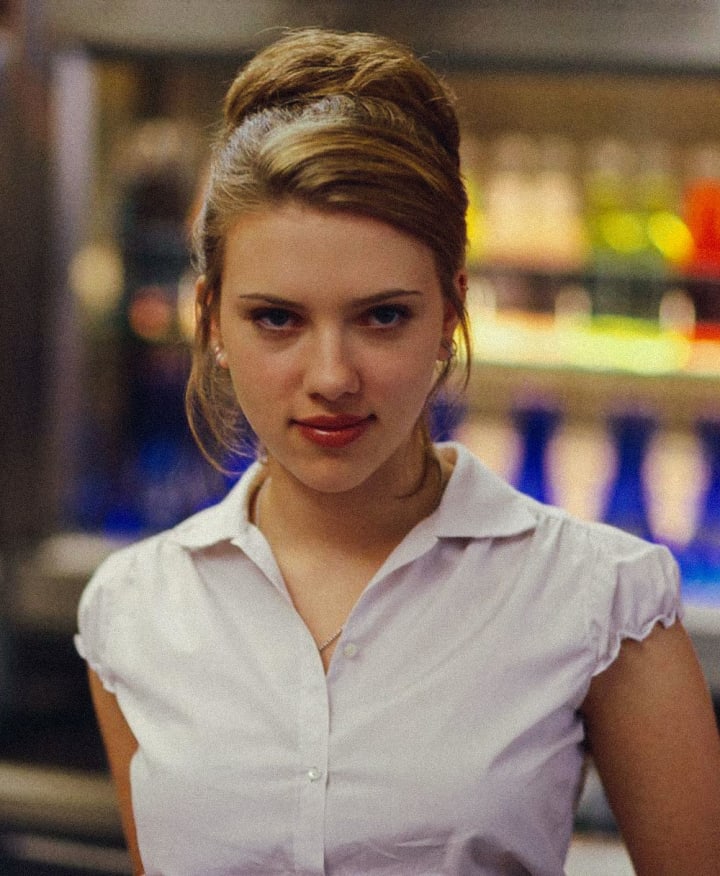 Before there was "ScarJo"
In 1994, at the age of nine, Johansson starred as little Lauren in the comedy North, which opened doors for other roles like her bit in the movie If Lucy Fell, The Horse Whisperer, and Home Alone 3. While those weren't groundbreaking roles that launched her into stardom, her resume started to earn bullet points, and her talent as a child actress began to sharpen. In fact, her experience in these roles led to bigger parts like the role she landed as Rebecca in the movie adaption of the comic book Ghost World. This cult classic film demonstrated Scarlett's sarcasm and dry sense of humor with perfect timing in her delivery, something that is not true with all actresses and actors. Timing is everything in how your lines will be interpreted, and it can make or break you in Hollywood. In Johansson's case, it made her.
A Star is Born
After Ghost World opened doors for Johansson, she graced us with her acting presence in the film Lost in Translation, a Sofia Coppola drama that launched back in 2003. She undoubtedly kicked down the acting doors in this role, where she played a lonely wife who became friends with an older man (Bill Murray), while on a trip to Tokyo. Johansson actually captured and delivered the sadness a woman would feel if she had to adapt to a foreign land while taking us along on the loving ride of finding love in unfamiliar territory. Her performance earned her a Golden Globe nomination while the media began to boost her resume as they raved about her abilities which led to a BAFTA Film Award.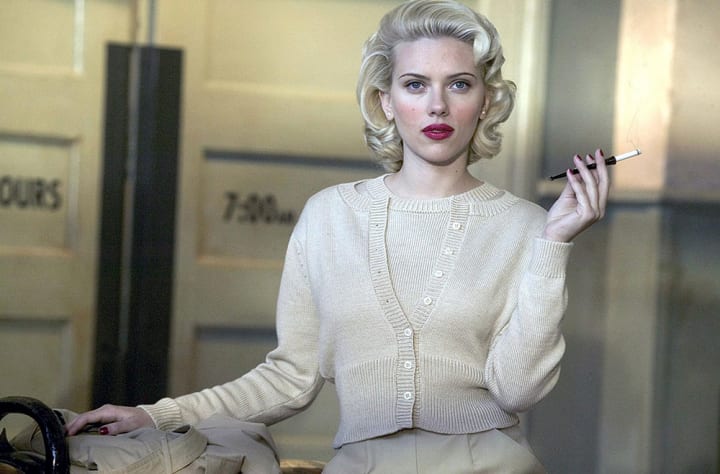 Diversification
Johansson became fully established as an actress after Lost in Translation and it was the beginning of her playing a variety of roles in movies such as:
The 2007 romantic comedy The Nanny Diaries
2009's He's Just Not That Into You
Woody Allen's 2005 Match Point
Woody Allen's 2006 Scoop
Woody Allen's 2008 Vicky Cristina Barcelona
She then went on to trying period pieces like:
Girl with a Pearl Earring in 2003
The Other Boleyn Girl in 2008
Johansson also tried out some roles in mystery pieces like:
The Prestige in 2006
The Black Dahlia in 2006
Though this is not a complete list of the various roles Johansson has taken on, it is a glimpse of her versatility as an actress. These roles may not have had the same critical acclaim as Lost in Translation. However, it never made her Hollywood status drop down from the A-list. This was her way of exploring different acting platforms until she was cast in the role that made the public name her "ScarJo."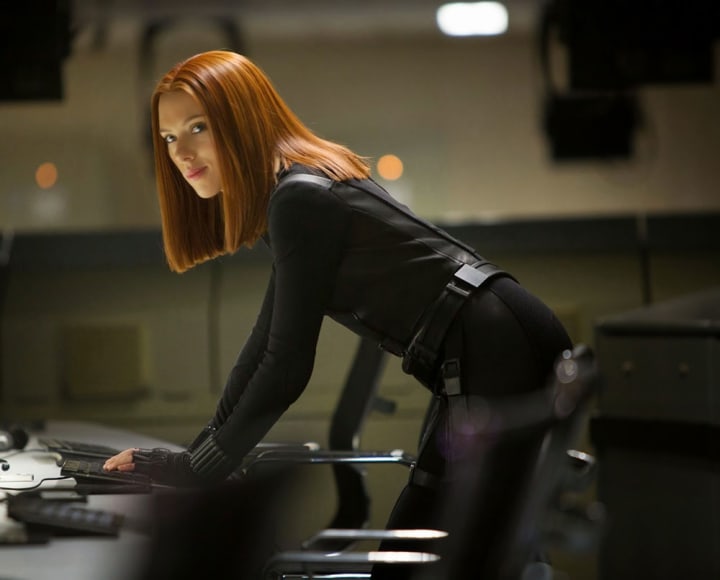 Iron Man and Beyond
In the past six years, ScarJo's career has skyrocketed beyond her beginning stages and her most lucrative roles began in 2010 when she played Natasha Romanoff (Black Widow) in Iron Man 2. She then went on to another action role in Marvel's The Avengers, and in 2014 she landed a role in Captain America: The Winter Soldier. All three films brought in well over $2.8 billion globally, and then Avengers: Age of Ultron raked in $1.4 billion in 2015.
When Scarlett headlined in her own superhero film Black Widow, she really gained the action film fans, but even more notable was her transformation from the child star she once was. She became a box office champ in her on-screen overhaul as she paved her way into becoming "ScarJo."
Even though there have been other roles in between her action-packed pieces like her role in the over-the-top funny film Don Jon where she almost earned an Oscar, it was her fierce performance in the action films we have all grown to love that made audiences fall deeper in love with Johansson.
In 2013, ScarJo followed up her one-two punch with a similarly impressive year in 2014. Besides the dearly loved comedy Chef, Scarlett wowed us in the dark, weird drama Under the Skin and was then positioned to be on par with an Angelina Jolie type action hero in the movie Lucy. ScarJo has had quite a steady profession in the past decade but it's been the past six years that really proved her skills and stride.
The Take Away
We haven't seen the last of Johansson and with The Jungle Book, Captain America: Civil War, Sing, and Ghost in the Shell added to her resume since Avengers: Age of Ultron. She has done an excellent job of staying at the top of Hollywood's A-list celebrity rankings, as she gains fans with each role she dominates. With each part she plays, she successfully leaves her fans excited for what may be coming next and has yet to disappoint us. Johansson continues to solidify that she is a force to be reckoned with, and her audience continues to multiply worldwide. But irrespective of acting chops, she has a massive amount of sex appeal. A sampling of her hottest scenes will no doubt convince you that she is perhaps the perfect combination of actress and sex symbol, a rare talent in the movie business.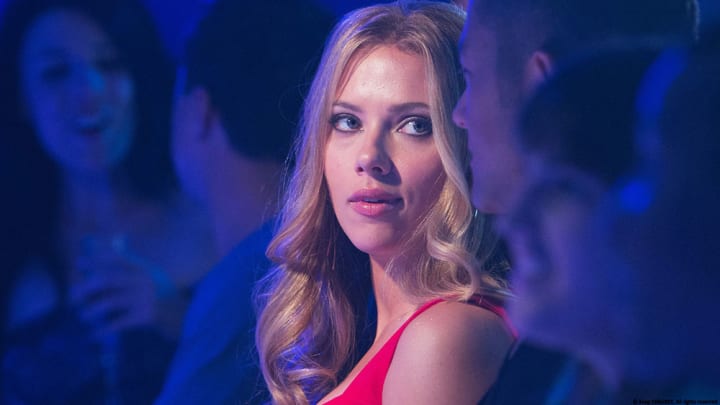 Don Jon
Scarlett Johansson plays a woman named Barbara Sugarman who is pursued by Don Jon (Joseph Gordon Levitt). All Jon Martello (aka Don Jon) cares for is his friends, family, car, and sex. When he meets Barbara, Jon is mesmerized by her beauty and gets himself into his first serious relationship. The couple soon end once Barbara learns the truth of Jon's fixation with internet pornography, which he has yet to give up, and cuts off the relationship.
If there's anything that is most memorable about the film is ScarJo proving that Jersey girls can be sexy—even with their accent. Her seductive and tantalizing movements will drive any guy crazy; which is exactly what happens in the film.
Match Point
In Match Point, Scarlett Johansson takes on the role of Nola Rice, a woman who becomes attracted to retired pro tennis athlete Chris Wilton (Jonathan Rhys Meyers). Despite his feelings for Ms. Rice, Chris goes ahead and marries Emily Mortimer's character (Chloe Hewett). Nola becomes pregnant with Wilton's child and forces his hand: causing him to end his relationship with his wife and help raise the infant. Chris is unable to handle this pressure and ends up murdering two people, one of which is Nola, so that he can keep up his good image in the public's eye. The emotions in this film are captivating. Scarlett is so sexually overwhelming to the point where her man becomes a killer. As they say, looks could kill…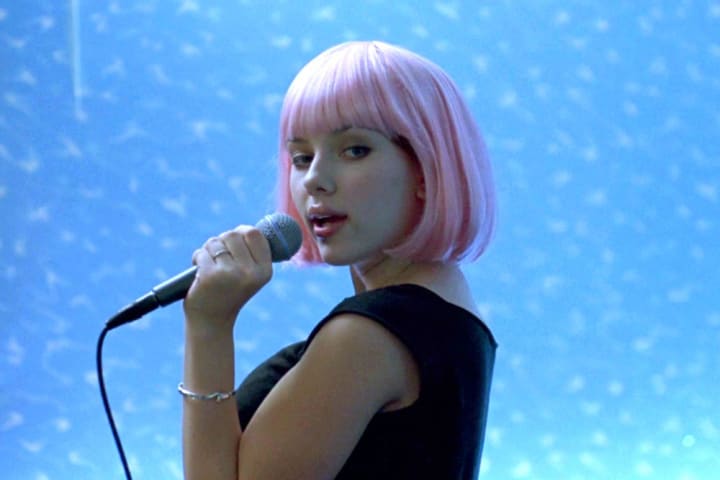 Lost in Translation
Lost in Translation follows the story of an aging movie star, Bob Harris (Bill Murray), and a young college graduate name Charlotte (Scarlett Johansson) as they cross paths in Tokyo, Japan. Charlotte spends her days sitting in her hotel room, waiting for her husband, a photographer, to return from work. Bob wastes his days in a bar, avoiding the discomfort of a mid-life crisis and consuming the whiskey which he is supposed to be promoting while in Japan. Once the pair eventually crosses paths, they go on a brief and emotional trip that fascinated audiences. The young ScarJo snags Bill Murray's heart along with every other guy who isn't in her league.
Marvel Cinematic Universe
First appearing in Iron Man 2, and starring in many Marvel films since, Scarlett Johansson has been driving comic book nerds crazier than they already are. An elite Soviet spy and operative for S.H.I.E.L.D., Natasha Romanoff soon takes on the role as Black Widow and joins the Avengers to help save the world—and looks hot while she does it. Her rousing fighting skills and mysterious background only add to her allure—which she uses as a weapon on male targets. Usually donning a skin-tight, black, leather jump suite it's no doubt this is by far one of Johansson€™'s sexiest roles.
About the Creator
A group of inappropriate, unconventional & disruptive professionals. Some are women, some are men, some are straight, some are gay. All are Filthy.
Reader insights
Be the first to share your insights about this piece.
Add your insights