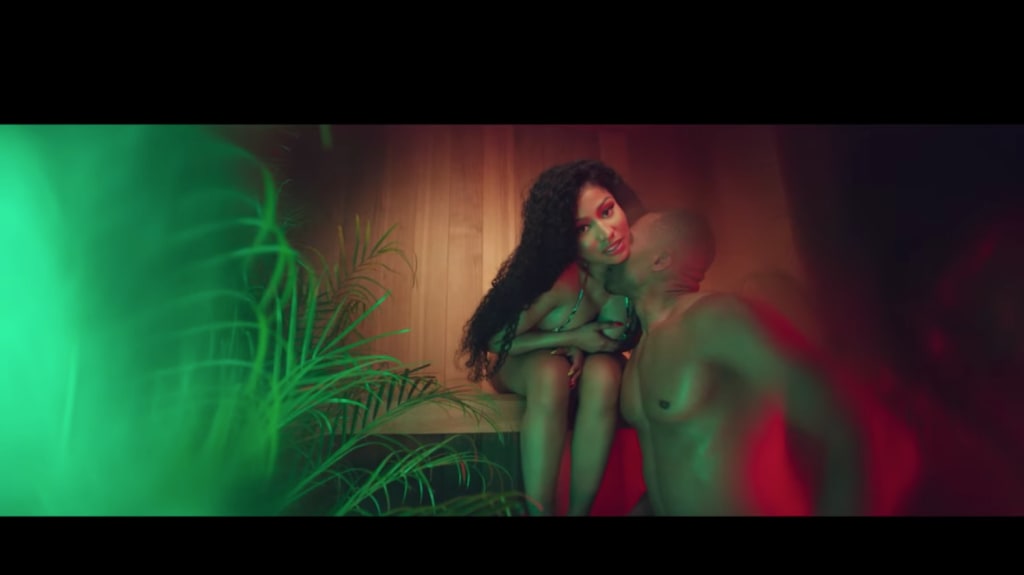 As I sipped my hot cup of coconut coffee while I sat in my comfy chair, I watched my lover sleep soundly in our bed and smiled to myself as I relived the last twenty four hours in my head. The main thing I love about us how 'on the spur of the moment' our love life is and last night we added another notch to our history. The rising morning sun, my coffee and the sounds of Kaytel inhaling & exhaling put me in a trance that allowed me to 'watch' what we did since we woke up together yesterday. Relive it with me!
It's 5 a.m. and the loud ass alarm reminds us that we both have to go to work. As usual, we dress quickly, have a quick cup of coffee together then head out separately to our designated plantations....I mean....work places. Our good bye kisses provide the good vibrations we need to start our day before we head off but for whatever reason, yesterday's kiss was extra tasty. As soon as I got to work, Kaytel let me know he felt the same way by texting me a picture that he took of his hard on under his desk. I returned the favor by texting him a picture of the developing wet spot under my skirt. Spicy text messages and pictures turned into saucy video/cyber masturbation sex in the private bathrooms at our designated work places. You'd think we would've stopped there but no. After work, Kaytel and I met up for dinner and drinks at a neighborhood bar/pool place; this is the point where things heated all the way up. Numerous shots of Black Label, endless snacks and a music box playing all our favorite slow songs had us grinding on each other hard, kissing each other hungrily and making it clear to everyone in the room that we were ready to get it in right then and there but we managed to compose ourselves enough to leave the bar and head home.
The train station was right next door to the bar and because New York never sleeps, it's expected that at any time of the day or night, the train and platform could be crowded but last night, no one was on that platform waiting for the Uptown 1 train but us. I quickly scanned the Downtown platform across us and saw no one on that side either. Immediately I turned to Kaytel and said "I want to see the dragon....pull him out!" With no hesitation, he unzipped his jeans and the dragon was out, pointing in my direction. I grabbed it, put it in my mouth and swallowed it like it was my first time tasting him. "Damn babe....you're not....playing!" I wanted to make him cum before the train arrived but before I could get him there, an announcement came on saying the train was one stop away so I stopped. We got on the train and no one was in the car with us. As soon as the door closed, the conductor announced that the train was going express and the next stop was 241st Street, which was past our stop. Any other time, this would have pissed us off but instead we looked at it as an opportunity to reenact a scene out of the movie Risky Business. I raised my skirt, he released the dragon and while we rode the train, I rode the fuck out of him. Our moans echoed throughout the empty car and our simultaneous orgasms felt thrilling as the train raced at top speed.
When the train reached 241st Street, we decided to walk home from there instead of waiting for the train to go one stop. Our apartment was on the other side of an old park called The Cloisters so we cut through the park in order to get home faster. The darkness within the walkways of the park allowed us to take 'kissing' breaks and half way in our intimate walk, we walked under a dark bridge. This is where Kaytel pressed me against the cold wall, got on his knees, pulled my soaked panties off and began to drink me like a fountain. The sucking and licking noises echoed in the air, making them sound louder than they really were but it turned me on so much so I got louder. I wanted the world to hear me cum and they did. When my knees buckled, he caught me and somehow, we made it back home only to make love some more.
Right before we crashed out for the night, we both called out of work for the next day. We can't make it to work tomorrow boss, sorry but not sorry!
Hope you enjoyed this read!
Checkout nattiekai.com, nattiekai.wixsite.com/kaih & subscribe to my YouTube channel! TIP BIG PLEASE!