Play Time - Adam and Vi
A m/f kinky erotica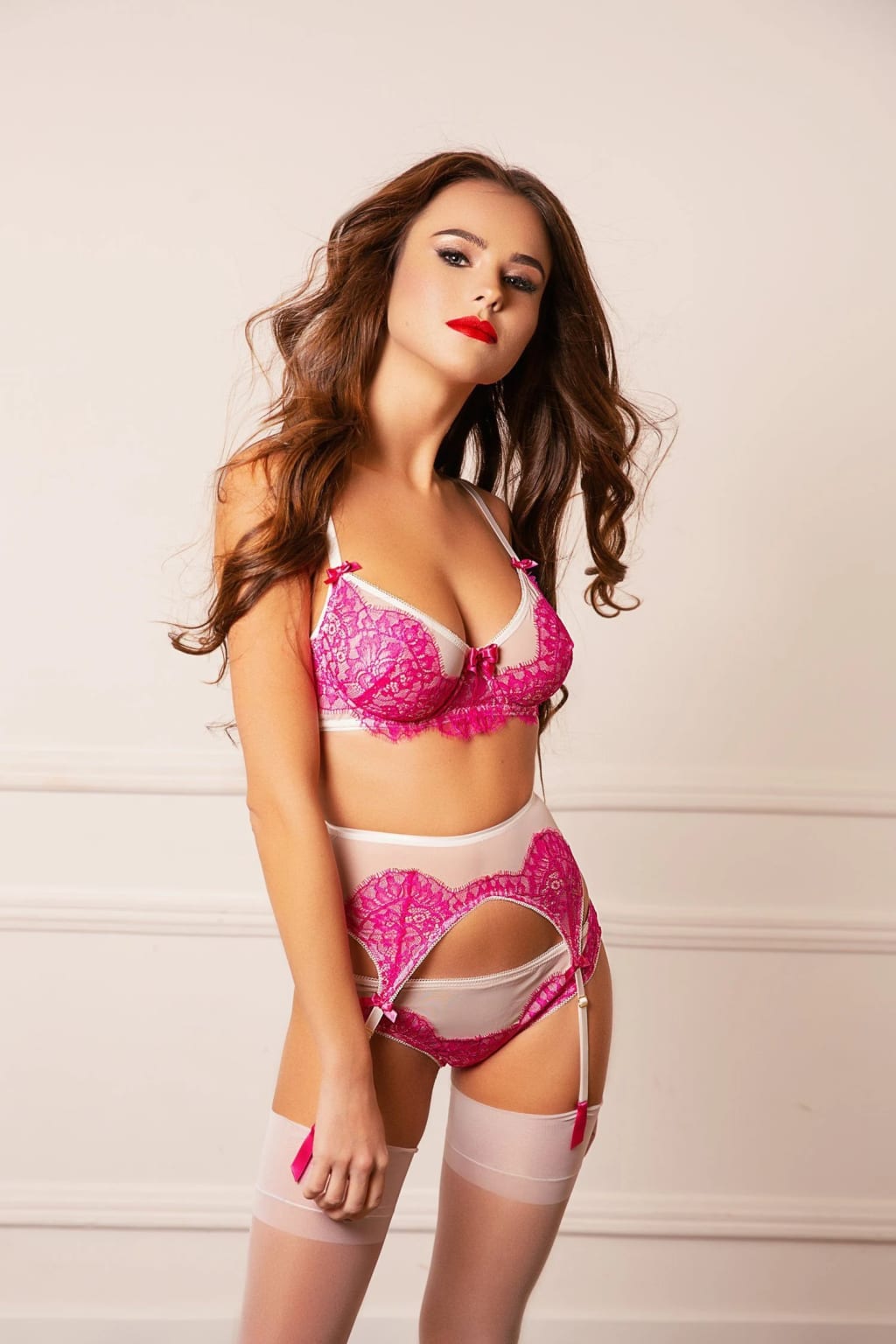 My mouth curves into a smile and Adam tightens his hand around my throat. He maneuvers me against the wall, the sheer strength causing a tiny gasp to escape.
He grabs my wrists and pins them above my head, pulling my dress off to reveal the barbie pink lingerie I wore especially for the daylight sex. The outfit was too good to pass up.
A smile brightens up his face and he admires the outfit, running his fingers over the sparkly chain resting atop each breast. I grin and say, "not quite a perfect fit, but I admit-"
"It's perfect," there's a new rasp in his voice and he lifts me over his shoulder. I giggle and keep my chest together within the bra, given the outer nipple area is already showing. When we're upstairs, he lays me on the bed and I fix myself as he takes the restraints out.
"On your stomach, first," he says with a grin and I happily lay down. He binds my wrists and ankles. Then he climbs over me and I feel him rest over my butt. He plies me with body oil first.
His fingers start to rub my shoulders and he squeezes my neck tightly, the muscles are tight at first, but soon they relax and I remember how much I enjoy it when he does this. His fingers work their way down my back and I find myself relaxing more with each passing moment. Then, he presses his fingertips into the lower half of my back, and he starts gently tracing my skin.
The caressing sensation begins to feel like a sort of gentle lightning. Making me arch my back and raise my ass into the air over and over. Then, he moves his fingers ever so carefully along the middle of my spine and I gasp and try to arch out of the restraints.
When every inch of my back is tingling with the soft touch, he leans over and grabs the whip. I smile and he lands a soft blow on my shoulders. The welcome sting makes me arch my back and whip trails along the now warming skin.
"Ohhh."
The stings grow with each caress and soon I pull at the restraints, they do their job.
"Ready to flip over?"
"Yeah," I nod. Once the restraints are off, I move my arms out bit by bit so that my shoulders don't crack too much. I brace myself to turn over and half fall while doing it. Thankfully the bed is large. After scooting over, he reties my limbs and I relax back into position.
He holds the whip in hand again and stands beside me, this time the whip makes contact with my stomach. I have to hold back a grin as the sting is right where I want it.
I feel my toes clench and my stomach tightens naturally as each hit starts to make its presence known. The warmth on my back against the sheets now spreads to my front. He smiles at me and changes to whipping my crotch, and though I grunt out loud when the whip hits the largest nerve center...
I don't want him to stop. He keeps each hit gentle enough that it doesn't hurt, and each one sends little waves of pleasure through me and soon I want his hand there. I want his hand and a vibrator there. But his hand will do.
After the last hit, I pull at my restraints to try and touch myself. He smiles and smacks my crotch with his hand a few times, then he leaves it on there and shakes it until I manage to moan from the teasing. He takes his hand away and walks over to the closet.
When he faces me again, he holds a vibrator and a smile that I echo.