Netflix & Chili
#KnowThatItsMe
Phil told me he sold the condo to the second of ten buyers who toured the place with my little additions scattered throughout. I was so proud of him that I silently texted him to come over for Netflix and a pot of vegetarian chili I made from a post I read on Vocal Feast. Lately, those are the only recipes I want to make.
The chili was so warm and the perfect amount of spicy. The Netflix was ready to be played.
I wasn't sure if I really wanted Phil the way I still lust after my favorite delivery guy. Phil is more in my "league" as someone who checks off all those boxes of responsibility. The delivery guy is so mysterious that it makes me impatient inside when I fantasize about his naughty, and I like the feeling of the struggle. Yet Phil is the one who actually comes over. The delivery guy does not want me, and I have to accept it. Phil? He's nasty in the bedroom and I don't usually let him past a fully-clothed second base. I don't really feel like kissing tonight either- not unless it's my delivery guy.
I decided to use my feet coasters to see if Phil would get the picture that I was trying to keep him at the distance of my outstretched belted leg. The inappropriate mugs would be put away.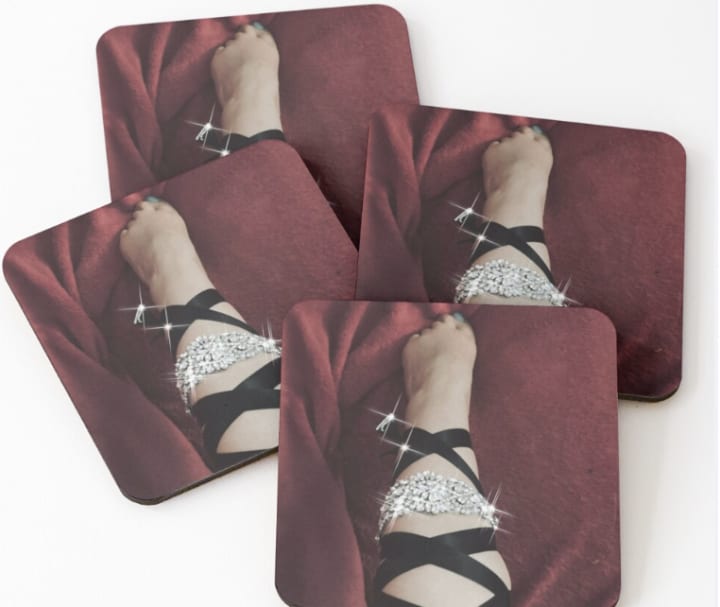 "WHAT! NO!" Silent was pleased, jealous, and outraged all at once when she found a shop that blew hers out of the water. She nearly wanted to cry and scream. She suddenly felt horribly insecure and texted Phil not to come. He called her and said he was already at the door. She opened it and grumbled for him to walk in.
"What's the matter?"
"Me! I am not these women! I'm way shorter and way less fit."
"Silent, people like all kinds of different looks. It's not just one."
"I don't even have as nice of a camera or as nice of a wardrobe. Why do I even try?"
"Hey, did they help me sell the condo, or did you?"
"I did, but that was-"
"It was you! You're the business-creative! People don't market like you do. People don't really get sexy with anyone and everyone. You could give the president of the United Stated advice on how to seduce our adversaries, just like Marilyn Monroe!"
"Marilyn Monroe was treated terribly."
"Oh Silent, let me help you out and show you how much fine I think you are."
"Phil, I'm not in the mood."
"What is the shop called? Show me."
"It's called...I can't tell you. You'll go shop there instead of with me."
"Scarl-"
"Shh! Don't call me that! I'm-"
"Silent, yes, sorry."
"Don't ever forget it."
"I won't show it to anyone else."
"What if it'll sell your apartment better?"
"We'll use it for inspiration only."
"I loved it so much. It was everything I thought I could be. It's called ThoseAreGoods, and just like me, they have a RedBubble AND a Zazzle! My Zazzle isn't developed at all yet, but their work is literally so beautiful that it makes me emotional. I think I might get some for around here."
"Did you think you were the only one who figured out how to sell on more than one printing service at a time?"
"Of course not. I'm happy for them! I'm actually so glad I'm not the only one" she laughed.
"Good" Phil said and kissed her.
Silent decided to kiss him back out of pity and the need for affection. He better not get the wrong idea, she thought.
Phil kissed her deeply and she started to enjoy it. She pulled away and told him he had to help her start creating the gift bags while they binged crime shows on Netflix and ate endless tacos with chili. Phil also said he would help her with her summer photos as soon as she was ready.
About the Creator
Life is a sexier place with my elegantly modern gifting and home decor. You're an investigator on a scavenger hunt for what I left laying around out there 😜 🔍
Reader insights
Be the first to share your insights about this piece.
Add your insights