My First Sexy Cuckquean Experience!
The making of a cuckquean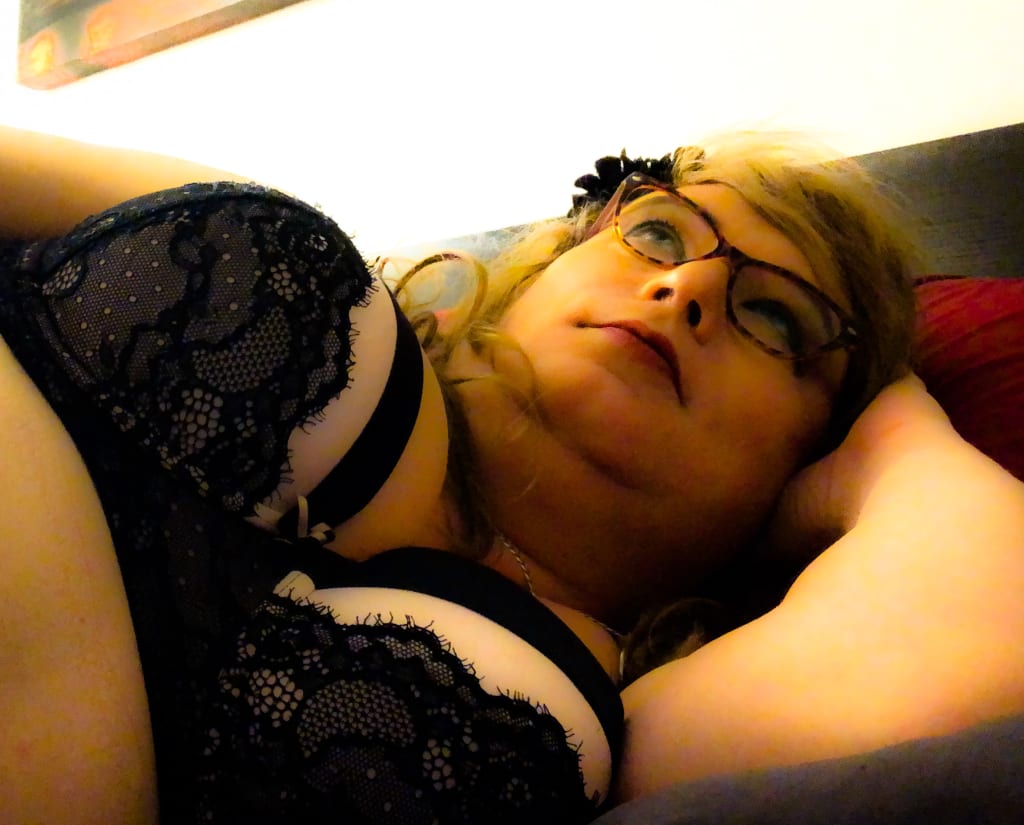 As a kinky trans woman, I have always had the fantasy of being cucked by a woman. It started when I was in my male body and now as a woman, I have the same fantasy. I have found that over the years that I get great enjoyment from watching others have sex but more importantly I get joy and turned on by watching those that I care for and love having sex. This is the account of my first cuckquean experience.
First of all, I'd like to dive into what being "cucked" means to me and how it is portrayed in the porn industry. Most often in porn, it is a female dominant or woman in charge. A lot of the time it portrays a white couple and a person of colour. To me, this is a bit over the top but to each their own. Most of the time the male sub is locked in a chastity cage and is forced to watch his Domme have sex with another man. There tends to be a lot of humiliation and of course, he is expected to "Clean her up" of the cum inside or on her when the man cums. The woman will often refer to the man as useless and not really a man. Sometimes he is sissified. This is not the kind of porn that turns me on.
For me, I want the person that I serve to be taken care of and happy in all ways. With my Mistress, neither of us have a penis. We do have toys but we both agreed early on that we needed "the cock". I am allowed to have one man on the side that is on a schedule that my Mistress controls. If I don't see him on those nights…no cock for me. Mistress has a man that she tries to see regularly and sometimes will tell me about her adventures. I find this very hot and it really turns me. Mistress only asked that I be authentic and I confessed to her long ago that I think of myself as a cuckquean and she fully accepts that about me. We had talked many times about making this happen. Me helping her to get ready by dressing her and grooming her body as needed. This includes me shaving her pussy as this is my task at all times anyway. It takes on even more meaning when I know that I am preparing her pussy for a man's cock.
It should be known that Mistress's man is not kinky but he is aware that she is. I know that it's taken some time and lots of discussions to get him to agree to this scenario. As a trans woman this can be hard for some men but none the less he agreed and the night came for him to visit and play out this scene with us. Before he arrived I prepared my Mistress as stated above. I helped get her dressed and sexy looking for her man. When he first arrived I was sitting by myself and Mistress and he sat together on the couch beside me. Before long they were snuggling then kissing and then suddenly Mistress was straddling his lap. I was very turned on watching this and I was on a strict no-touch policy when it came to my own boy.
Before long we went upstairs to my bedroom where I sat in my desk chair and Mistress and her man undressed and were playing with each other on the bed. Mistress reminded me once again not to touch and to just watch. Her man was quickly hard as she turned him on. I so loved seeing this. Mistress checked in with him a few times to ensure that he was still comfortable and consenting to what we were doing. I think this set him at ease. I heard her as if I could join and we proceeded to suck his cock together. He continued to be very erect. Once she was ready I was sent back to my chair and they began to have sex. They were kissing and giggling and I wasn't sure if Mistress was just going to have me watch or if she was going to try and humiliate me. There was no humiliation so I just watched as they had sex and enjoyed each other's bodies. Finally, he was ready to cum and she asked him to cum inside of her and he did. She climbed off of his cock and immediately looked at me and asked me if I wanted to clean it up. I smiled and crawled onto the bed and immediately saw that cum was all over his cock and pooling at the base. I was a very happy slave girl. I licked it all up and took his cock into my mouth. Then Mistress rolled over on her back and showed me her pussy and pointed. I immediately dove in and tasted her juices and his cum. I licked furiously and then went to her clit. She was moaning and writhing a bit until she was satisfied. I was then told to get back to my chair. I asked her if I was allowed to touch myself and she said: "No, not yet".
So there I sat as this scenario played out a few times with me watching and performing my clean up duties. I was so turned on and went at my task with a smile on my face. I had cum in my hair and all over my face. This made me very happy. I am Mistress's slut and this slut loves cum. I also love pleasing other people. Eventually, Mistress used my Hitachi on herself and then gave it to me. She told me to go ahead and play and I enjoyed the sensation so much. Hitachi's don't normally get me off so eventually I got to use my Lelo toy and it gets me off almost every single time that I use it. This led to an explosive orgasms and a very happy slave girl.
So much happened this night but the thing that I will remember the most is watching Mistress ride his cock reverse cowgirl style and suddenly we locked eyes. She was turned on but we were so connected in that moment. It was like staring deeply into her soul. This gaze went on for a good minute or two. I have never felt closer to her. You must understand that we a very connected M/s couple. Hardly anything that we do in our lives together is not connected in some way. At that moment my love for her grew even more. I didn't think that it was possible but it was. I also thought to myself that humiliation had nothing to do with what we were doing. It was a fantasy for sure but also it was special. It's not something we would do all the time but we were both turned on by what happened. She loves it when I take care of her needs. She holds the ultimate power over me. The power that was first well-negotiated then put in motion. I have consented to everything that we do.
Later that night after her man had left we snuggled in bed and held each other. It's those moments that I cherish. I know that she cherishes me and my authentic self. It lets us do things without being embarrassed. We simply admit who we are, who we want to be and we take our time and make our way towards that. What I know for sure is that I can now officially call myself a "cuckquean" and I do that proudly. This journey has been so rewarding for me. It's only just begun.