Lover's Games
Two lovers learn they're turned on by the same things.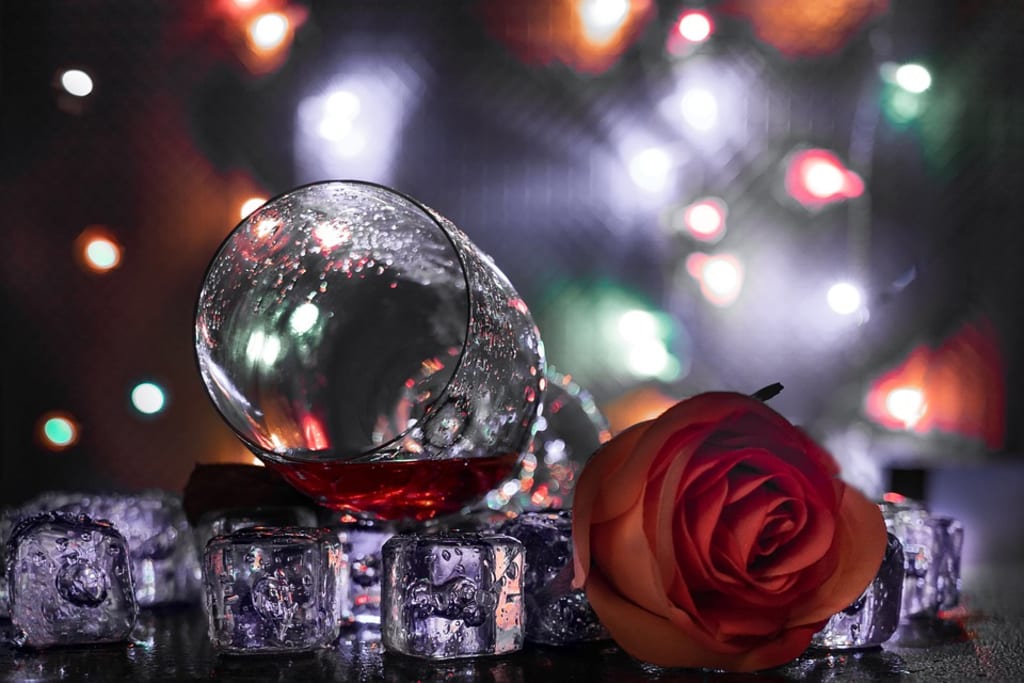 Image by Trixi from Pixabay
Like so many things between two people, it starts with a question or a dare. In this case, it had been a question that started everything, and once we started, we couldn't stop playing. Sometimes, every so often, the truth is just what the doctor ordered.
At dinner, one warm summer night, Beth asked me the most intriguing question.
"What's something hot that you could see me doing?" she asked.
We'd been dating for a while. Beth was sexy, fun, and always up for an adventure. She had a thirst for life and knew how to make things exciting.
"Come on, what kind of naughty little fantasies are you into?"
Of course, I had ideas, even fetishes, that always were a turn-on. Sitting there at dinner, excited by the discussion and the possibilities running through my mind. I chuckled as an image popped into my head.
"Anything that you do naked is always hot," I stammered, trying to be indirect.
"Oooh, I like it," she laughed.
We finished dinner and drinks, then headed to my Explorer to enjoy the drive home. Walking thru the parking lot, enjoying our usual playful banter, Beth walked a little ahead of me. She swayed side to side when she walked, making the view worth slowing down to enjoy even longer. Tonight she flipped the back of her printed sundress up, flashing her superb ass to me and the world.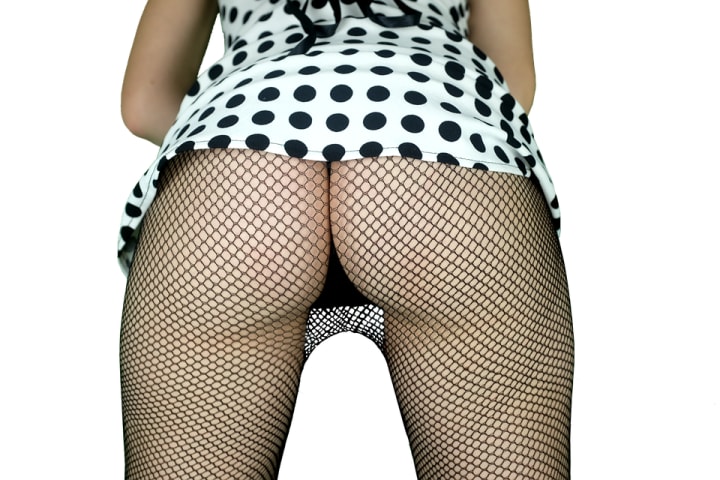 "Oh my god!" I exclaimed, loving the view and the excitement.
She turned around, a smile on her face as she blew me a kiss. I loved seeing her tanned legs, firm butt, and gorgeous smile, but the devilish twinkle in her eyes told me this was just a taste. When I got to the Explorer, catching up with her, I found her in between cars sliding her sundress down her well-shaped body.
"What do you think?" asked Beth.
"I could take you right here," I stuttered.
"Yeah, well, if you wait until we get home I'll make it worth your while," she promised.
She rode 55 miles home that way with the window open, distracting me as she ran her hands over her body. What a sight she was, leaning back in the passenger seat, the wind whipping through her hair as she enjoyed the freedom. When we got home, I was too excited to contain myself. As she walked in front of me to the porch, I could no longer restrain myself, and I wrapped my hands around her and pulled her into me. Kissing her neck, I ran my hands over her perfectly soft and subtle breasts.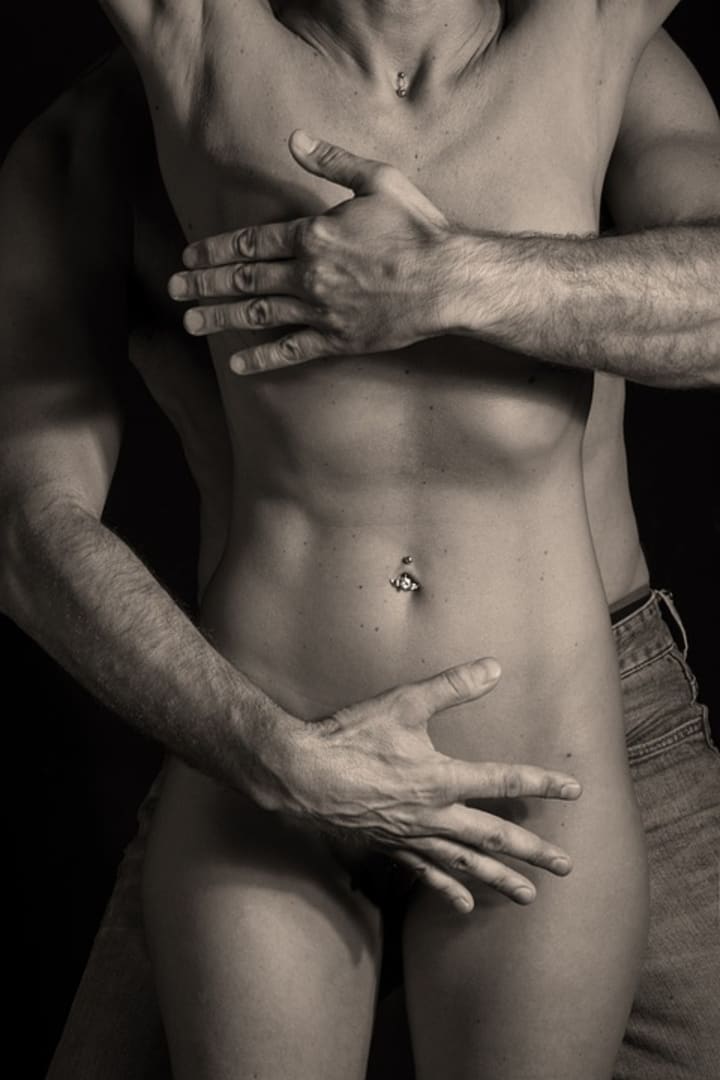 I felt her hand reach behind her, running up and down my zipper. She clumsily undid my pants and fished out my cock, stroking it behind her as I held her against me. Turning around, she looked up at me with her devilishly seductive green eyes, then slid her hands down my body as she knelt in front of me beneath the night sky.
Unable to believe what was happening, I looked around the area assuring nobody else was in the range of catching us. As she worked her magic on me, taking me in her mouth as she stroked me, it wasn't long before I could feel myself building to an incredible orgasm right there in front of our home.
As I lost my breath, feeling my excitement reaching its peak, Beth began bobbing her head up and down on my cock as she used both hands to stroke me. I lost control and erupted, shooting stream after stream of cum onto her waiting face.
"Oh...my...god," I stammered through my rapid breathing and heart rate.
Beth stood up, her face covered in my cum, and kissed me deeply. It was all so intense and erotic, hot and as taboo as imaginable being out in "public" that way that I worked my way over to the steps and took a seat. She sat beside me, and we took in the night air, Beth never bothering to put anything on until many hours later.
It was several months later when we decided to play again. We were sitting around the house one morning, drinking coffee and enjoying a slow Saturday, when Beth brought up that long road trip home.
"Sometimes girls have fantasies," she reminded me.
"Alright, I'll bite," I told her.
Beth was gorgeous, and she was a lot of fun most of the time. The gap in our ages left her feeling less secure than someone would think if they looked at her. She was about 45, and I was shy of 30. We'd grown up in different eras, her being more liberal and me somewhat conservative. Somehow, it worked.
"What if I wanted you to do something like that for me?"
Instantly, I got excited. Admittedly, Beth had more experience than I and was a bit more free-spirited, but that wasn't going to hold me back.
"Sure," I happily replied, "whatever it is that would turn you on, you just let me know."
"Really!" she excitedly replied. "Do you mean it?"
"You name the game and I'll play," I promised.
"Great," she said. "I have an idea I think you'd enjoy."
Later that night, we went out for a couple of drinks and dinner at one of our favorite weekend spots. While we ate, she asked me if I'd ever done a scavenger hunt or played any party game where you had to find something to win. I was intrigued. Of course, I knew what a scavenger hunt was, so I wondered where this was going.
"It's sort of a game, and if you play along with it I promise you'll have an exciting time, and you'll be rewarded."
"I'm in," I told her.
After dinner, she suggested I have a couple more drinks to relax. We waited until about 10:30 that night before we left. I was feeling a little more than tipsy so she drove. Beth drove us out of town and to a local lake. We drove around the lake, hitting all the turn-ins and checking for other late-night drivers and teenagers. There were only five cars we could find anywhere.
At the north end, there's a wooded area that she pulled into and stopped. She dimmed the lights in the Explorer and then kissed me.
"You're going to go along with this, right?"
"Of course," I eagerly told her.
"Get out," she told me as she opened the driver's door.
Where she parked, there was an old trash barrel. She walked around the passenger side and handed me a bag.
"Strip down to just your shoes and put everything in the bag," she instructed.
This wasn't something I'd ever entertained doing, but it was exciting. I took my keys and wallet, put them in the Explorer then did as she said. The night air on my skin was a nice feeling. Once I was down to just my shoes and putting them back on, Beth said to get back in the car. While I got in, she put the bag in the old barrel, then got in, and we pulled away from the spot.
"What are you doing?"
"Don't worry," she told me, reaching over and gliding her fingers down my skin.
We drove for a couple of minutes until we reached another spot. She pulled in and around to where the trail through the lake met.
"Now, I put a spare key in your jeans pocket. We're going to get out, lock the car, and hike back to where your clothes are," she told me.
"Wait," I was starting to freak out. "We're going to what?"
"You heard me," she said, puffing out her lower lip like she was going to pout. "You did say you'd play whatever game I named."
I gingerly stepped out of the car, keeping the door open as I stood there. Beth stepped out, closed her door, and then abruptly ran around and closed mine. There I was, completely naked, with no escape other than to hide in the bushes. Fortunately, it was only about a fifteen-minute walk from one place to the other, and it was after dark.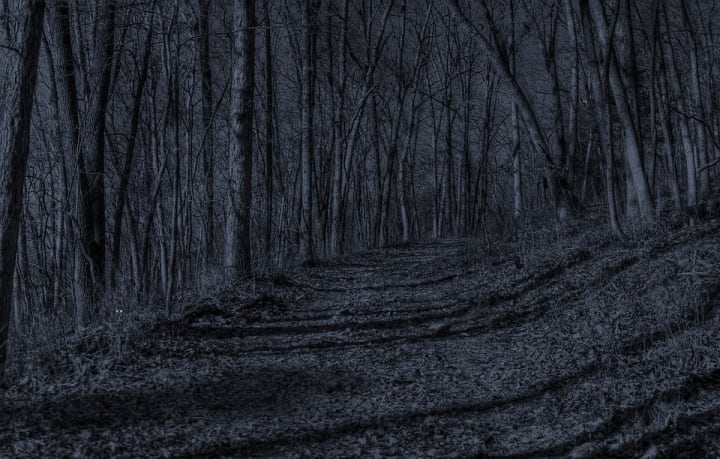 She took me by the hand and pulled me away from the cover as we walked toward the trail. The trail cut through the park area and came out along the beach. On the opposite end of the beach, the trail picked up again and following it would lead to where she dumped my clothes. We started hiking the trails and I could already hear my heart pounding in my chest. The excitement was overwhelming.
About the Creator
I have always enjoyed writing and exploring new ideas, new beliefs, and the dreams that rattle around inside my head. I have enjoyed the current state of science, human progress, fantasy and existence and write about them when I can.
Reader insights
Be the first to share your insights about this piece.
Add your insights