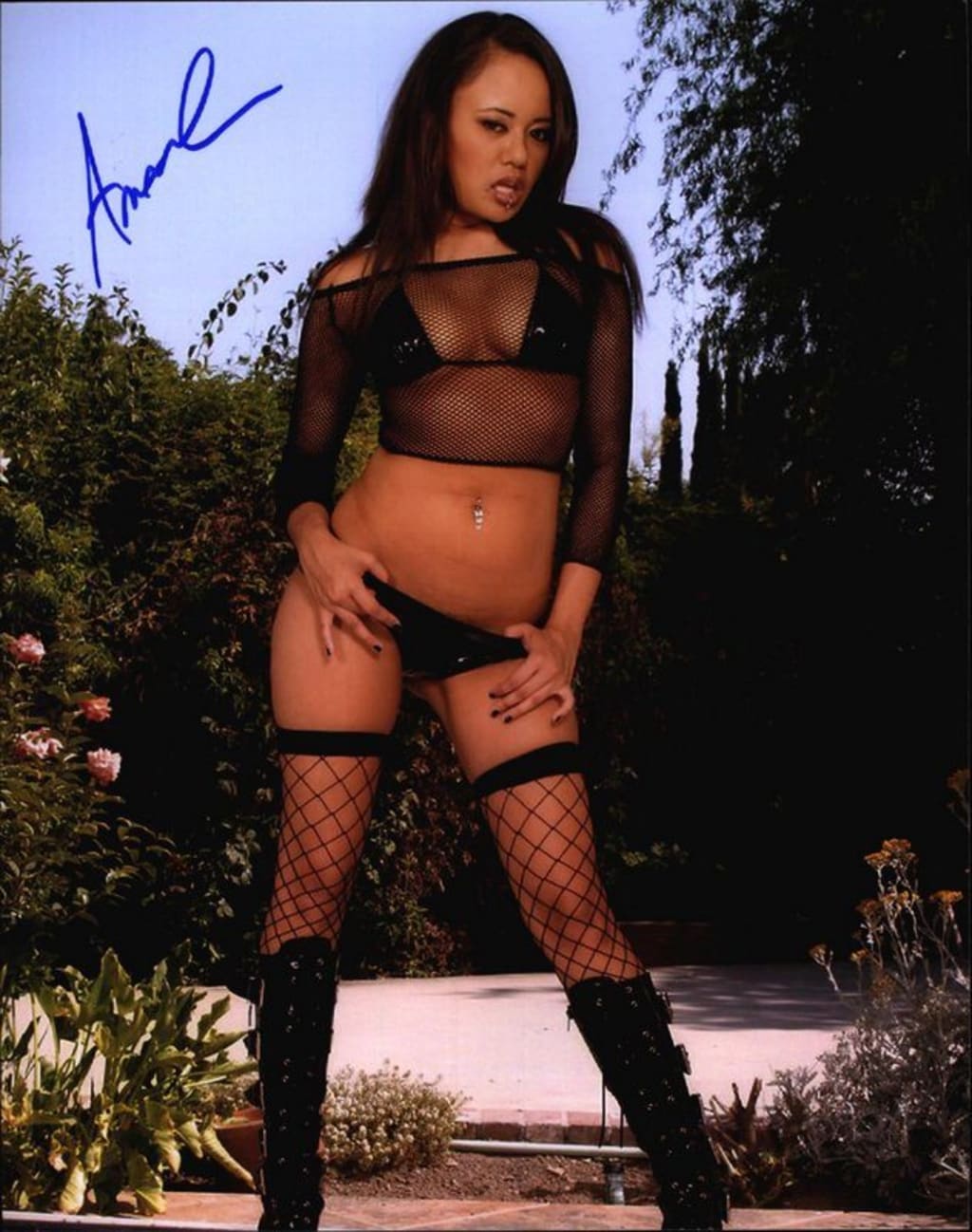 For my money, Annie Cruz is the hottest piece of ass in the entire adult industry. Her titanic orgasms, her propensity to both fire, and swallow gallons of female love liquid, have served to put her in the upper echelon of the hardest working gals in porno. And it doesn't hurt that she has the sultry, intoxicating looks of a Patay bar girl.
I first discovered Annie in a clip from Swallow My Squirt, wherein a totally forgettable blonde woman slurps the dripping ardor out from between Annie's heavenly gash. After catching a drink at Ms. Cruz's fleshly fountain, both woman serve and satisfy some generic male porn stud, before taking up the cause of orally satisfying each other again.
I've seen Annie take three dicks at once, but really, who wants that as much as they want the divine Ms. Cruz doing what she does best, hosing down the hoes in clip after clip of dripping wet nectarine-flavored ginch gobbling, her cataclysmic cuming often punctuated by entreaties for the Sapphic sister to "Open your fucking mouth! Open your fucking mouth!"
As soon as said fucking mouth is open, of course, Annie turns on the waterworks, spraying down her co-star with an awesome geyser-like eruption of her pure, sweet fountain of fornicating.
I won't bore you deliriously with a credit-by-credit filmography of Ms. Cruz's tantalizing work. You can visit her website for that sort of thing. She's Filipino, five foot and six inches of pure, unadulterated pleasure; thirty-five years old; eyes brown; hair brown; 135 pounds; measurements 32-24-36, yeah, baby.
She's married to director Jack Lawrence. Or maybe he's a producer. Who the hell wants to think of HIM, anyway?
She's credited as having starred in such Triple-X Rated classics as Corruption, Annie Cruz Squirt Extravaganza, and Night of the Giving Head. I've never seen any of these cinematic masterpieces; however, I can already tell you, ANNIE is the best thing in any of them.
Annie, in the interview above, describes how much she loves a good gang bang. Impromptu, she claims; no cameras rolling. Her do's include: in her mouth; pussy; ass; DP; spitting; face-pulling; choking. She likes cream pie, but, stay away from her left nipple. She likes a fist in her ass as much as the next gal.
There are a few absolute "Nos" for the hoes and bros, no double vag, no double anal. I could give you more details, but that would somehow ruin it.
Annie's orgasms, her earth-shaking, ground-quaking exclamations of pure, mind-blowing pleasure, could very well send tremors through the ground powerful enough to finally crack the San Andreas fault, goodbye LA!
Me? Even if Annie nukes Cali, I still want to, someday, end up as her living feminine hygiene product, a submissive tool in Ms. Cruz's arsenal of ass.
I'll give you the ins and outs (no pun intended) on Annie and, her pulchritudinous place in the pantheon of porno poon.
Annie saunters up to me slinkily, her fishnets pulled taut and high up those succulent legs, her meaty little thighs ready, and waiting to drip with the honeydew nectar fermenting feverishly between the hot, hairy, pink lips of her pulsating pubis. She saunters snake-like, slithering, and saucily forking her pierced tongue at my febrile facile face, fucking me mentally before she ever touches me physically.
"Which," she reminds me, "I'll never do. Because you're just a worm. Do you hear me? A pathetic, little fucking WORM."
And I say, "Yes, Annie, I love you."
And she says, "What did you say, fucker? I didn't hear you."
And I whisper, "Yes, Mistress Annie. Will you please squirt in my mouth?"
(Note: Of course I said nothing of the sort. I was too busy with my balls clenched between my teeth.)
And she says, "You? You think you're worthy, huh? You actually, do I guess. You actually think you're worthy to swallow my fuck nectar, huh? Worm boy."
And I say: "Yes Mistress, please Mistress. I love you, Mistress."
And she says: "I love you...what?"
And I say: "I love you... to punish me, Mistress Annie."
And it isn't long before Ms. Mistress Cruz is rubbing her nubbin, her lips curled back, her tongue wallowing around in her head, and then a geyser of liquid gold erupts like a water cannon of pure orgasmic wonder, and I'm drenched, as if Annie were her own living and breathing embodiment of Wet N' Wild.
And she tastes mm...mm...so good, too. Moist. Juicy. like a rare and wonderful wine.
And then her orgasm blasts a hole in the side of the world, and I think I can close with that.
(Note the above was all just fantasy. Even the true parts.)